---
World Of Watches
Precise Rhythms: Akio Naito, President of Seiko Watch Corporation
Seiko Watch Corporation President Akio Naito speaks with us about Grand Seiko's Asia-Pacific ambitions, the novelties of 2022, and the importance of precision timekeeping.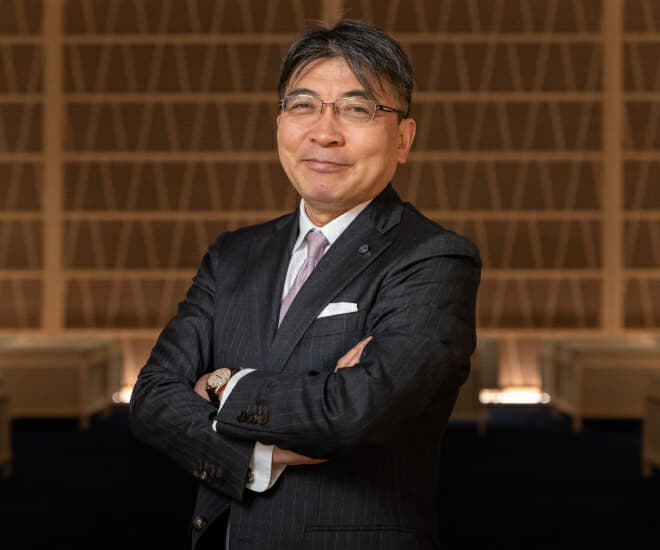 Collectors matter, and nowhere is that more evident than in the rocketing profile of Grand Seiko. The Japanese watchmaker was once a little-known secret — treasured by watch collectors, and unknown to most outside its home market. Grand Seiko got its start in 1960, and was only launched on the international stage in 2010 – it only became a full brand in its own right in 2017. The Seiko Watch Corporation itself never seriously pursued a marketing strategy for Grand Seiko beyond Japan, which means that those who got themselves hyped-up for a Grand Seiko watch had to do a lot of heavy lifting. Never mind having to travel to Tokyo in search of Grand Seiko watches because first you would have to know such watches existed. Imagine, if you will, having to learn about the watches, for which no materials were widely available in English.
To hear collectors tell it, it was a little like the wake of the international success of the anime Akira, which brought Japanese animation to worldwide attention. For international audiences wanting to explore the bewilderingly wide world of anime, disappointment followed because very few series and features received international distribution. Anime fan communities did their own distribution, even if it was in legally dubious territory. They even did their own subtitles for select series and films.
ˆThe problem for Grand Seiko was not only external though, as Seiko Watch Corporation (SWC) President and Grand Seiko Asia-Pacific Chairman Akio Naito told the Financial Times earlier this year. "The perception among our employees was that Grand Seiko didn't have a strong characteristic, like Richard Mille or Hublot," said Naito. "It wasn't eye-catching. Our own people almost gave up promoting the brand." When we first spoke with Naito in 2021, he had just been appointed to his role at SWC, but had been responsible for Grand Seiko in both North America and Europe since 2018. He told us that he knew, first-hand, the difficulties for the collector's favourite in these regions. After all, that Grand Seiko watches were so highly regarded outside Japan had everything to do with how collectors had been talking them up, and almost nothing to do with how SWC was marketing them.
The editors of this magazine had already noticed this by 2005, because if one wanted to feature Grand Seiko watches at that time, it was necessary to shoot them at BaselWorld (the now-defunct global watch fair that Seiko and all its imprints used to show at). We know this today because we have an archive of press kits, and there is nothing on Grand Seiko from that time; I also know this from experience, having spoken with the WOW photographers in 2008 at BaselWorld. This is not to suggest that Grand Seiko was an afterthought for SWC, by any means, as Naito reminded us in our most recent conversation with him. "When Grand Seiko was born in 1960, it was meant to be the (maker of the) best timepieces ever from Seiko at that time. A Grand Seiko watch had to be the most precise… the most legible… and the most durable for everyday use. In all these aspects, Grand Seiko had to be the ultimate."
In this respect, it is possible that Grand Seiko is, DNA-wise, no different to than it was in 1960. What has changed though, is the rise of executives such as Naito, who recognise that the horological world might just be Grand Seiko's oyster. We discussed this, the brand's 2022 novelties, and the beginning of Grand Seiko's direct engagement with the Asia-Pacific region in our conversation. We will launch directly into that from here, as it is quite long. For a bit of background on Naito, we recommend our own story on him from last year, as well as that FT article we referenced above.
Congratulations on the SLGT003G Kodo, the first complication from Grand Seiko! Did the Kodo name come from the nature of the watch and did you have the sound of the watch in mind when you were developing it.
Well, I think you (and your readers) are already familiar with the technical designer who designed
(SLGT003G) Kodo, who used to be a professional guitarist. [Naito is referring to Takuma Kawauchiya,
who received the 2022 GPHG Chronometry Prize with him in Geneva for the Kodo – Ed]. He was a
musician before he joined Seiko, or Grand Seiko, and it took him more than seven years from (the
movement's) inception to come up with the prototype movement T0. And he was, from the very
beginning, very particular, about the sound that the watch creates. He paid special attention to, you
know, the watch making a particular sound. Therefore, the name Kodo or heartbeat was from the
very beginning the nickname that he and the team had in mind.
Right, so I suppose the connection with the taiko drum is also intentional.
Yeah, it was of course intentional. So we were not just creating a complication watch (for the sake of
making a watch with a high complication), the very first Grand Seiko complication watch, but for the
image or the concept of a particular technical construction; the sound it made was very, very
important for the person who created the watch.
So, of course we were asked by the media (and) the Grand Seiko fans when the brand would come up with a complication model… and for quite some time we were on that kind of quest. Of course, technologically we were capable of producing a Grand Seiko complication model, but we wanted to create a (true) Grand Seiko complication. It had to be in line with the brand's DNA; it had to be accurate in terms of the precision of the movement, and (have excellent) legibility and durability. When all these necessary criteria for the brand were met, we thought we were ready to unveil the first Grand Seiko complication model, and that happened to be the (SLGT003G) Kodo.
Does this signify a change for Grand Seiko?
Well, I don't say it's a change or transition; I would call it evolution. The complication model Kodo reflects the DNA of the brand, and we believe that even though the dial or the look of the watch seems complicated or crowded, but it can still tell the time (very clearly)… legibility is something our engineers try to achieve (despite the look of the complication). So the DNA or the prerequisites of the brand have not been lost in coming up with the complication model.
Will there now be fewer quartz models? What other things might we expect in future?
Well, just like (our progress with) mechanical movements, we have been making progress with quartz. You know, in terms of research and development the same thing can be said of Spring Drive too. Our engineers have been painstakingly working on the progress of how we can make the Spring Drive movement better in various aspects of its technology… So yes, we will be coming up with something new in future.
(One the matter of) quartz for Grand Seiko, which we call the 9F movement (for example), that is not a conventional quartz, obviously. And we have put particular emphasis on creating an ultimate quartz (movement) and this is the 9F movement, under the Grand Seiko brand. Just like mechanical movements or Spring Drive movements, we are still working on quartz technology. As the very first brand (Seiko) to come up with the quartz watch in 1969, we think we are responsible for improving quartz technology even further into the future.
What other complications might Grand Seiko pursue?
Well, for the high-end, you know the higher price-range watches, I think we have a few ideas on complication models in future. I think our Grand Seiko fans demand some iconic or interesting sports models. That's something we've been working on.
So in future we will certainly come up with more complication models, and more sports models. We have a history of pursuing accuracy (goals) under Grand Seiko, so you know Kodo is of course, one example of accuracy. It is the achievement of accuracy through the tourbillon and constant force mechanism, but other than that we are, or have been, also pursuing accuracy from the technological perspective [meaning how much time a watch gains or loses, versus an atomic clock for example – Ed].
So when we succeed in achieving a new level of accuracy with a mechanical movement, that would be the time when we will unveil another interesting and innovative product.
If you could define it in a few words, what's the vision of the sports watch as far as Grand Seiko is concerned?
Yes, actually that is a very important subject that has been debated internally within Grand Seiko. As you say [in our full conversation, which has been edited to remove our own comments – Ed], we have a long history or heritage in Seiko, with Seiko divers for example, of sports timekeeping. But for Grand Seiko we did not really have that kind of a historical icon.
So how can we create a new Grand Seiko that is appealing to our fans that is faithful to our brand's DNA? This is the internal debate.
I would say luxury sports is one category of watches sought-after by many fans in the watch community. But I'm not quite sure how we can realize luxury sports under the Grand Seiko label. That is one challenge that we have.
We look forward to seeing how Grand Seiko addresses that challenge! Moving on, how was the Watches and Wonders Geneva experience for Grand Seiko?
Well as you know, we have attended BaselWorld for many, many years. And it was an important platform, both for Grand Seiko and Seiko, but with the changes in the business, the community, and then COVID… This made it very difficult for us to communicate with our fans all over the world (in a physical global event). We were fortunate enough to be able to join Watches and Wonders Geneva for the first time as, you know, a brand from Asia to showcase our new releases at that platform. And we were extremely happy with the feedback and reactions we received through that new trade fair. We are confident, especially with the trade and consumers in Europe, because we were able to draw the attention of European retailers and European watch fans as a result of the fair.
Is Grand Seiko keeping pace with the increasing demand for fine timepieces? How do you handle the balance between being able to create the kinds of pieces that you want to be able to create, while also being able to supply people and keep them happy?
Well to the first part of the question, in the last five to six years, we have been experiencing tremendous growth of Grand Seiko as a brand, especially outside of Japan. Take the US for example; between 2016 and 2021, for a period of five years, the brand has grown more than 11 times in terms of what it was (in that market prior to 2016).
And with the brand becoming so well known, not just among the core watch aficionados, but among wider watch community, I think that influence reached other English-speaking countries or the markets where people look at watch content in English. And now is the time for us to develop the brand in English-speaking Asian markets like Singapore!
On the second question, yes, of course, as a brand from a commercial entity we have to chase both short-term gains and long-term gains. And sometimes these two may conflict with each other. If we are too hasty to satisfy the demand which is growing all over the world, then it may damage the long-term healthy development of the brand. That is always a very important management decision we have to face. So far I think we have been able to hit a good balance.
In the Asia-Pacific region, will you be applying lessons that you have learned from the US market?
Yes, well when I first arrived in the US in 2016, one of the issues that I faced was how I could develop or set up a team of experts who are experienced in the luxury watch business. I was fortunate enough to recruit those people who were capable of making use of their experience to develop Grand Seiko. That was 2018. In Europe, I took a similar strategy, recruiting people who are capable of growing Grand Seiko. That was 2020. [In both the US and Europe, Naito managed the split between the Seiko and Grand Seiko – Ed]. Now it is time for us to do the same thing in the Asian market.
We decided to create Grand Seiko Asia and recruited capable management to handle the brand. Because we are looking at a totally different distribution and totally different audience for Grand Seiko compared to Seiko, it is necessary for us to make use of separate sorts of expertise and a separate management team. This is so that Grand Seiko can be fully developed.
For more watch reads, click here.