---
World Of Watches
Jewellery and timepieces often go hand in hand, but does one influence the other?
We explore the relationship between the horology industry and that of the jewellery world. Is there a bond of influence between the two? Does one affect the other and vice-versa? We find out.
It is no secret that luxury watch brands have been taking keen interest in jewellery for years as part of their learning curve to design horological sculptures. The idea is to look beyond pure timekeeping and precision instruments to develop extraordinary jewels of time; this of course has nothing to do with the jewels in mechanical calibres!
Isabelle Cerboneschi, a renowned historian of fashion, watchmaking and jewellery had this to say when asked about the watch brand that paved the way in terms of applying ornamentation in its collections, "If we're talking about the last two centuries, I would definitely say Vacheron Constantin. The company, which was founded in 1755, joined forces with the Parisian jeweller Ferdinand Verger (which later changed to the name Verger Frères in 1921) as early as 1879…until 1938. Together, they created jewellery that told time according to the style and taste of that period, including some Art Nouveau and Art Deco marvels. They had nothing to envy the pieces of the great jewellers of Place Vendôme in Paris. The Verger Company had registered numerous patents in the field of jewellery and watchmaking, and Vacheron Constantin benefited from these awe-inspiring inventions. For instance, in the company's archives, there is a watch with flaps that opens mechanically to reveal the time."
Jewellery and watchmaking in Geneva, the home of Vacheron Constantin, became interlinked when the austere Christian reformer John Calvin ran the show in the city back in the 16th century. He banned jewellery, and thus the craftspeople all switched to watchmaking; it is a well-known story in the city, and shaped the destiny of watchmaking in Switzerland, as did the Reformation in general. Swiss watchmakers later developed a reputation for crafting highly ornate pieces, in stark contrast with their English and American counterparts.
When it comes to giving an ornamental look to watches, Abraham-Louis Breguet was also very influential. "Breguet was really at the cutting edge of making watches people carried, particularly European royalty and nobility, and some of those early pieces had amazing ornamentation done on them. Of course, he didn't start it. In fact, it started long before him in the preceding centuries, but he helped make it more fashionable," said Eric Wind, a seasoned vintage watch expert.
EVOLUTION OF WATCH SHAPES INSPIRED BY JEWELLERY
Jewellery houses have also played a pioneering role in the origin of wristwatches that never fall short of appealing to the senses, and the one that alwayd comes to mind is Cartier. One only needs to think of the Santos to understand why, and then add Edmond Jaeger's contribution and it all makes sense. Always regarded as the jeweller of kings and the king of jewellers, Cartier remains a triumphant player in both haute joaillerie and haute horlogerie. We do not need to see the novelties at Watches and Wonders Geneva to tell you that there will be some sublime "jewels of time," on display.
The principle of embracing liberal yet enchanting designs of its own has always been at the core of Cartier's ethos even when it comes to creating highend timepieces in varying shapes thanks to its unparalleled expertise in jewellery. We will just name-drop a few for good measure: the Tank (in all its various forms), Tortue, the mind-bending Crash, Cloche, Ballon Bleu, and Baignoire—We could go on at length but Cartier will always deliver some sort of new sort of watch that will surprise (like the recent Pebble, seen below).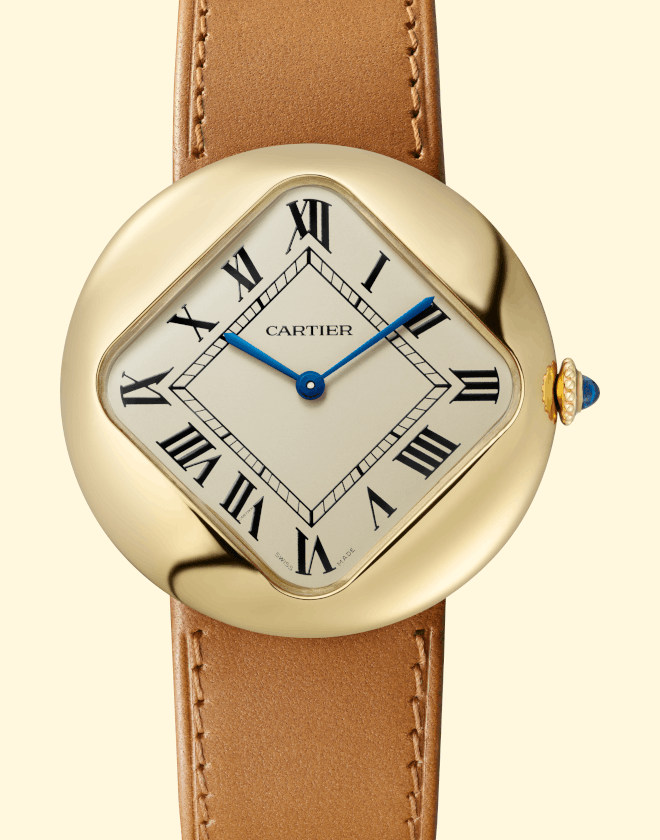 A good part of the success of these watch shapes also has to do with their attractive design features such as Roman numerals, blued hands (sword hands or Breguet hands), and rail-road minute tracks on the dials. No other brand has had as much success with shaped watches as Cartier, and it all has to do with both how the watches look as well as how they wear. When gems are in the picture, Cartier takes it to another level.
"I think Cartier has often been the maker of the best "jewellery watches" in that they sometimes have incredible stones incorporated and other times it's just the watch standing on its own merit," Wind said. The gem-set version of the Astrotourbillon (literally a favourite of more than one WOW editor) bears this out. Wind continues: "The worlds of jewellery and watches are inextricably connected as watches really evolved out of jewellery centuries ago; pieces of the watch such as the case and dial were mostly made by jewellers for early timepieces. Often the craftsmen and designers for watches started their careers in jewellery. Gérald Genta, probably the most famous watch designer of all time, started life as a jewellery designer before pivoting to watches and his work very much reflects that approach. Gilbert Albert, who famously designed so many interesting Patek Philippe watches, especially the iconic Asymetrie wristwatch series in the 1960s, also was a jewellery designer. At the end of the day, jewellery and watches are both about shapes and craftsmanship or skill."
Gilbert's contribution to the world of jewelled watches can be gauged precisely from the Patek Philippe Ref. 3295, part of the "Tutti Frutti collection". Most importantly, it won the 1960 Prix de la Ville Genève (which today is the GPHG) jewellery watch award.
"Not surprisingly, the real difference came to light when brands like Piaget, Omega, Vacheron Constantin and Audemars Piguet called on brilliant designers like Gerald Genta or the lesser known but no less brilliant Jean Claudie-Gueit, who worked for big brands like Baume & Mercier, Patek Philippe, Audemars Piguet, and Rolex, for whom he particularly invented the rainbow setting. But above all, he worked for Piaget, creating emblematic models such as the Polo or other more creative watches, including articulated cuffs or stone dials all under the aegis of Yves Piaget," Cerboneschi said.
So in terms of shapes especially asymmetrical ones from trapezoidal to elliptical, if one looks at the vintage models of Patek Philippe (the Gondolo collection), Vacheron Constantin (its 1972 asymmetric model, tonneau and cushion-shaped designs), Piaget, Omega and Audemars Piguet, all these watch brands borrowed from the rich history of jewellery aesthetics. All in all, Vacheron Constantin was having its own heyday in designing playful watch designs from 1910 to 1930 like a shutter watch from the 1930s and the ref. 10970 from 1917. As Christian Selmoni, heritage and style director at Vacheron Constantin said, "When it comes to the Maison still releasing limited editions of early shaped watches from its archives, the best example that comes to mind is the American 1921, which is one of the most recognizable designs of the brand with its crown at 1 o'clock and its inclined dial in a cushion-shaped case. Such models from the past demonstrate Vacheron Constantin's endless creativity and bold attitude already adopted by it at the beginning of the 20th century."
Shedding further light on how jewellery has influenced the technical aspect of watchmakers or taken it to another level, Wind pointed out, "There have always been new innovations in the world of jewellery, including advancements in the art of stone setting and materials used. So watchmakers will often adopt these approaches in order to advance their own designs."
Another famous Swiss watchmaker with a history of crafting astonishing watches in bold shapes is Corum with its Golden Bridge collection. Since its introduction in 1980, the brand has been able to occupy a particular place in the hearts of watch lovers. "All the iterations of the Golden Bridge collection created thus far have been extremely successful in garnering a great deal of popularity in the watch collecting world thanks to (watchmaker) Vincent Calabrese's vision of inventing a timepiece without a dial yet revealing the movement in its entirety," said Marc Walti, head of product marketing and communications at Corum.
While the baguette movement can fit into any shape, Walti explained, "We will focus mainly on the iconic tonneau shape in the future and play more with "métiers d'art" to better highlight this movement. Having a collection such as this which remains in demand is a boon and the wish of many a watch brand. Timelessness is a highly sought-after value in this sector."
MEN'S PENCHANT FOR WATCHES IN DIFFERENT COUNTRIES
"Nevertheless, there will always be male customers obsessed with purchasing luxury bling jewellery watches like the famous footballer Cristiano Ronaldo whose passion for ostentatious jewelled timepieces is well-documented. But as time goes by, the demand for traditional watches fitted with extreme complications as well as studded with precious gemstones and diamonds in a certain way will also grow bigger," Cerboneschi said.
It is no wonder that Ronaldo's preference for classy watches adorned with gemstones is no less prominent. He is often spotted wearing one of Breguet double tourbillon models such as its Classique 'Grande Complication' 5349PT model. Since the Kingdom of Saudi Arabia is now his new homeland after he signed the contract with the country's Al Nassr football club, he made it more special by wearing the most lavish and expensive timepiece "The Caviar Tourbillon Tsavorites" created by Jacob & Co for his arrival here in January this year. The case of this 47mm watch comes adorned with 224 baguette tsavorites on the surface, with 130 baguette tsavorites used on the dial and 18 on the buckle.
The popularity of jewelled watches certainly owes a lot of credit to men and women alike as they both love such luxury pieces. "I think of the Rolex Rainbow Daytona series as the perfect example where men and women both want to own this watch," Wind said.