---
World Of Watches
Patek Philippe adds a new and modern trio to their classic Calatrava line with the Ref. 6007G
Sportier yet still as elegant as ever this is the brilliant conundrum of the Ref. 6007G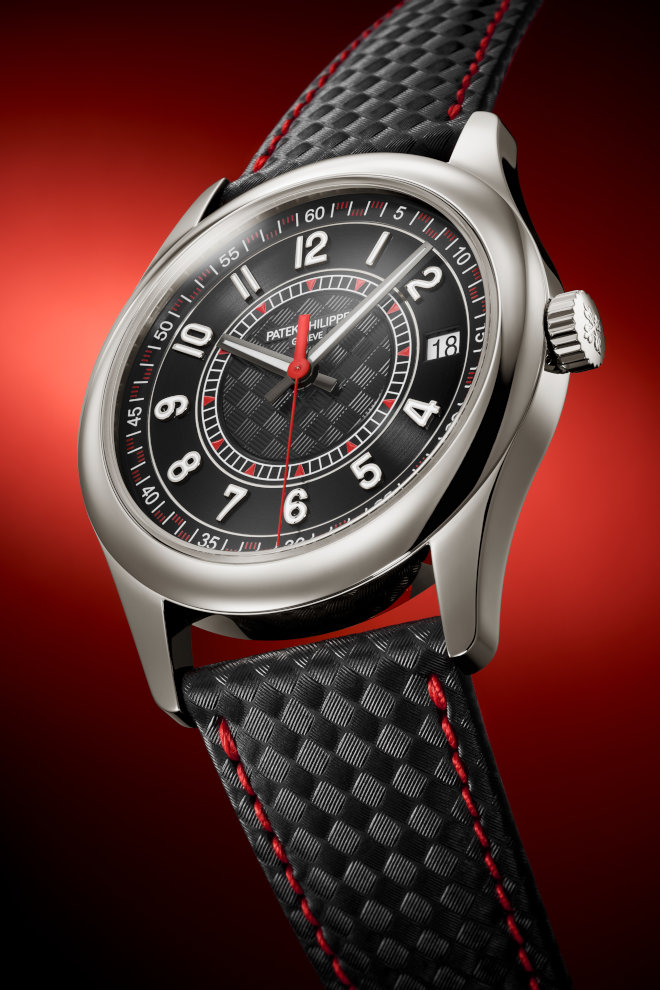 Only a brand like Patek Philippe can pull off making a special edition watch in steel and later offer a production model in White Gold and not diminish the value of either. Yes, we are talking about the new family of Ref. 6007G models that were launched during the Watches & Wonder Geneva show at the end of March earlier this year.
Fans of the brand will remember that back in 2020, Patek Philippe offered a 1,000-piece limited edition of the Ref. 6007A, which was created in the same dial design you see on these fantastic pieces but offered a blue dial along with a stainless-steel case, a rare occurrence within the house of Patek Philippe. This previous limited edition was created to commemorate the opening of their new PP6 production building.
The new Ref. 6007G collection, however, are production models and come in a more modern style. Firstly, the dials have been created in an ebony black colour, that offers three different finishing styles. The least obvious is on the outer ring where there is a smooth polished surface, next the hour track offers a fine circular grain. The most obvious texture on the dial, however, is the carbon fibre-like pattern that has been embossed on the centre portion of the dial. This dial pattern was also seen on Patek Philippe's 2017 contribution to Only Watch where this pattern was guilloché-ed onto the dial of the first and only titanium version of the Ref. 5208 (it was ultimately sold for CHF 6.2 million).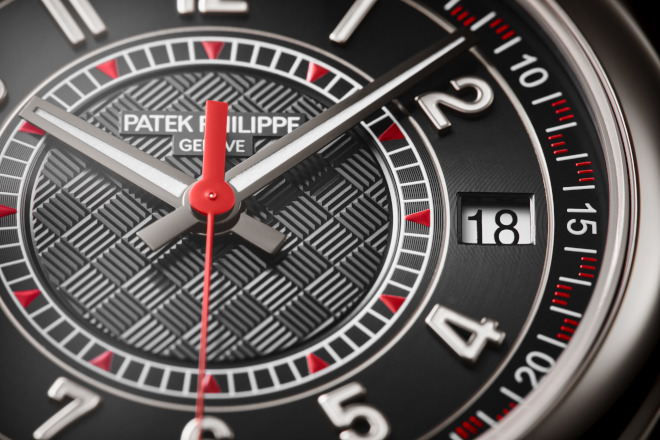 Circling back to the Ref 6007G collection, the black of the dial is contrasted nicely with accents of colour, just below the hour markers, on the minutes track, and on the second's hand as well. There are three variations, offering blue, yellow or red colour options and each of these comes paired with a black calfskin strap, also with an embossed 'carbon' motif and stitching of the corresponding colour. Each of these watches will be housed in a 40mm white gold case.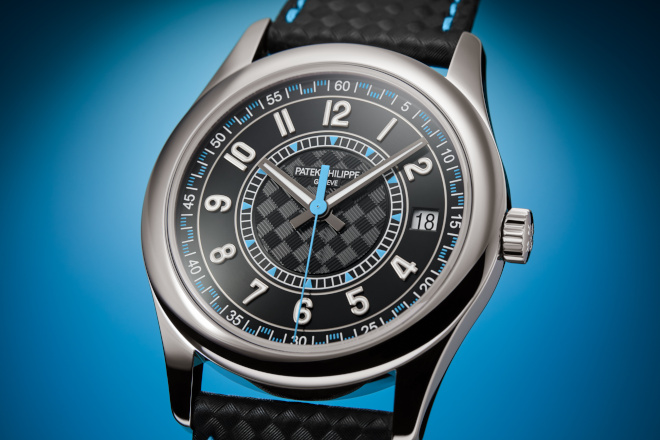 Unlike the Ref. 6007A, the limited edition offered in 2020, the new variant comes with a new movement, the calibre 26-330 S C which offers a 45-hour power reserve and a Spiromax balance spring. As with all Patek Philippe watches, the movement also bears the Patek Philippe seal.
Although the watch is clad in a white-gold case, this Patek Philippe Ref. 6007G represents one of the sportier watches within the Calatrava family. The carbon embossed pattern offers quite a dynamic aesthetic yet still maintains the watchmaking savoire faire associated with a brand that sits near the pinnacle of the horology industry. Also, how can we resist the chance to add some vibrant colour into what is normally a very, let's say, monochromatic collection?