---
Style & Beauty
Balenciaga Spring 2024 Is a Quotidian Expression of Demna's Desire To Dress
Balenciaga's Spring 2024 collection is an enquiry on the state of quotidian dressing, placing the Maison at the epicentre of circadian rhythms in the worlds of fashion and beyond.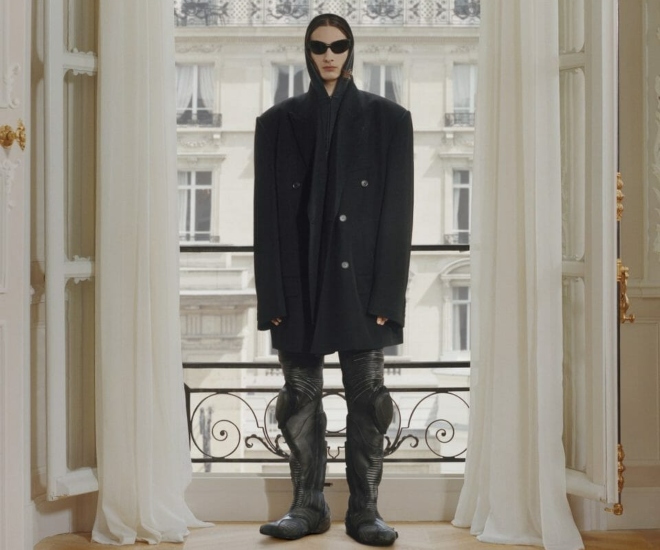 While it hasn't been long since Balenciaga has come out of the dark trenches, Demna is definitely back on track with his seasonal explorations of how far the delicate boundaries between the fashionable, fantastical and farcical, can be pushed.
Only this time, the Spring 2024 collection was presented under the ambiguous guise of "an observation of metropolitan motion".
Perhaps it's a habit for creatives to be vague with their words, because creative expression defies essentialism at its core. Demna was never careless, or one to hold back from laying bare his opinions; rewriting the ideals of dressmaking was, after all, how Balenciaga rose under his hand. But it seems the time and place for provocative entertainment has passed, and this calmer, classicist approach to design may be what it takes to unlock Demna's next big chapter for the Maison.
Almost as if on trend with fashion's obsession with quiet luxury, this back-to-the-drawing-board moment in Spring 2024 is an amplified version of its onset, which debuted in the muddy Winter 2023 collection. Or reset, as the choice to return to the Maison's foundation in suiting, and its physical homecoming onto 10 avenue George V (or "Le Dix" to Cristóbal Balenciaga) this time makes clear what Demna's new muse is today: history, quotidian dressing, and the art of dressmaking itself.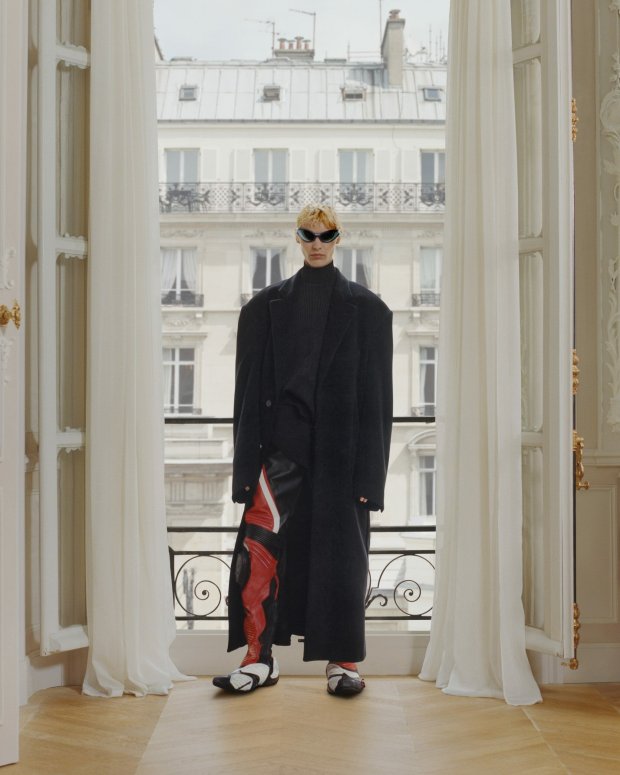 Titled "Capital B", this revisit of the namesake designer's legacy could not be more spelt out. Like learning to recognise the look of a word from its first letter, this Balenciaga show explicitly brings to mind the Maison's Parisian beginnings, exploring everything from the je ne sais quoi allure of the city's streets, freak Parisian showers, to iconic landmarks and classic silhouettes a la Cristóbal.
The assortment of hoodies, turtlenecks, coats and pantaleggings, was no perfunctory nod to heritage — the mixture of Garde-Robe pieces and seasonal ready-to-wear components were specifically orchestrated to feel familiar to today's fashion crowd, Balenciaga historians, and for literally anyone else who owns clothes. The result is something that feels like an all-star collection. In other words, a streamlined expression of icons that the artistic director has already created or reinterpreted (from the archives) for the House. From the bug-eyed Dynamo sunglasses, Hourglass Hinge bags and demi-couture evening dresses, it was (surprisingly) not shocking in any way.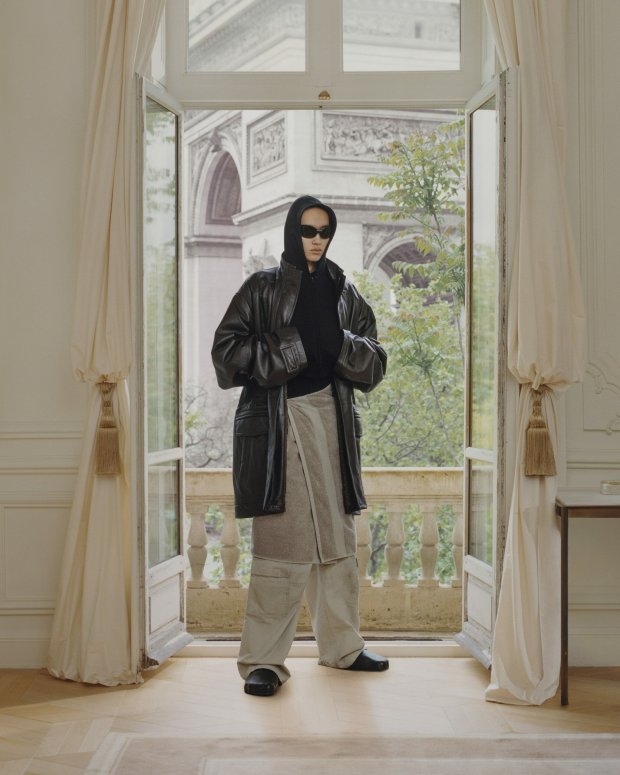 Maybe save for the towel skirts, oversized tailored pieces that flaunt luxe rare wool fabrics, and carcoats in poplin, cotton drill and denim, or even ultra-soft, Balenciaga-black leather. On the accessories front, the hyper-elongated square-toed Romeo mules, Rodeo Boot Bag, longitudinal Maxi Clutch and rhinestone-covered string market bags were memorable novelties. As well as the Biker Pantashoes in red, white and black leather — a nice reprieve of detail that gave focus to a rather subdued tonal and textural palette.
Things were largely familiar, for lack of better word. In the one-take tableau-esque film by Mau Morgó, BFRND's rework of Édith Piaf's "Sous le Ciel de Paris" backs a pedestrian choreography of models walking in and out of the legacy house, flagging cabs, picking up lost coins and walking dogs, all while taking calls and purposefully situating even the last look's silver sequin fringe dress in the world outside of fashion. It feels somewhat like a clip of surveillance footage, a taxonomy of the daily, non-fashion parade.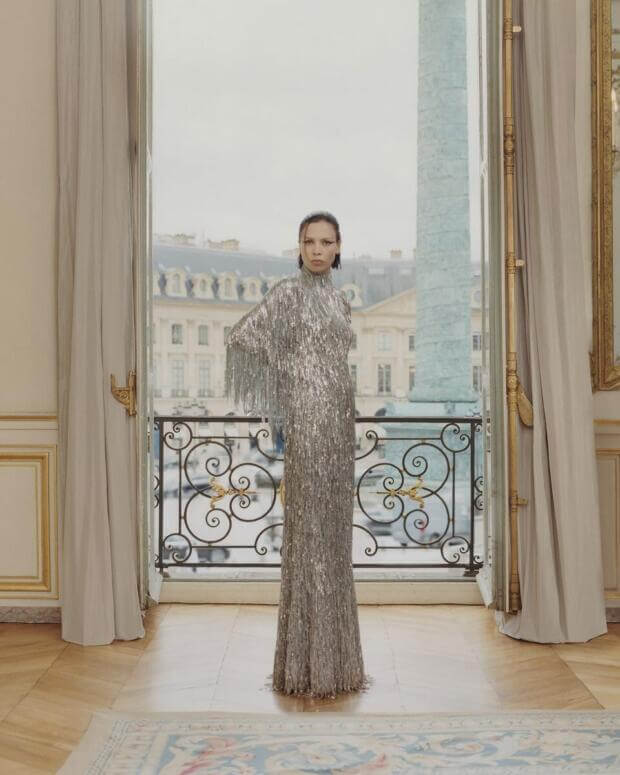 Only it is very much fashion, and still very much Demna. Even if this is less theatrical and otherworldly than his previous collections, the looks come from a place of self-realisation that, in its sincerity, commands authority and is imposing — something that Demna's Balenciaga pieces have retained throughout this tenancy. The oversized fits are still a callback to Demna's childhood wardrobe, consisting of economical and too-big hand-me-downs. A sense of couture is still abundant in ready-to-wear. So this return to his fashion roots and the Maison's own is not a retreat from the spotlight. It is an act of preservation that thrusts a slightly quieter Balenciaga back into the heat of the fashion frenzy, in a deafening and unmissable way.
For more fashion reads, click here.