---
Style & Beauty
Luxury's Salute to The Art of Shoemaking 
Two Houses of Prada come together in a traditional-meets-contemporary Fall/ Winter collection centring the timeless English brogue and a legacy of craftsmanship.
Fall has only just begun, but the fashion world is already busy with the new season's ready-to-wear collections, the big four fashion weeks and of notable interest, yet another luxury collaboration. This time, all eyes are on two Houses of Prada — Miu Miu and Church's.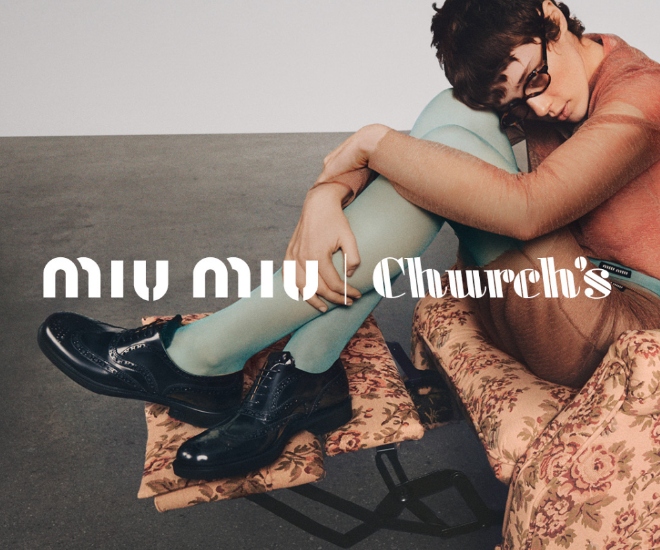 The collaboration introduces a refresh of two of the English heritage shoemaker's long-standing dress shoe models — the oxford and double monk strap — for Miu Miu's 2023 Fall/ Winter collection. Miu Miu says the collection is meant to espouse the Italian womenswear House's "signature play between the traditional and the contemporary", featuring a deconstructed presentation of archetypically formal womenswear in vibrant hues and shimmering embellishments. Overlaid jewelled panties on exposed stockings, three-dimensionally floral-embroidered cardigans and elegant collared dresses in a polka-dotted sheer finish are of the few sneak peaks the House has offered at its new season on social media. 
The Church's shoes take up this play on disrupting the traditional, opting for the more recognisable as well as eye-catching brogue finish on both pairs along with the Miu Miu logo, playful in its own design, embossed on the tongue and the sides of the soles which are themselves made of functional non-slip, flexible rubber instead of the traditional heavier leather.
More than Meets The Eye
The campaign appears exciting in the onset, but those in the industry know better about the underlying flows of commercialism which drive fashion partnerships. Collaborations may be touted as a transient design platform to reinvent and reinvigorate, but many often fall short of the mark when serving mostly to combine market audiences under a single campaign or product. This might be the case for Miu Miu and Church's, both Prada subsidiaries whose mutual success is of vested interest to the Prada group. Rather than an Italian luxury house making the effort of reaching out to a 150 year-old Northampton shoemaking pioneer from one end of the continent to the other, the collaboration could have easily been decided upon in a corporate board meeting on how to sustain better profit margins.
The corporate narrative is especially resonant when you consider Church's falling popularity in recent times, one part of a larger shift away from traditional men's tailoring and formal dress. The decline of Church's has been a slow burn, with news stands talking about how the shoemaker has "lost some of its lustre" as early as 1999 when the Prada made headlines with its USD$170 million acquisition shortly after purchases of Jil Sander and Helmut Lang. The gradual decline had eventually led to the exorbitant brand-wide price hike of around 40 to 50 percent in 2021, packaged as a reframing of Church's shoes as a true luxury good.
The storied shoemaker may have lost a fair share of its fans and aficionados in the past two decades since the Prada takeover, but it remains undeniable that Church's is near synonymous with traditional men's tailoring and English shoemaking at large. Church's was famously James Bond's shoe of choice, worn by Pierce Brosnan throughout the late 1990s as he shot scene after scene of suave car chases and rooftop stunts all in tailored suits and various pairs of Church's dress shoes.
Corporate agenda aside, it still stands significant then that a luxury womenswear line would choose to spotlight an English heritage brand historically rooted in formal menswear, merging the figures of the contemporary feminine and traditional gentleman in the form of a pair of brogues.
Shomaking's Legacy
It is perhaps only the famed leather shoe that wields the power to transverse such boundaries of identity and style. Parisian house Hermès for all their expertise in luxury leather goods chose to invest in acquiring historic English shoemaker John Lobb's Paris outfit in the 1970s, operating parallel to the original family-owned shop in London till this day. It stands that shoemaking has always been a trade ubiquitously agreed upon to be best left to its master craftspeople.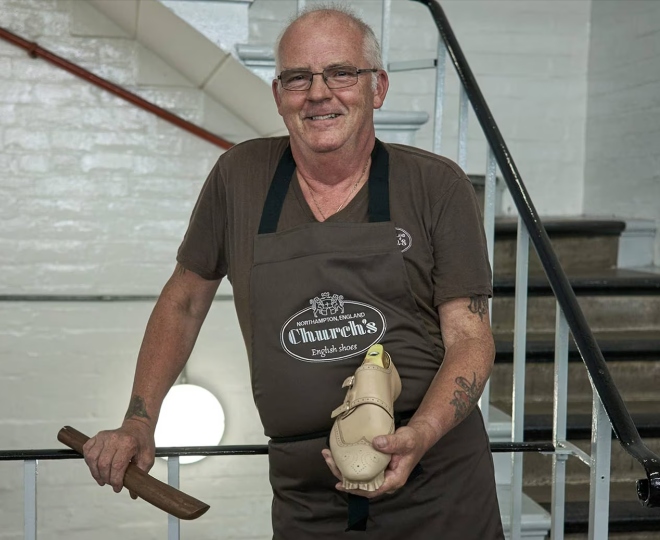 Before wars throughout the 19th and 20th centuries and the consequent industrialisation age gave rise to mass production, shoes used to always be "bespoke". Long before "bespoke" meant luxury, it was virtually necessary for the earliest shoemakers which did not yet have international size charts and could only commence crafting shoes after doing individual measurements. One would visit a shoemaker to get shoes made for oneself, rather than visit a store in hopes of finding a pair which could only approach the "best fit". 
It is then perhaps a collective amnesia which has displaced the fact that shoes have always been made specifically for comfort. While leather dress shoes or boots today get a bad reputation for being brick hard, blister-inducing and difficult to "break in", leather rose to prominence in the earliest shoes precisely because it was sturdy yet flexible. Its versatility as a material was a rare one which met the demands of a variety of uses like horse riding, military combat and eventually, formal dress.
The Shoes Make The Man
The power of a well-fitted pair of shoes to elevate one's gait and even esteem was not lost on famed stiletto proponent, Christian Louboutin. Louboutin had always insisted that a good pair of heels with the necessary skills required to walk confidently in them could transform the way a person looked, felt and acted, designing shoes with the goal of making legs look as long as they possibly can. Louboutin's imprint can be found all over haute couture throughout the 1980s when he designed shoes for the likes of Chanel and Saint Laurent before founding his own studio in 1991, his influence and love of the stiletto reaffirming the forgotten truth of shoemaking — a trade crafting not mere accessories, but pieces central to both dressing and feeling well.
Think of the ubiquitousness of now classic silhouettes like those of Nike's Air Force 1s or Adidas' Stan Smiths — these leather-crafted performance shoes were the first of their kind in their respective sports of basketball and tennis, going on to become some of the most worn shoes in contemporary street culture. While performance technology has gone leaps and bounds ahead, these early sporting pioneers were exceptional for their time and featured heavily on the feet of professionals and street-side amateurs alike.
Having the right shoes for the job is perhaps of paramount importance in sporting performance, but it speaks to something more ethereal to feel changed simply by putting on a pair of shoes. It speaks to not only the trust that we place in the shoemakers who made them, but also the sheer gravitas a pair of well-crafted shoes can imbue in a person. As that timeless — if not slightly outdated — adage goes, "the shoes make the man (person)".
The Verdict
A science for its craft and an art for its spirit, shoemaking's legacy continues to draw fashion back to its craftspeople for the final say on what makes a good pair of shoes. In that vein, it seems almost necessary for both Miu Miu and Church's both to seek each other out for such a collaboration. For Miu Miu, it is perhaps a required salute to the art-science of shoemaking in their inclusion of such a timeless figure in their contemporary collections; whereas for Church's, it is perhaps an opportune time to cast themselves back into fashion's limelight and remind the industry why they are the masters of their craft — a two way revival.
Miu Miu fans hesitant to try on such formal dress leaning footwear will be relieved to read that the collaboration has opted for a silhouette "rounder and broader in shape than the originals that inspire them", perhaps in efforts to lower the barrier for entry for buyers new to Church's, and maybe also lost Church's aficionados keen to reconsider investing in a pair of Church's brogues without the growing pains of breaking in the shoes. As quoted from the official collaboration page, it is "the reassurance of the familiar… at once celebrated and subverted — undone — to create something new".
Head over here for more reads on fashion.