---
Style & Beauty
Alessandro Sartori and the Art of Subtlety
Everything about Zegna artistic director Alessandro Sartori is a quiet study of elegance—his demeanour, the way he enters a room, and how he continuously crafts excitement at the Italian menswear brand.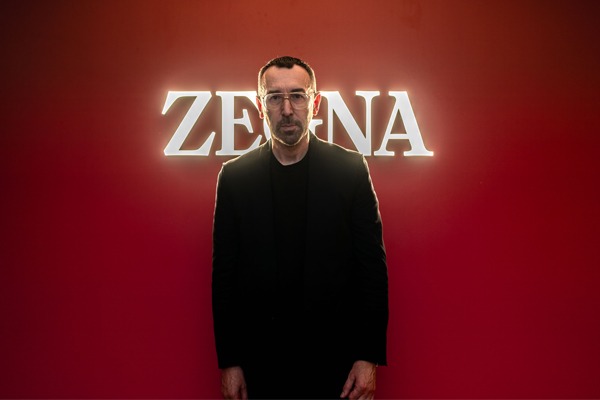 Alessandro Sartori is a fan of the Formula One races. He must be—he's been travelling here for the Singapore Grand Prix since 2018, taking in the race from the top of The Fullerton Hotel while Zegna holds a by-invite-only trunk show and party during race weekend. It has become a sort of Zegna tradition with friends of the brand flown in from around the region to revel in the atmosphere annually. You would see mannequins dressed in Zegna and racks of clothes positioned around the suite but no one is pushing for a sale—at least not on the evening of the finals.
I don't think Sartori cares much for it too.
It's not that the artistic director of Zegna isn't particularly interested in heading a profitable business; he knows that his directional menswear designs sell. And they do. Zegna Group's preliminary first-half revenues for 2023 reached more than EUR900 million, of which Zegna-branded products (Sartori-designed pieces as well as licensed products) account for EUR541 million, a 27.3 per cent increase from the year before.
Everything that Sartori has been doing point to the year-end financials looking to be just as promising.
The recent trunk show in Singapore was a celebration of Zegna's traceable Oasi Cashmere collection and its debut collaboration with Los Angeles-based brand The Elder Statesman. "It was very organic. We didn't think to collaborate. [laughs] I met Greg (Chait of The Elder Statesman) through common friends. I was in love with his collection because I love the homemade-handmade aesthetic. He was actually doing things with a very grandmother quality, you know?" Sartori tells me.
Zegna's expertise in cashmere led Chait—who was in Italy to source for the material—to Sartori at the recommendation of a mutual friend. A one-and-a-half-hour coffee meeting later, Sartori invited Chait to visit the brand's headquarters Oasi Zegna, while he was invited to visit The Elder Statesman atelier in Los Angeles. They realised that they both share the same values and decided to talk about collaborating a year after.
The Zegna x The Elder Statesman collection is not one you would expect from Zegna. It's a burst of colours in contrast to Zegna under Sartori where the use of colours is more keenly calculated and monochromatic in nature. It's also more tactile in the kind of "grandmother quality" that The Elder Statesman is known for. But what's truly Zegna is in the level of craftsmanship, the luxury leisurewear aesthetic, and of course, the use of Oasi Cashmere throughout the collection.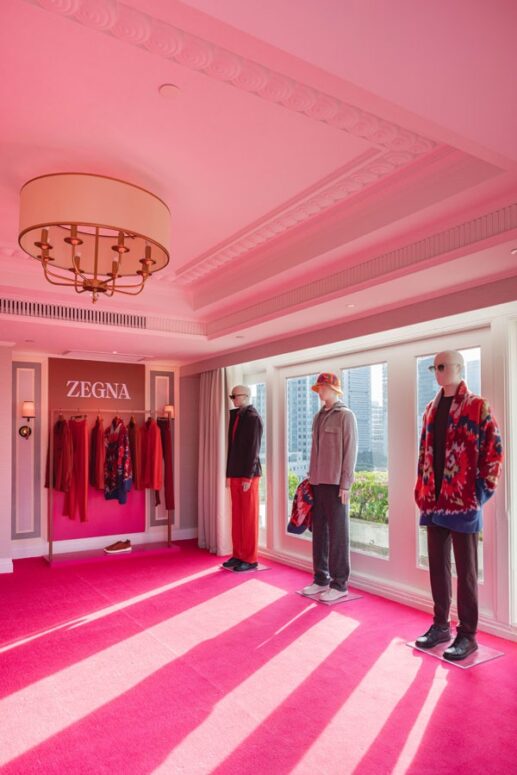 Sartori says that the goal was to be very precise in what would end up on the final line-up. "If we thought that the garment was not good for The Elder Statesman or for Zegna, we edited. And we edited beautiful pieces but the aesthetic was too much of this or that, or too strange," he explains.
The result was a collection with each look striking a balance between Italian savoir-faire and luxury coupled with a laid-back Californian vibe.
The fact that this is only the third big-name collaboration that Zegna has produced makes it an industry outlier. While fashion brands big and small continue to seemingly churn out buzzy collaborations at least once a season, Zegna released its first collaboration—a phenomenal one at that with Fear of God—only in 2020. One might say the brand was simply late to the game, but Sartori never felt the need to keep up.
"I was very surprised Zegna collaborated with Fear of God, because it was the first-ever and I always felt like the brand didn't need to go that route," I tell Sartori.
"You like it?"
"I loved it. I tried to buy a piece but it was sold out everywhere."
According to Sartori, he still receives requests to produce more of that landmark collaboration. When asked if the success of his first collaboration created pressure for him to do more, Sartori was quick to dismiss it. "I could have done plenty but I don't want to. I want to do what we feel is right for the brand, something that has meaning and connection to the work we do," he says. "We don't do collaborations to make money. Of course, we need them to sell because if you don't, that means you don't deliver. But they're made with the purpose of connecting different communities."
With Zegna x The Elder Statesman, the idea of bridging different communities not only refers to the two different customers of both brands, but also to amplify the possibilities of creation using Zegna's excellent quality and traceable cashmere. Oasi Cashmere is one of two material sustainability efforts that Zegna is investing heavily on currently—the other is Oasi Lino, traceable linen for the warmer months. The beauty of directly owning a number of Italian fabric mills allows Zegna to control the production of textiles right from the source, including the origins of the raw material itself. "I say this quite often lately, 'One day, a generation will arise where if a garment isn't tagged with a digital passport, they won't buy it'," Sartori opines. He likens it to the food industry where manufacturing details are extensive and clear on labels.
Before you deem this as merely Zegna jumping on the sustainability bandwagon that every other fashion brand is on, the very foundations of the brand is rooted in caring for the environment and community. It goes back to 1910 with founder Ermenegildo Zegna planting the first tree in the area surrounding his mill. And about 20 years later, he constructed a 26-kilometre road to make Oasi Zegna accessible to the local community and link them to its natural surroundings, providing a public space for leisure and outdoor activities among nature.
"I'm almost surprised that Zegna had never spoken about Oasi Zegna before," Sartori expresses. "We thought it was a mistake and something we needed to communicate because it's the honest and authentic vision of the company."
It's one of the rare instances in our interview that Sartori agrees that if there's something the brand needs to be "louder" about, this would be it.
On Sartori's part, it had already been a guiding principle for his designs. He sees sustainability as more than simply using recycled materials—Zegna continues to do so with its #UseTheExisting fabrications made from recycled sources—or one-off capsule collections. To Sartori, it's a mindset that goes down to the very make of a garment. He cites the example of the very basics of tailoring: quality construction made to last. From the stitchings of the shoulders to how a buttonhole is made, everything has to be built with the idea that it should last for a very long time.
"If I designed a jacket that after three years doesn't hold together and breaks during travel, I wouldn't have done my job. The goal is for you to wear a jacket that after 15 years might have a little hole, but remains completely wearable. That is my dream," he says.
Sartori calls this "designing for sustainability", where there needs to be some foresight in constructing a garment in ways that would allow it to last, as well as have the possibility of being recycled. A jacket constructed with a lot of fusing, for instance, wouldn't be recyclable because disassembling it is near impossible.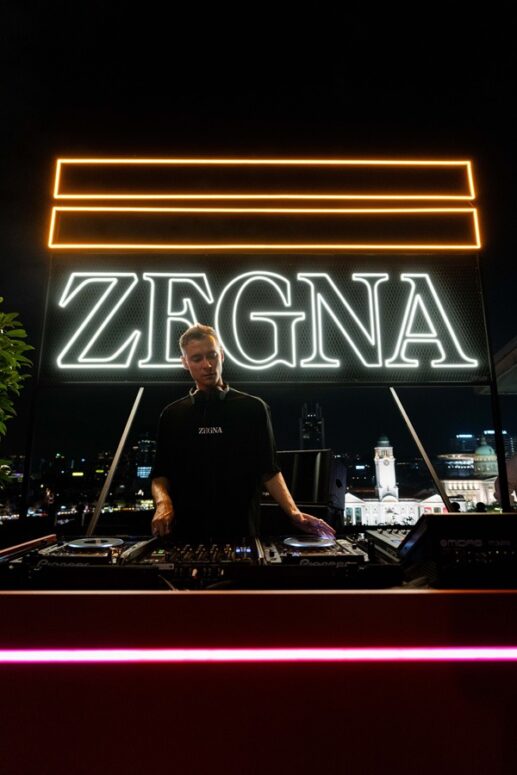 While seasonality is still apparent in Zegna's collections, Sartori doesn't design specific to each season. The collections have been streamlined such that ideas transcend seasons, but still rooted in a specific aesthetic that he's crafted to be Zegna's version of modern tailoring. It's unabashedly louche and relaxed with foundational elements consisting of knitwear, the overshirt, the chore jacket, the signature Triple Stitch sneakers, voluminous trousers and the like. The look has been consistent since the Autumn/Winter 2021 collection as part of an evolution that was already in the works but accelerated by Covid.
In the consistency lies timelessness. You wouldn't easily part ways with a Zegna piece from one season; there's seamless integration between pieces from different seasons. Let's face it, a Zegna piece is an investment that you'd want to hold on to and wear for as long as possible anyway. And Sartori continues to make that easier.
So yes, Sartori may be a fan of the Formula One races. The speed and the sounds (he's unfazed by the zooming of cars below us, audible towards the end of our interview) may thrill him. But at his core, he's not one to condone needless speed, but a still, calm force that pushes ahead with intention.
This article was first seen on ESQUIRE Singapore's October 2023 Issue.
For more on the latest in fashion stories, click here.