---
Style & Beauty
Behind-the-Scenes Look at 8 Set Designs of A/W17 Runway Shows
Spectacular sets and thoughtful designs add an extra layer of meaning to the A/W '17 collections.
1 | Prada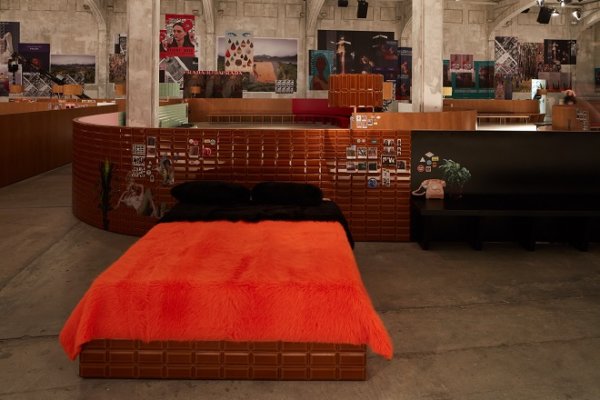 Inspired by the title of Fellini's 1980 film City of Women, Miuccia Prada began the season by pondering the meaning of feminine seduction. Her ongoing collaboration with OMA resulted in a richly detailed set that called to mind the room of a teenage girl – floral bedspreads, photo strips on the walls. But things are not that innocent – the beds are wrapped in shiny vinyl or hairy fuzz, and the posters spell out ominous things like "Tender Is The Storm" and "Velvet Knife".
2 | Burberry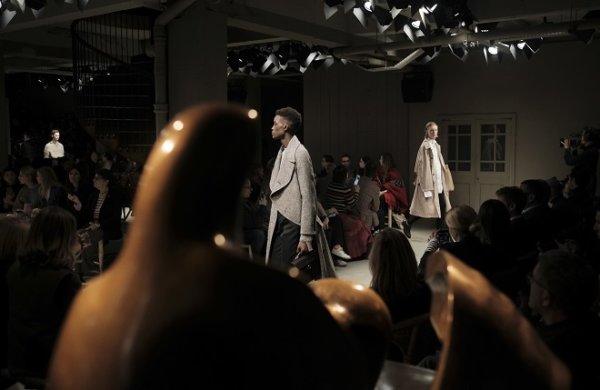 For his second see-now-buy-now collection, Christopher Bailey looked to the ultra-modern, abstract sculptures of Henry Moore, whom like Bailey, hails from Yorkshire. He translated Moore's sensuous, undulating shapes into clothes with unexpected proportions and asymmetrical silhouettes while the Burberry show space at Maker's House was stripped back to industrial minimalism and dotted with several of Moore's distinctive, large-scale sculptures.
3 | Calvin Klein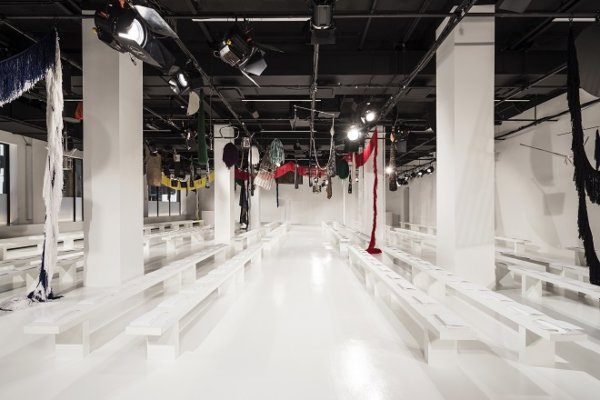 Easily the most anticipated debut of the season, Raf Simons kicked off his tenure with a collection that celebrated and twisted beloved classics of American style, set against a permanent installation by his frequent collaborator, Sterling Ruby. Ruby called his work for the brand "a free-floating collage" and it features his signature juxtaposition of both meaningful and mundane all-American elements including textiles, undergarments, flags and banners, car parts and even a giant security door.
4 | Céline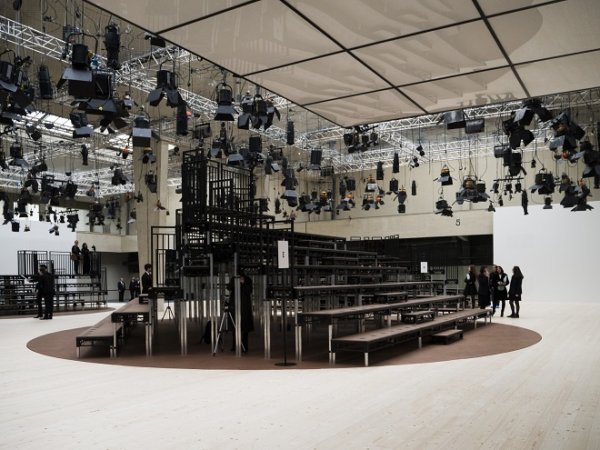 Last season Phoebe Philo worked with Dan Graham to capture urban movement. This season she elevated those ideas with Philippe Pareno. Against a soundtrack of machinery and city noises, Parreno placed the audience on revolving platforms resulting in an unexpected viewing experience. Was it a commentary on the state of the industry? The unpredictability of everyday life? Whatever it was, Philo provided clothes for women to move confidently through chaotic times.
5 | Gucci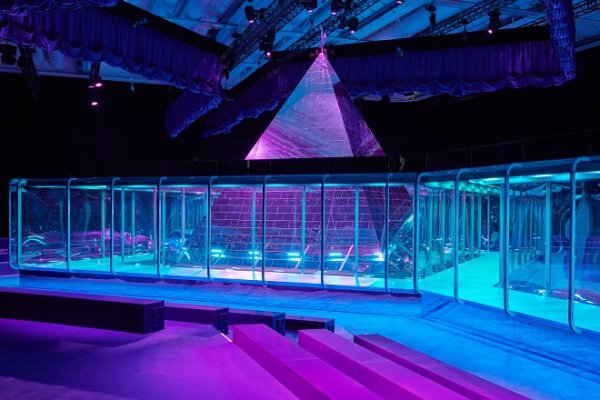 The brand's first official co-ed show was also its first in the massive new Gucci Hub, a converted hangar space. Just like the collection itself borrowed from disparate eras, the showspace too reflected that rich mash-up. The centerpiece of the set was a giant glass pyramid topped off with a traditional rooster weather vane. Models walked through brilliantly lit Plexiglass tubes like something out of a futuristic laboratory, or as Michele called it, an anti-modern laboratory.
6 | Loewe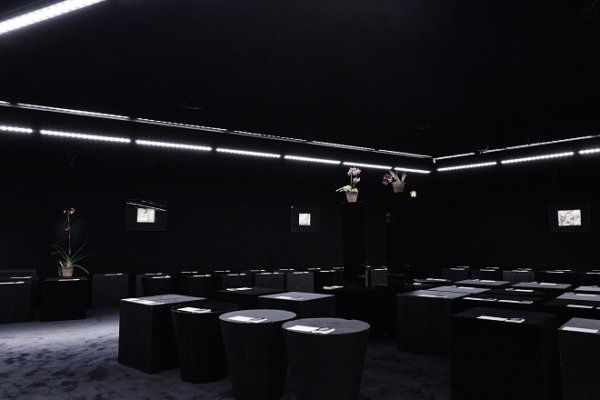 Jonathan Anderson showed his latest Loewe collection in a pitch-black space, forcing guests to grope for their seats. But the darkness only served to highlight the handcrafted textures and raw beauty of the clothes. On the walls were images by the obscure photographer Lionel Wendt, who documented his local Sri Lankan culture, male nudes and floral still-lifes in washed out sepia tones. The flower studies found their physical match in the rarest orchids placed by Anderson in random clusters around the space.
7 | Alexander McQueen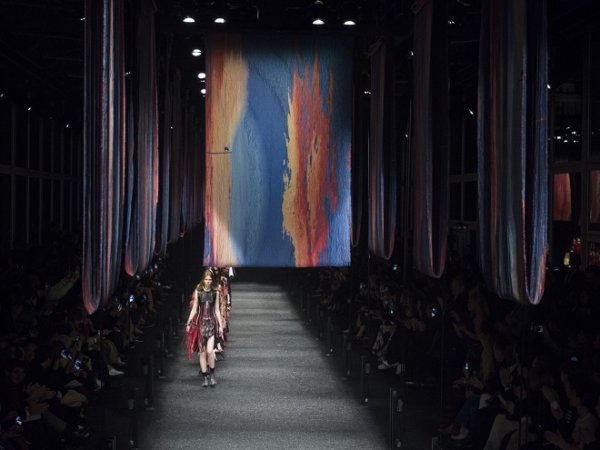 Sarah Burton channelled pagan power for her latest collection. The women who walked down her runway were forces of nature, clad in primal blacks and reds, patchwork patterns, fraying textures and protective layers of leathers and shearlings. The set was inspired by the majestic, untouched outdoors of folkloric Cornwall where Burton and her design team took an inspiration trip, with billowing sheets strung up by design duo M/M Paris to evoke brilliant sunsets turned sideways.
8 | Miu Miu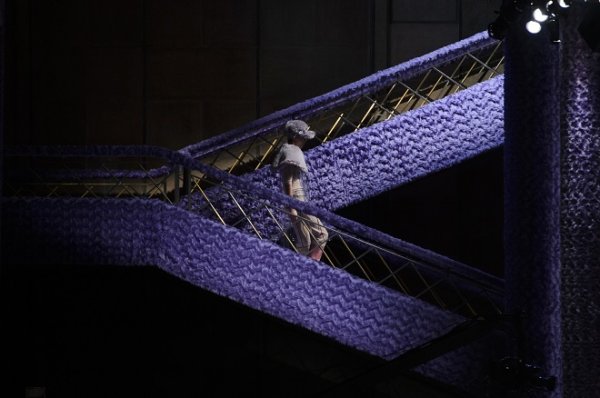 Just like Prada was a musing on seduction, Miu Miu too took a similar vein where Miuccia looked at the clichés of glamour and pushed it to the extreme, covering everything in an abundance of faux fur – including the invites, set and seats, not to mention the big hats, bigger coats and all the fuzzy shoes. It was a surreal trip to a fantasy world conjured by Miuccia and OMA – the perfect way to end Fashion Month on a high.
Words by Jeffrey Yan.
From: L'Officiel Malaysia, Jun/July 2017.
Save