---
World Of Watches
Parmigiani Fleurier: Tonda PF Annual Calendar SHH Edition
The Parmigiani Fleurier Tonda PF Annual Calendar SHH Edition is in a shade of blue entirely exclusive to this 25-watch limited run.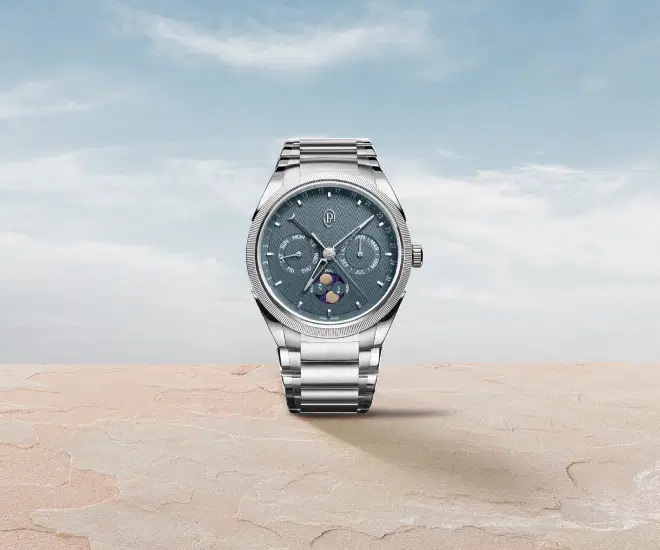 When humans began to measure time, we turned to the skies. While we have no written records, we do know that ancient humans tracked the motion of celestial objects, and common sense tells us that the day and night cycle would have been obvious. After all, our own internal clocks run on this, which we confirmed experimentally and know today as circadian rhythms. That very name, circadian is derived from two Latin words, circa (about) and dies (day). It would be many millennia before we could match these internal clocks, but our ancestors did a bang-up job of using external objects to create broader measures of time, for weeks, months and years.
Calendars were probably the first real external timekeeping we ever managed, and they eventually got us into all manner of conflicts between different cultural standards. Wherever people built clocks of some kind, they were likely to be about tracking cycles of some kind, like the phases of the moon. These instruments gave the human species, and only us, the ability to know our place in time and space. Little did we know that such a wonder would someday come to our wrists in a form as stylish as the Tonda PF Annual Calendar.
This particular story you are reading is about a variant of that handsome watch, only slightly more handsome and much rarer. This one is the SHH Limited Edition in a shade of blue entirely exclusive to this 25-watch limited run. This is not merely a colour that has been tacked on, or borrowed from elsewhere in the PF assortment. Instead, it has been drawn from nature itself, as interpreted by legendary architect Le Corbusier and the palette of colours he advocated in his Architectural Polychromy essay of 1931. Sincere Fine Watches and Parmigiani Fleurier inform us that this colour is called Pacific Blue, and blends blue and grey for a subtle effect. The aim was to deliver a degree of "softness and clarity to the guilloché dial of the Tonda PF Annual Calendar dedicated to Sincere Fine Watches."
Watch brands and specialist retailers have a bond that often comes with years of trust and shared passion. This will be no surprise to true blue watch enthusiasts and collectors, given that we all know retailers are the first to take a chance on new watchmaking brands. One need only look at auction catalogues to find double-signed watches, where the retailer has put its own name on the dial alongside the watchmaker's, as a sign of trust, value and, most obviously, a strong partnership. Indeed these examples, ranging from Tiffany & Co. to Cartier are rapidly gaining favour amongst collectors in search of historic vintage pieces that celebrate certain traditional relationships in the watch trade. In the case of the SHH Limited Edition, that wonderful dial is not compromised by two brand names.
Terreni also weighed in on connections and relationships when we spoke with him last year: "What is important to me is the bond or the connection that you have (between oneself and one's craft, and one's clients). We want to build human relationships, human value, not brand value.
"This obliges us to not make compromises. Our reason to exist is not a commercial objective; we arrive at this by building relationships (with customers). If we succeed at cultivating relationships then we succeed commercially."
We wrote last year that the Parmigiani Tonda PF collection was introducing an absolute rarity for the brand — an annual calendar without chronograph. While it may seem odd to get excited about a less complicated approach, dial clutter is real and can all too easily spoil the experience of wearing a beautiful watch. It can also make it unreasonably tough to read the date, which happens to be in retrograde form here… It is displayed by a crescent moon-tipped hand that points to a date track between 8 and 4 o'clock. Days of the week, month and phases of the moon are displayed at 9, 3 and 6 o'clock, respectively, in slightly recessed subdials. This helps keeps things neat and tidy, which is sometimes a challenge with subdials. Another thing that is not difficult to see is that this approach to the annual calendar is not unique to the Tonda PF, but the effect tends to be very different.
Terreni basically created the entire Tonda line no sooner than he had walked in the door to his deliriously well-appointed office at the manufacture. When he asked how he accomplished this in a year when it takes up to five years to develop a new collection, he smiled wryly and said he simply took advantage of what was already there, and the amazing expertise of Pamigiani Fleurier. "The creative process of the Tonda PF went smoothly (in 2021). Design was validated in the hard milestones on February 19, leaving finishings and dial colours to be finalised in parallel during the development. The first prototypes saw the light March 8, and the whole collection was finalised at the end of June, and presented with production pieces in Geneva Watch Days on August 30; deliveries to clients started in the second half of October," said Terreni. While you might not think much of this process, but recall that Terreni had only joined in January of 2021. "I would never have taken such a challenge without such an in-house capacity (at Parmigiani Fleurier)."