---
World Of Watches
Montblanc new 1858 Automatic 24H and Monopusher Chronograph
Featuring new dials and bi-metal bronze cases, Montblanc 1858 collection is enriched by a 24 hour automatic and a bronze, limited edition monopusher chronograph (which joins its salmon dial edition launched in an earlier preview).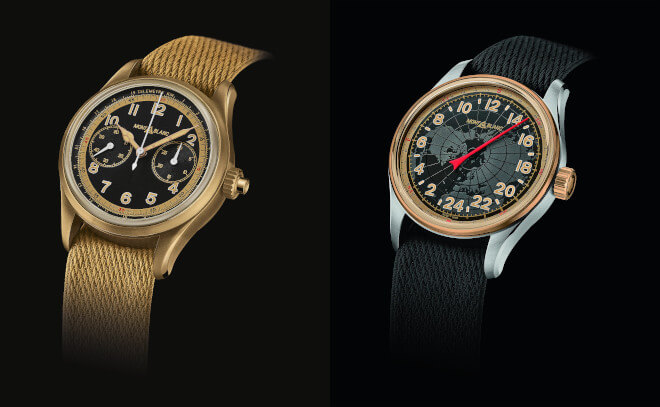 For 2020, Montblanc is presenting two new 1858 watches, the Automatic 24H and a limited edition Monopusher Chronograph. Inspired by Minerva's heritage, the new 1858 Automatic 24H and new Montblanc Monopusher Chronograph lean heavier into their vintage aesthetics. Featuring new coloured dials and bronze cases, Montblanc's 1858 collection of watches is enriched by a 24-hour complication – an uncommon method of time display given our faster paced 21st-century lifestyles but currently, oddly prescient given that almost all economic activity has ground to a standstill with life reverting to a much slower pace given the global lockdowns.
Classic 19th-century design codes and vintage elements also celebrate that portentous confluence of Minerva pocket watches and a nascent industry of railroad wristwatches, which makes the new Montblanc 1858 Automatic 24H a fun journey down nostalgia lane: Guess this year is the year to party like its 1858.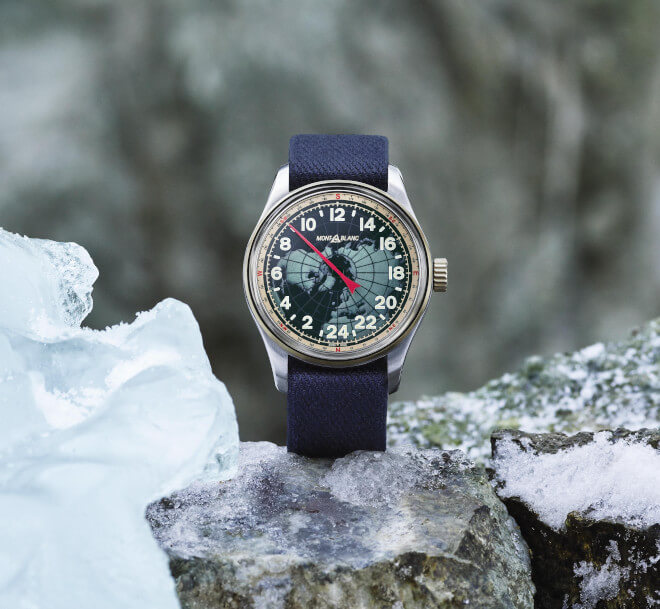 Montblanc new 1858 Automatic 24H and Monopusher Chronograph
We can thank the ancient Egyptians for our 24 hour day. Over a millennia ago, pioneering Egyptian astronomers initially divided the daylight into ten partitions measured by sundials, since only the ten daytime hours would render the shadow of a sundial meaningful, the additional two hours for the morning and evening twilights, brought the total to 24 with astronmers marking the passing of the hours in the night by observing the overhead rotation of the stars grouped together in easily observable "decans" until sunrise.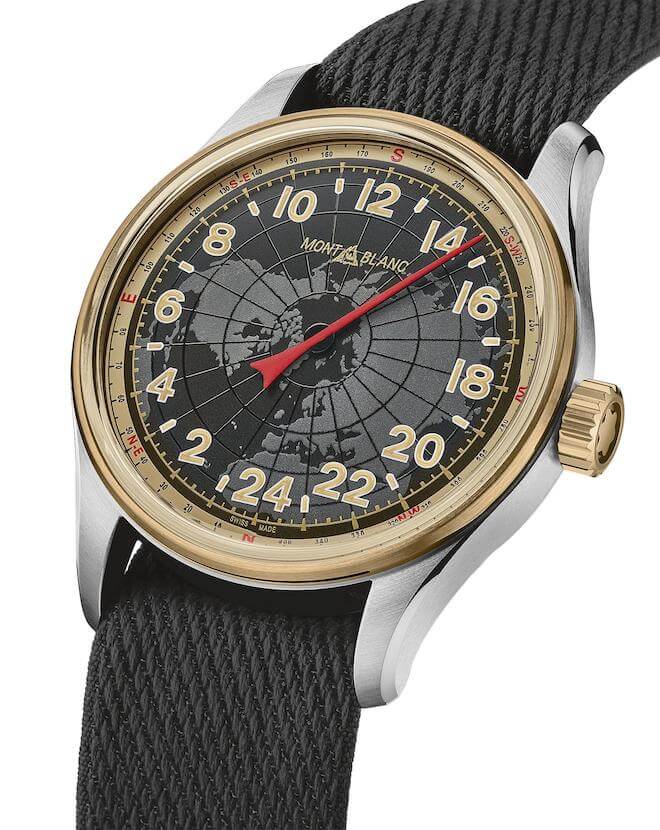 With its lone hour pointer, the new Montblanc 1858 Automatic 24H recalls this ancient legacy in the context of our own pre-modern history – time indicated on a 24-hour scale using a red-coloured hand coated in SuperLumiNova accomplishes optimal legibility for both day and night readability. Furthermore, this ethos of exploration finds another voice in the compass scale, typically only a design feature but on the new Montblanc 1858 Automatic 24H, an element designed to be used.
Displayed in a beige-coloured ring running around the periphery of the dial, with compass markers at each of the cardinal points and each 15-minute interval allow you to use the new 1858 Automatic 24H as a rudimentary navigation device.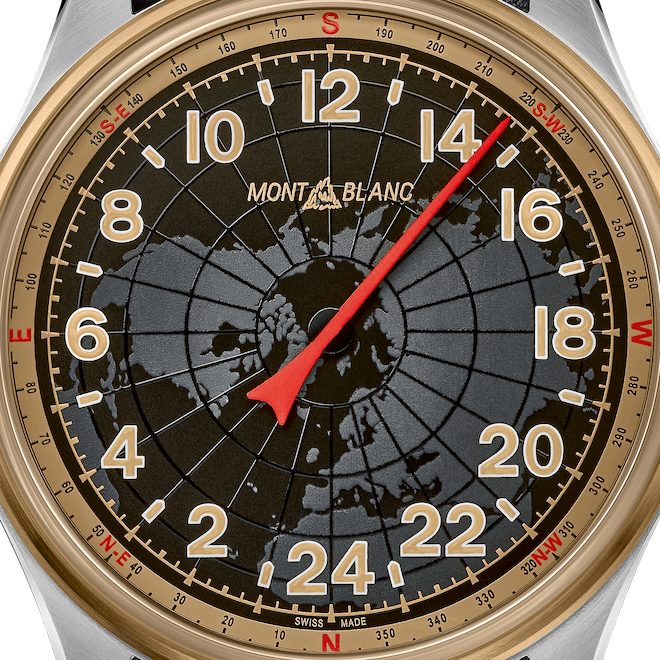 Using the new Montblanc 1858 Automatic 24H as a compass
The sun rises in the East and sets in the West, which means that if you're in the Northern Hemisphere, the 1858 Automatic 24H  will indicate South at midday. If your watch has been correctly set, simply orienting the hour hand to point towards the sun while holding your watch face parallel to the ground will orient the cardinal points to their geographic alignment with North at 24h and South at 12h. Should you find yourself in the Southern Hemisphere, the cardinal points are inverted.
The black map of the Northern Hemisphere and its 24 meridians becomes especially attractive as night starts to fall. Made out of luminescent material, SuperLumiNova-coated dial elements of the new Montblanc 1858 Automatic 24H – the hour numerals, indexes and single hour hand take on a mysterious glow, making the timepiece distinctive even in the dark.
The automatic timepiece comes with a new 42 mm bicolour case made of stainless steel and a bezel made of a special alloy of bronze, providing a vintage aesthetic. The timepiece is completed with a special "Spirit of Mountain Exploration" engraving on the case back.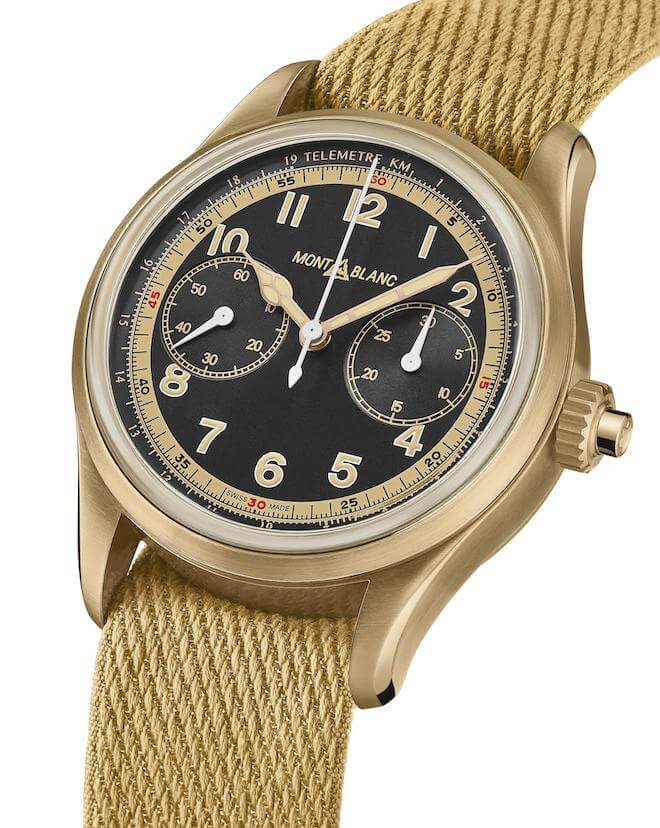 New Montblanc Monopusher Chronograph Limited Edition
Minerva's exquisitely finished monopusher chronograph may be out of reach to most young professionals but 2020 saw Montblanc release their Salmon dial Heritage Monopusher Chronograph limited edition and another vintage-inspired Monopusher chronograph in aged bronze.
Featuring a black dial with a beige-coloured railway track, as well as two counters at three and nine o'clock, the new 2020 bronze Monopusher Chronograph Limited Edition joins its salmon dial brother, with a rougher and tumble aesthetic versus a dressier, classical countenance. The dial highlights striking colour contrasts with their historical, luminescent, cathedral hands; luminescent Arabic numerals; railway minute tracks; and the original Montblanc logo from the 1930s with its historical font and Mont Blanc Mountain motif.
The satin-finishing of Montblanc's new bronze Monopusher chronograph for 2020 features horn edges that are polished to underline their shape. Reinforcing its vintage appeal are details like fluted crowns, typical of those found on timepieces from that period, domed sapphire crystal glass boxes and of course, beige-coloured SuperLumiNova numerals for that faux-aged look.
The 1858 Monopusher Chronograph Limited Edition features the calibre MB. 25.12 that indicates elapsed time with a central second hand and a 30-minute counter, both with white- coloured hands to create a contrast with the black dial and allow better readability of the function. The start, stop and reset can be activated through a single pusher integrated into the crown. The timepiece is available with a new matching beige-coloured NATO strap that is made in a traditional 150-year-old strap manufacture in France.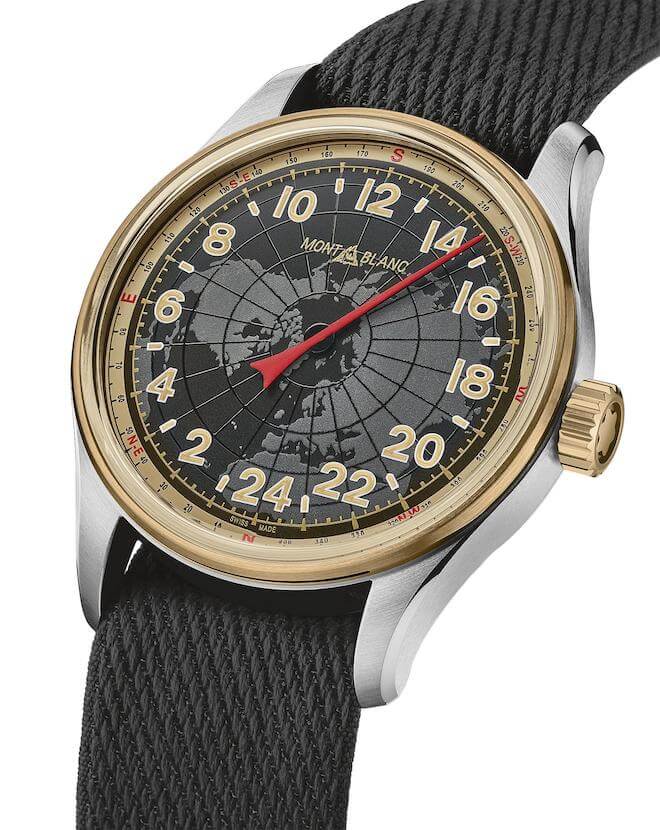 Montblanc 1858 Automatic 24H Price & Specs
Movement automatic Calibre MB 24.20 with 42 hours power reserve
Case 42mm Stainless steel with bronze bezel with 100 metres power reserve
Strap black NATO
Price On application
Also available with a stainless steel case and bracelet or with an aged, cognac- coloured calfskin strap with beige-coloured stitching Sfumato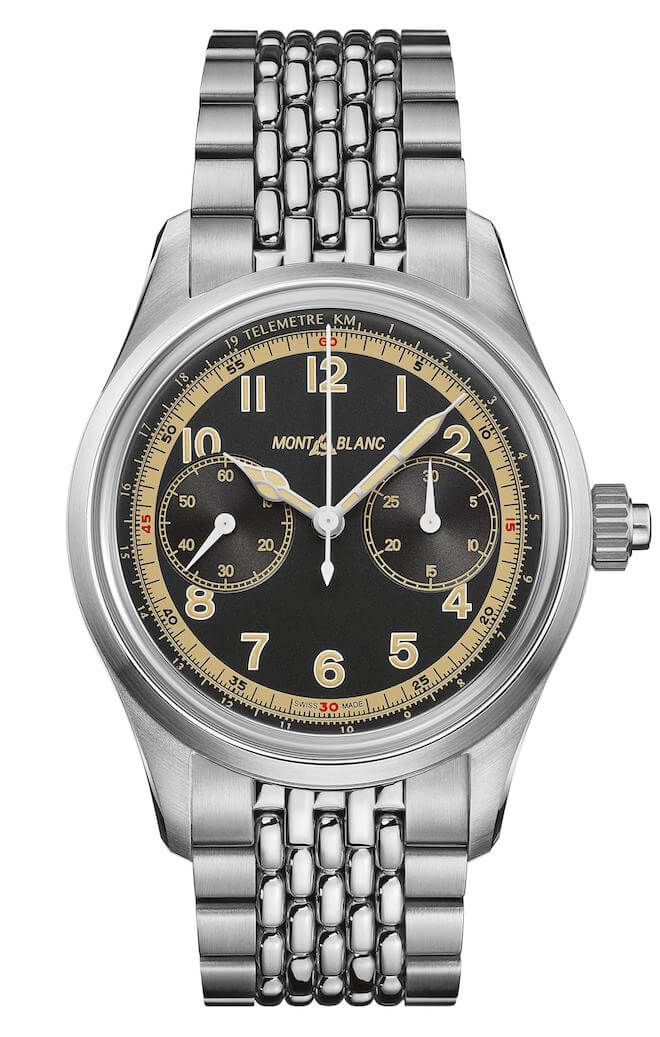 Bronze Montblanc Monopusher Chronograph Price & Specs
Movement automatic Calibre MB 25.12 with 48 hours power reserve
Case 42mm bronze case with 100 metres power reserve
Strap NATO or "rice beads" bracelet
Price On application