---
World Of Watches
Laurent Lecamp, Managing Director of Montblanc On Creating Palpable Timepieces
Montblanc Managing Director of the Watch Division Laurent Lecamp talks with us about creating desire. He has identified three pillars, all of which are to be found in every new Montblanc watch this year.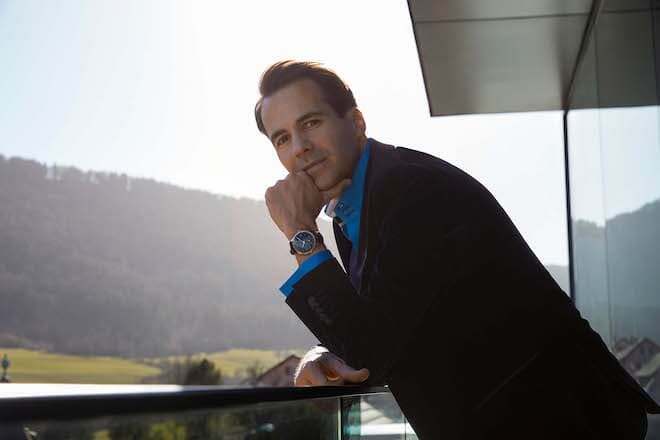 The late Rolf Schnyder exhorted me to remember that not everyone who works in watchmaking does so for passion or even for profit. Sometimes, it is just a job that pays the bills, like many other jobs. He never really expanded on the point, but it has stuck with me over the years. I keep it in the back of my mind when I meet watchmakers and executives in the trade, to avoid my own biases. Montblanc's watchmaking boss Laurent Lecamp definitely has a passion for the storytelling aspects of watchmaking, and is amazed by the work watchmakers do. Not just the results, such as the meticulously finished movements emerging from the Minerva manufacture, but also the act of finishing itself. The art of finissage, in other words.
You can see the evidence for this yourself, if you watch the video where Lecamp discusses the glacier dials of the Iced Sea Automatic. It does not come across fully on camera, but his eyes light up with complete authenticity. This is more obvious in person, as the WOW team discovered when we met him at Watches and Wonders Geneva. For the 1858 Iced Sea Automatic Date, one of our highlights from the fair, it is even more remarkable that the specific technique to create the dial was suggested by the supplier, and Lecamp's astonishment that 30 processes go into making one dial is palpable.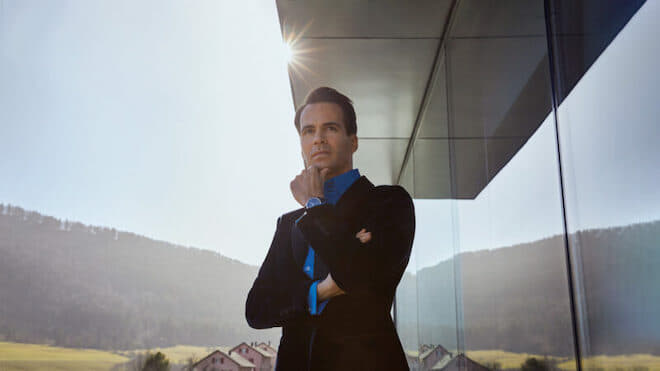 Of course, marketing is Lecamp's stock in trade so he recognises that there is great story-telling potential in such technical details, as well as in the particularities of hand-finishing. This does not alter the fact that he finds it exciting, personally. This is also unsurprising, perhaps, given that Lecamp was known to collectors as one of the founders of independent watchmaker Cyrus. He has said that his entrepreneurial spirit was drawn to the possibilities at Montblanc, where he would have similar freedom, but with structure.
Structure is exactly what Lecamp was looking for when he decamped from Cyrus, selling his equity to take a management position at retailer Carl F. Bucherer, which also has its own watchmaking arm. He was a member of the board there until 2020, and Executive Vice-President of Sales, while also being CEO of the Japan arm. He left that year, and we were introduced to him virtually in 2021 when Montblanc announced that he would be taking the top job at the watchmaking division.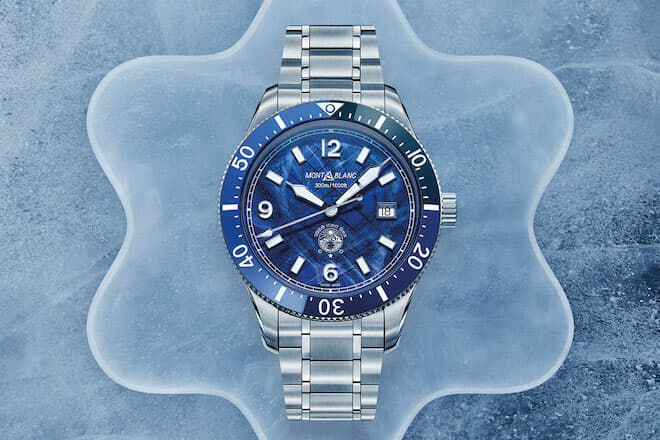 Congratulations on the 1858 Iced Sea Automatic Datel Considering everything that went into it, we were surprised to hear it is below €3,000 (S$4,700 with bracelet). How did you do it?
We wanted to surprise you, and we succeeded!
You did! It fits in well with the three pillars you mentioned in your video earlier this year, and again at the keynote…
Differentiation, story-telling and excellent perceived value. I can honestly tell you that every watch we launch will have these three elements. If a watch does not have these, we will not do it.
Well the Iced Sea really pulls it off, which is remarkable considering that it is an ISO 6425 steel dive watch with a bracelet.
Excellent point! Look, what's the point of doing something just like others. It would be different if one were to wear the brand with the crown on its head, but we have to be innovative (to differentiate ourselves). It has to be different so we can build the [fame] of Montblanc. I can tell you that you will not find a single watch like the Iced Sea… with as much story-telling, a unique dial and a great price. And the bracelet, which is also new, and has an interchangeable system. We also offer a nice soft travel pouch with it, which is completely made of recycled material. A watch like the Iced Sea [with all its features] does not exist from anybody else!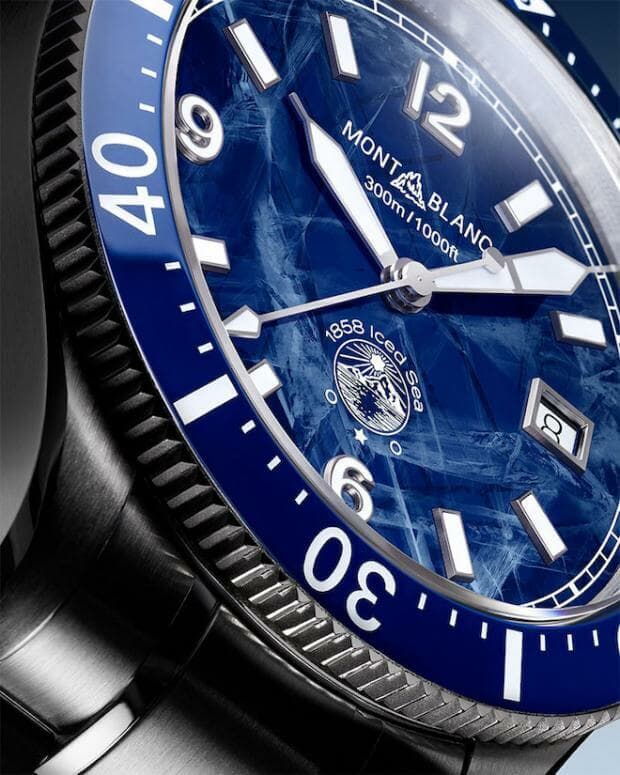 We have to say that the dial is amazing. Tell us more about it.
We had the idea to do something related to Mont Blanc, the mountain, and the six glaciers there. The name of one of those glaciers is Mer de Glace, or Iced Sea.
This is the inspiration for the name of the watch? Is this how you addressed the problem of introducing a dive watch, when neither Montblanc nor Minerva had ever made such watches?
Yes, and we wanted to be authentic, to make a dive watch that was truly Montblanc, not just a me-too product. On the dial, you can see the story because we went to the glacier at the mountain and took pictures of the glacier. We wanted to put Mont Blanc on the dial (but in a unique way).
This refers to the special technique you introduced?
It was not me or us… actually the dial maker suggested the gratté-boisé technique. When I saw the pictures we got of the glacier, I wanted this for the dial because it showed the depth, the three-dimensionality of the glacier. We spoke with our supplier and he said, "you're crazy Laurent!" It's not possible; the dial would be too thick. Anyway, we did a few tests, and the supplier suggested the gratté-boisé to get the effect we wanted. It was a forgotten technique that no one uses anymore, and we brought it back for the Iced Sea. There are 30 processes required to make just one dial, and it is all done by hand. There is no machining. It is crazy expensive I can tell you.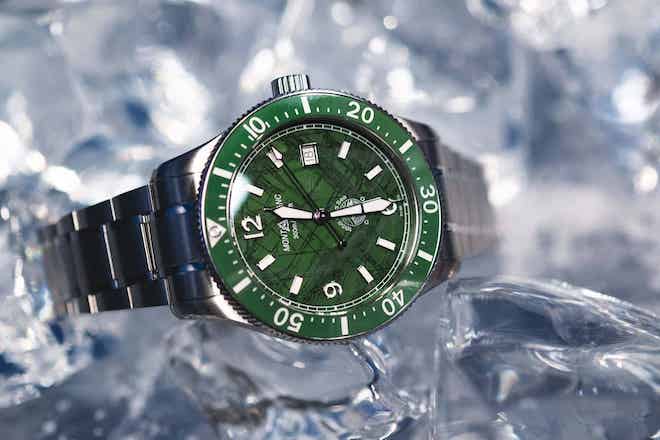 And yet you managed to offer this watch for an accessible price.
We wanted to have [unbeatable] perceived value. This is very important. So I think the customer will not ask for a discount with this, they will just ask for the watch! There is no other dive watch with such a dial in the market, for the [recommended] price. Zero. And the colours we have, these are not trendy — they are the real colours you see in glaciers. There is blue, there is green and there is black. If we had found other colours that is what we would have gone with.
And then there is the engraving on the caseback…
Of the diver under the ice, yes. It is also three-dimensional and you can feel it. You know, I think there is no dive watch in the market with such a great story as the Iced Sea, complete with ISO 6425 certification, and such a complex dial.
And now I will tell you something about the name — the Iced Sea. We got a call from a client (unclear if this was a collector or a retail partner — Editor's note) asking for the Iced Tea watch. We said, you mean the Iced Sea, and the client said no, the Iced Tea! This means people are appropriating the name of our watch [and playing with it, as the collector community does with some favoured pieces]. We love it.
It is great that you have a sense of humour about it! Turning back to that dial for a moment, why did you decide to use the same dial for the 0 Oxygen?
It is not the same dial! We use another technique entirely for this. This one is the first time the Geospheres have featured alongside a chronograph. And the caseback shows the face of Everest that Messner conquered, and that Nimsdai did as well, without supplemental oxygen.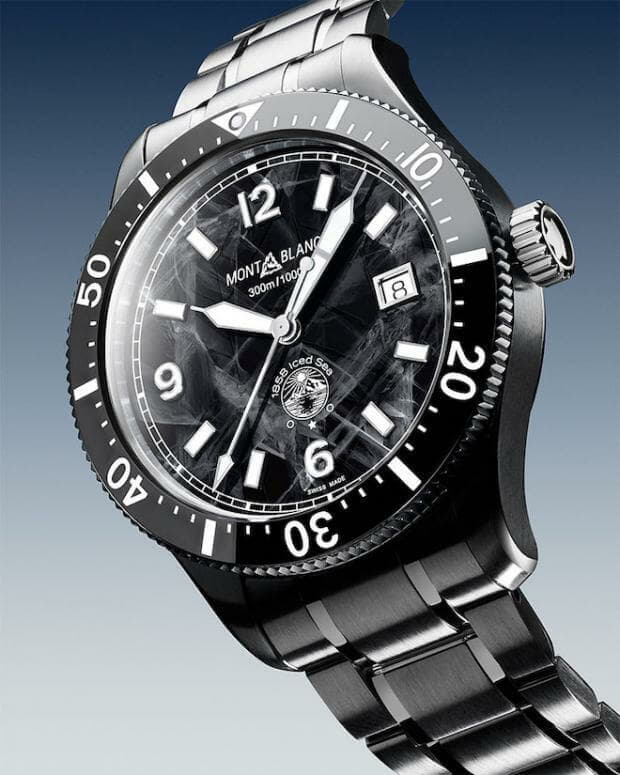 This is the new and very famous mountaineer you are working with, Nimsdai Purja? The one who summited all 14 of the world's mountains above 8,000 metres in six months and six days?
Yes! He is really exceptional. He shattered the previous record by eight years! There is a show about his adventures on Netflix (14 Peaks, a major hit for the platform. Also known as Nirmal or just Nims, he was in Geneva for Watches & Wonders, where he got real about some of his philanthropic efforts).
How did this start?
Actually Reinhold Messner (the mountaineer and explorer Montblanc has worked with since 2020 – Editor's note) who was the first to climb Everest without supplemental oxygen in 1978, told us about Nimsdai. We were asking if Messner would make another ascent without oxygen and he declined because of his age (he is 77). Instead he told us about the one man he thought could do it, Nimsdai. So we got in touch, and yes he was going to try to ascend Everest without supplementary oxygen. It will be later this year [he accomplished it May 15] and he will be using the same route Messner used, which is what we have laser-engraved on the caseback. We told him, Nimsdai, when you go up the mountain without oxygen, your watch will also do it on your wrist without oxygen. That's the story of the 0 Oxygen.
Let us finish this with the Minerva side of the story. We note the appearance of a fluted bezel this year. Tell us about it.
When I joined Montblanc, the first thing I did was to spend time at our manufactures in Le Locle and Villeret. I wanted to immerse myself in the history, especially the history of Minerva in Villeret. It was fascinating to discover how the watchmakers use traditional methods and handcraftsmanship at Villeret, and I am still learning and discovering new things in the archives. For example, Minerva was the first to use a fluted bezel in 1927; in 1939 it made its first wristwatch with a fluted rotating external bezel. I maintain that the 1927 one was the first one in watchmaking — I insist on this point.
So, this year, I decided to introduce a bidirectional rotating fluted bezel for Minerva watches, and every single new watch from Minerva will have this fluted bezel. In the Red Arrow LE88, it is a white gold bezel with a red arrow, which is of course a reference to the arrow shape that is one of the key characteristics of Minerva, as you know. Don't forget that Montblanc makes classical watches so whatever we do, it has to be classical.