---
World Of Watches
Kanazawa Calling: Seiko Craftsmanship Series Watch
The Seiko Presage Craftsmanship Series presents a new watch with a sublime Urushi dial.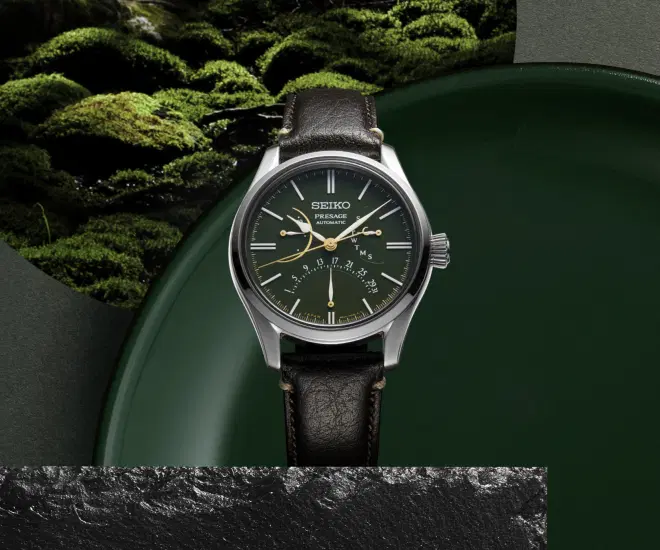 The new Seiko Presage Craftsmanship Series watch, the SPB295J1 Urushi Dial Limited Edition has a slice of Kanazawa on it. Kanazawa is home to celebrated Urushi lacquer artist Isshu Tamura and is where he produces works using techniques unique to Kanazawa. With the SPB295J1, Tamura highlights the beauty of summer in Kanazawa and the picturesque Hokuriku region (northwest Honshu). The warm green tones of the Urushi dial reminds us of a moss garden and summer foliage with the golden watch hands evoking rays of the sun piercing foliage.
The SPB295J1 comes powered by the automatic Seiko inhouse calibre 6R24. With this unique movement, the watch's date, day of the week, and power reserve hands move in retrograde like a Japanese fan. The white and yellow hands, and indicators work well to contrast against the deep green of the smooth Urushi dial, offering a different expression for the dial every day.
About this verdant dial, Seiko has often collaborated with Tamura to create amazing dials for the Presage range. This release is no exception to the high quality of work that the much-respected artisan produces. To successfully combine metal and traditional Urushi for a smooth dial surface that glows with a deep lustre, the lacquer must be skilfully applied to the dial with a sufficient level of thickness without obstructing the motion of the hands. The final product is one for the ages as Urushi does not deteriorate and its durability improves over time.
Tamura is trained in the traditional Kaga Maki-e gold lacquer technique of Kanazawa and creates unparalleled original works of art that have received worldwide acclaim. The Urushi dial on the SPB295J1 is specially crafted by Tamura as an expression of his aesthetic sense and ensures that the watch is an ethereal fusion of traditional craftwork techniques and modern watchmaking.
A total of 2,000 pieces for this limited edition shall be created for those who enjoy true Japanese watchmaking and art.
For more watch reads, click here.