---
World Of Watches
Grand Seiko SLGA021: Blue Serenity
Grand Seiko captures the pre-dawn moments of Lake Suwa with its new timepiece, which extends the Evolution 9 collection with yet another poetic touch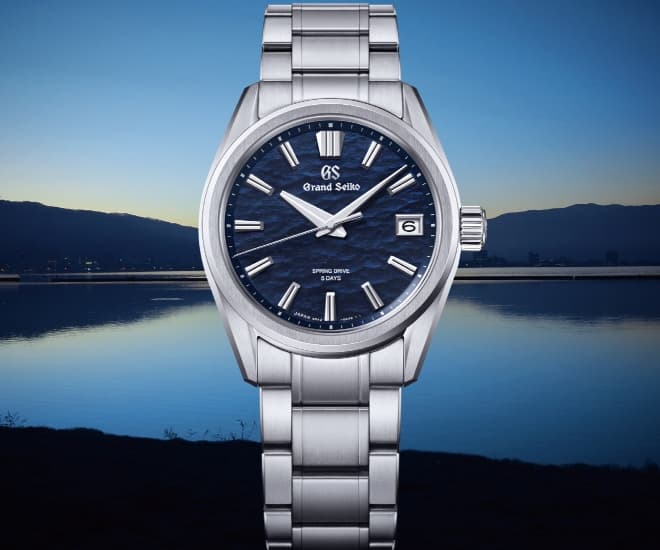 Although the Grand Seiko line was introduced in 1960, it was Seiko's release of the 44GS watch in 1967 that definitively established the collection. This is because the 44GS's design language would go on to define the aesthetics of all subsequent Grand Seiko timepieces, even today, with Grand Seiko now operating as a separate entity from Seiko itself.
In 2020, Grand Seiko updated the aesthetic code set down by the 44GS. The reworked design language, Evolution 9, was conceived to represent the most contemporary form of watchmaking at Grand Seiko. More than this, however, Evolution 9 is now also a standalone collection within the brand's line-up, with offerings ranging from sporty chronographs to dressier time-and-date watches. The latest addition to this line is the SLGA021, which bears a textured dial inspired by the view of Lake Suwa before dawn.
Grand Seiko's Spring Drive-equipped watches are produced at the brand's Shinshu Watch Studio in the town of Shiojiri, some three hours' drive from Tokyo. To the manufacture's southeast sits Lake Suwa, a prominent landmark that has long inspired its watches' designs. The focus this time is on a familiar pre-dawn scenery, when Lake Suwa is still clothed in tranquil darkness. During this period, the gentlest breeze stirs up rippling waves that create an undulating surface bearing various shades of blue, each blending into each other while also playing with the ambient light differently.