---
World Of Watches
Year of the Dog Timepieces That Will Have You Yapping For More
The honest hound leaps playfully into the new year, heralding an auspicious time for watchmakers to let their dogs out.
As man's best friend, the affable dog is arguably the most beloved and popular of all the animals in the Chinese zodiac. Loyal to a fault, it travels wherever you go, even on the wrist (at least for 2018) as watchmakers continue their annual tradition of depicting these totemic beasts on dials. With its myriad personalities – from heroic Lassie to sweet Marley to yappy Mr Muffykins – the charismatic canine is perfectly expressed through an array of splendid métiers d'art commonly seen on these limited timepieces.
Vacheron Constantin "The Legend of the Chinese Zodiac" Series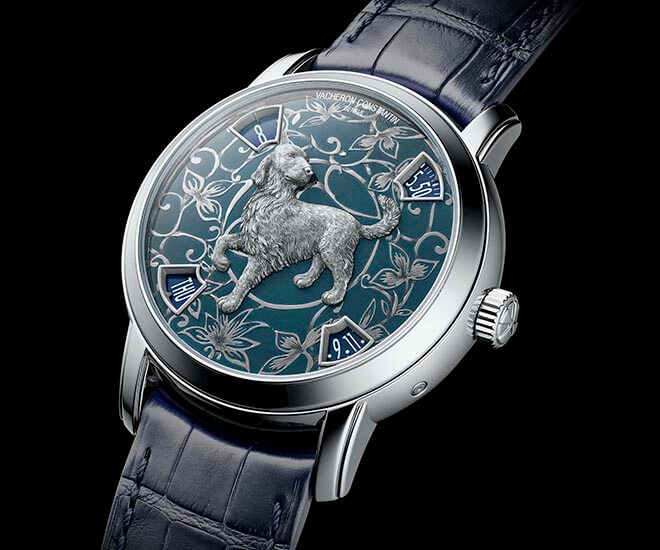 Take Vacheron Constantin's Métiers d'Art "The legend of the Chinese Zodiac" series, which portrays the dog's noble disposition through an alliance of artistic crafts. A handsome Setter, sculpted and hand-engraved in platinum or pink gold, takes pride of place at the centre of a blue or bronze-toned grand feu enamel dial, while surrounding foliage is etched to resemble the Chinese paper-cutting technique, Jianzhi. The hands-free time display leaves plenty of space for the showcase, with four surrounding windows presenting the hours, minutes, day, and date.
Jaquet Droz Petite Heure Minute Pekingese Timepiece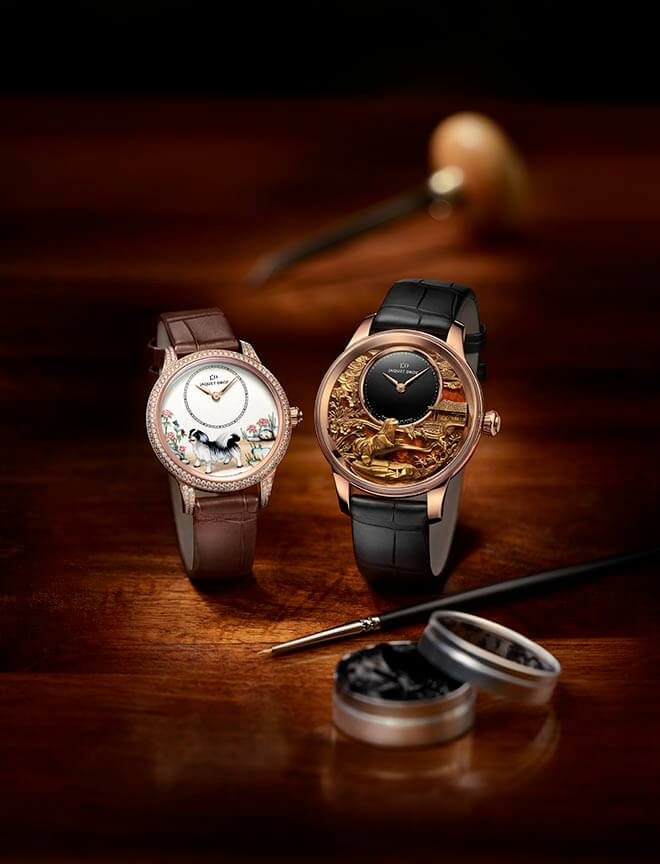 Jaquet Droz offers two renditions of the playful Pekingese on its Petite Heure Minute timepiece. One is a miniature painting; hand-painted using grand feu enamel in a watercolour style that echoes Chinese calligraphy, the pooch is found wandering in a natural landscape of rocks and plants. The other is a miniature sculpture of the toy dog in mid-leap, carved in decorative yellow gold and set against a backdrop of radiant red (the dial is made of the Sonora Sunrise variety of cuprite from Mexico) for good fortune.
Ulysse Nardin "Akita"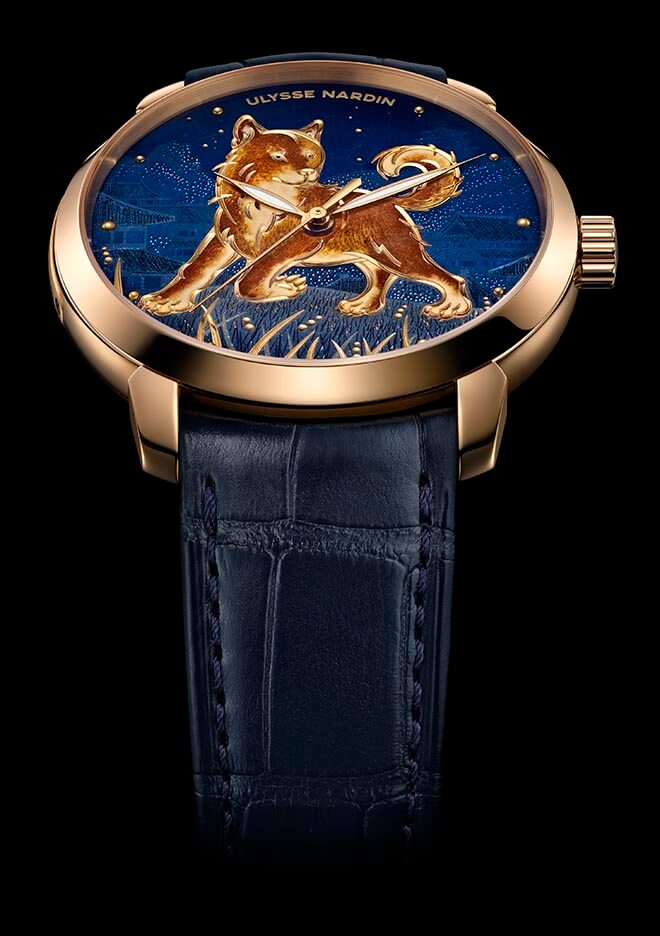 Ulysse Nardin brings a fiery Akita to frolicsome life through its in-house mastery of the centuries-old craft of champlevé enamelling. Done at its Donzé Cadrans dial manufacture, the technique involves carving cells directly on the dial, then filling it with enamel and firing it repeatedly until the desired depth of colour is achieved. A brilliantly coloured hound with flaming fur outlined in gold emerges, paws padding and tail wagging in the deep blue outdoors.
Panerai Luminor 1950 Sealand 3 Days Automatic Acciaio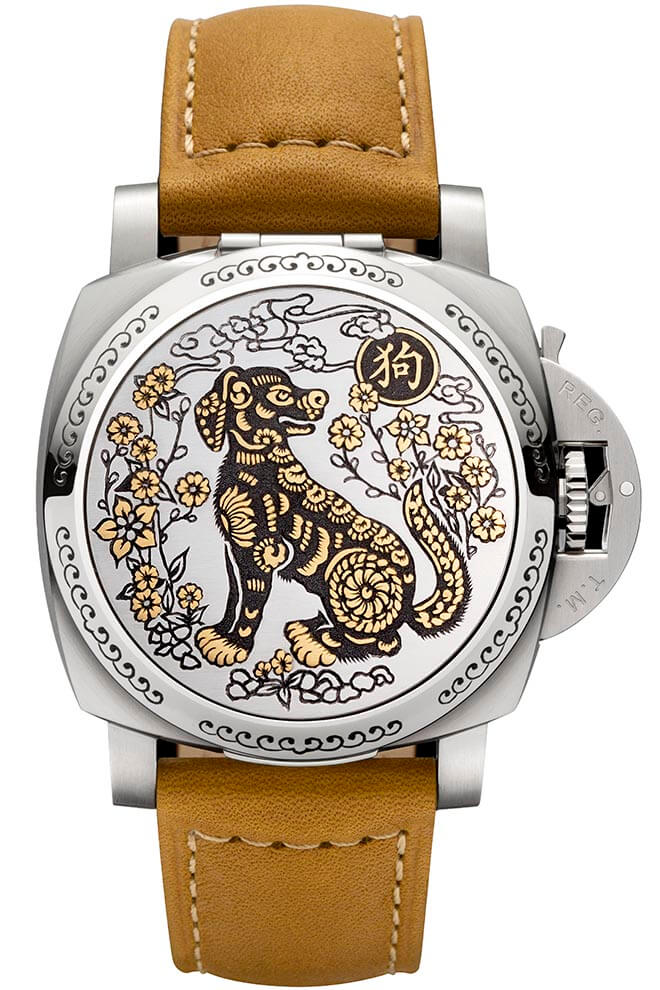 Finally, Panerai captures a Retriever's likeness on the cover of its special edition Luminor 1950 Sealand 3 Days Automatic Acciaio. Hand adorned by Italian master engravers using the ancient technique of "sparsello" (named after the special tool used in the process), gold threads are meticulously inlaid onto the engraved steel lid to outline a dog in a field of plum flowers. The cover protects a simple grey dial, with a small signalling mirror on its back for emergency use.
From: Men's Folio Malaysia, Feb 2018.