---
World Of Watches
High Time For Summer: Rado Captain Cook Bronze Automatic
Rado has built a reputation as a master of materials by revolutionising traditional watchmaking with the use of hightech ceramic, ultra-light high-tech ceramic, colourful hightech ceramic and Ceramos in its design-centric collections. So, it caught the industry by surprise in 2017 with the redux of Captain Cook—a 1960s vintage dive watch that pays tribute to the 18th-century explorer Captain […]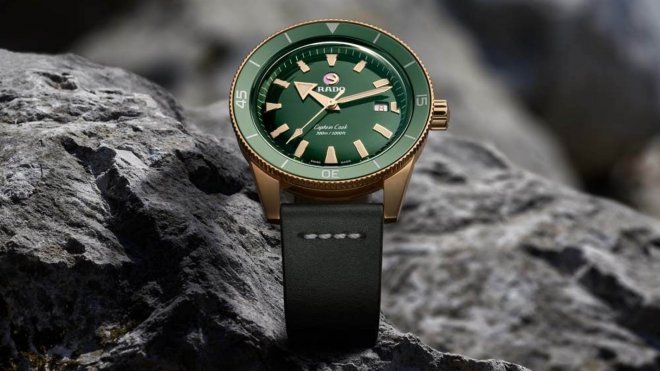 Rado has built a reputation as a master of materials by revolutionising traditional watchmaking with the use of hightech ceramic, ultra-light high-tech ceramic, colourful hightech ceramic and Ceramos in its design-centric collections.
So, it caught the industry by surprise in 2017 with the redux of Captain Cook—a 1960s vintage dive watch that pays tribute to the 18th-century explorer Captain James Cook—which received much acclaim, despite veering from Rado's high-tech, scratch-resistant trajectory. In 2018, Rado launched its first watch using bronze, an age-old alloy that transforms over time to give a unique patina depending on the wearer's habits and environments.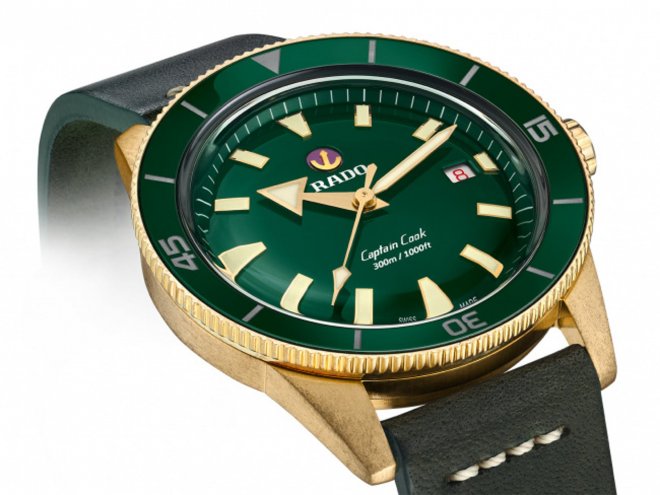 In 2020, the Swiss watchmaker, once again, reconnects past with future by riffing on the Rado Captain Cook collection in starkly contrasting bronze and high-tech ceramic—a wonderful juxtaposition of the oldest man-made material with the most modern of materials.
The latest iteration replicates the colours from nature to give the sturdy-looking model a wash of lush green and earthy bronze tones. Deftly combining a bronze case and bezel, and a box-shaped sapphire crystal with high-tech ceramic insert and a titanium case back with sapphire crystal, replete with a dark green leather strap, the watch will prove irresistible for those with a strong predilection for modern-vintage dive watches.
A high-quality Swiss-made ETA C07 movement, offering up to 80 hours of precision power, rounds things up for the Captain Cook watch—a triumphant showcase of elements that champion the ancient and modern, vintage and contemporary, traditional and innovative, enduring and evolving.
Visit rado.com to find out more.
This article was originally published on www.lofficielmalaysia.com.