---
Style & Beauty
New Trends in Perfumery Reveal a New Age of Parfums d'Exception
"Parfum d'Exception" is a highly dynamic segment of perfumery that is typified by an emphasis on the signature, the bespoke, the artisanal and the exclusive.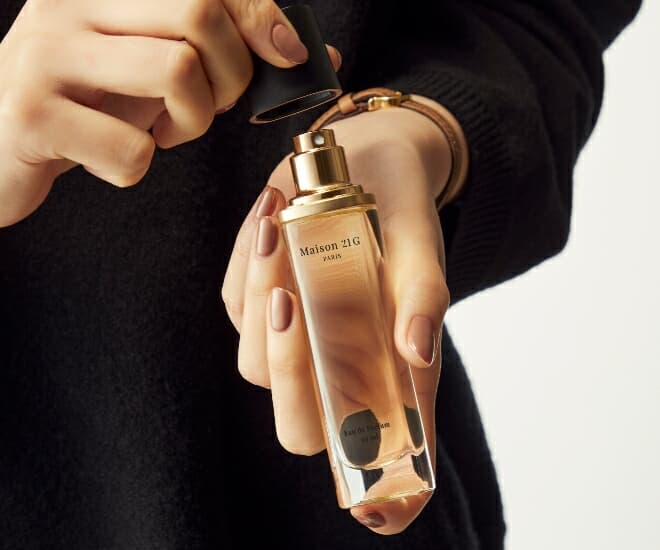 Enriched by centuries of artistry and expertise, the world of perfumery is one immersed in secrecy, tradition and artisanal values. For those who love fine fragrances, discovering a perfume that speaks to your soul is a precious moment — such scents become extensions of the personality, capable of communicating so much about the wearer in myriad subtle and multisensory ways.
Despite its closely guarded heritage and illusions of old-fashioned luxury values, perfumery is subject to the same whims of fashion, changing trends and evolving landscape as any other industry. However, the past few years have seen perfumery trends transforming the scene like never before, with consumers worldwide driving forward new concepts which have been heard loud and clear by the world's biggest fragrance brands, as well as a number of smaller boutique producers keen to ride the winds of change.
Maison 21G, the Parisian house of bespoke Haute couture perfumery, has built a unique business model upon this changing landscape. Reflecting profound new ideas of what the perfume industry should be for a new generation, it's a fascinating time to explore the latest trends in the world of scent, and consider what they tell us about the demands and expectations of an awakened audience; those who are seeking more from their beloved brands.
Be bold and get inspired by the latest trends to make your own exclusive scent.
Join our scent revolution and create your unique perfume creation online or in our perfume creation workshop.
What is Parfum d'Exception?
According to Maison 21G founder and visionary scent designer Johanna Monange, the perfume industry — while still imbued in the time-honoured values of luxury, opulence and sophistication — is rapidly embracing trends which put the individual and experience first.
She claims this is best exemplified by the rise of "Parfum d'Exception" — a highly dynamic segment of perfumery that is typified by an emphasis on the signature, the bespoke, the artisanal and the exclusive. Simply put, today's savvy perfume consumers are increasingly disillusioned by the off-the-shelf brands created with mass appeal in mind. More so than ever before, individuals wish to purchase scents with a niche appeal, made from rare and precious ingredients in smaller or limited quantities.
The evidence for this sea of change in perfumery is everywhere. The world's biggest perfume groups have invested considerably into acquiring or creating haute perfumery brands, formulating unique exclusive collections under labels designed to appeal to more selective audiences.
From Puig's acquisition of Penhaligon's, and more recently Byredo, to LVMH with Maison Francis Kurdjan, and from Manzanita Capital's success with Diptyque to Estee Lauder with Tom Ford, Le Labo and Frederic Malle, the rise in these boutique labels and their rapidly-ascending popularity is far from insignificant. It speaks strongly of a new generation of perfume fans looking to make their mark via the scents they choose, and a willingness to develop their own individual "scent wardrobes" to reflect their changing moods, different sides of themselves, the exploration of new ingredients, and their attraction to the unique and experiential.
Storytelling Through Scent
It's increasingly well-understood that millennial and Gen Z consumers value authenticity, sustainability and experience above all things, and this enthusiasm for unique ingredients, craftsmanship and personalisation informs so much of their consumer choices.
Perfumery has the power to weave stories through scent, revealing facets of personality and communicating moods, as well as showcasing the unique aspects of one's individual tastes. More so than ever, consumers in the 21st century are selecting their perfumes based upon these criteria — seeking out fragrances that enhance aspects of themselves, mark them out from the crowd, and unveil their true spirits in ways that mass-produced, common denominator-baiting releases could never possibly achieve.
In many ways, this is perhaps the most significant of all the current perfumery trends across the globe today. Bringing experiential consumerism into the world of scent — either through selecting from limited-edition releases, artisan-made fragrances, or creating signature scents at personalised perfumery houses like Maison 21G — is separating millennial and Gen Z audiences from those who came before.
It also goes to explain how and why consumers today are selecting scents made from different — often unusual and rare — ingredients than those which came before. Market analysts in the world of perfume have noticed a significant uptick in the popularity of perfumes made to express the true nature of exotic woods (such as cedar, oud, vetiver and sandalwood), deeply sensual and mystical ingredients including incense, cannabis, myhrre and amber, and new floral notes such as osmanthus, frangipani or gardenia which have moved out of the niche and more into the public consciousness.
Goodbye, Gender Separation
It's impossible to ignore or overlook the significance of the shift in attitudes towards gender, identity and sexuality in the 21st century — a revolution in self-expression is underway like never before, and it's rapidly changing the perfumery landscape and the scents new audiences are drawn to.
Simply put, for a sizeable proportion of millennial and gen Z consumers, the gender separation in perfumery (the classic Pour Femme and Pour Homme divide) is obsolete. As in the world of fashion, boutique and bespoke perfumes have rid themselves of gendered divides, celebrating more gender-neutral and versatile ingredients beloved by every and all genders, as found at Maison21G with their innovative gender-fluid scent bar.
These are centred around aquatic and fluid, natural citrus green notes, sensual and florals that revel in sexual dynamism, exotic woods, intensely leathery or resinous ambery notes. Prized for their flexibility and capable of bringing out fascinating facets of men and women wearers alike, it's an exciting time for so many precious ingredients to shine like never before.
The Asian Powerhouse of Change
Asian perfumery has a long and proud history, with artisans in China pioneering the use of countless ingredients throughout the ages that still form a cornerstone of fragrance today.
In the 21st century, Asian olfactive trends continue to play a key role in the way perfumery is changing worldwide, and the Chinese market, in particular, has awakened to a new age of scent… with bespoke, exclusive and unique ingredients taking centre stage.
The types of ingredients currently being selected by sophisticated consumers in China have revealed a fascinating — and trendsetting — insight into current perfumery trends in Asia. Chinese perfume fans are opting for perfumes that exude plenty of purity (typified by essences including vibrant citrus notes as well as ozonic characteristics, tea inflections, fluid floral extracts of gardenia, orris, muguet and white musk, and marine notes with plenty of minerality), simple natural characteristics of rose, peony and vegetal flourishes, and smoky and creamy woods and spices.
There are plenty of emerging notes coming to the foreground in contemporary Chinese perfumery too, signalling an innovative approach that sets these scents apart from the norm. Addictive new fragrances featuring notes of pine, fruits such as watermelon and peach, Cognac and other spirits, inky inflections, forest fragrances and soya are all becoming part of the modern Chinese perfumery palette.
A Sustainable Model for a Brighter Future
The other identifiable trend in contemporary perfumery? Sustainability, and perfume with a clearer conscience.
Today's consumers are more aware than any that have come before when it comes to ecological issues, reducing one's footprint, and selecting brands based upon their sustainable credentials. It's a factor that many of the larger brands — so set in their ways, and with systems in place designed to cut corners, reduce costs, and mass produce — are struggling to keep up with.
Smaller boutique brands, on the other hand, have leapt at the opportunity to reshape their industry with transparency and sustainability at their core. From insisting on recyclable and reusable packaging and bottles, to setting up ethical supply chains with trusted producers of perfumery ingredients, these factors are far more than gestures or the adoption of a trend: they're a new model for a brighter, cleaner and safer perfumery scene, protecting its most precious assets for the generations to come. This is the new vision of perfumery that Maison 21G has fought for since its first day of creation.
Hand in hand with this commitment to sustainability is a dedication to producing "cleaner" perfumes, too. Maison 21G, which is pioneering in its promise of CMR-free, phthalates-free, preservative-free, vegan and cruelty-free perfumes, are being enthusiastically embraced by a new generation of fragrance fans. It's a key crossover point between the worlds of scent and wellness — consumers today demand the highest quality from their chosen brands, and a significant aspect of this comes down to feeling their safety and wellbeing is at the heart of a perfume brand's promise.
New Trends Create New Futures
Trends — in the world of perfumery, as well as in all other industries — have a tendency to come and go. However, when a trend is based upon a greater good rather than on the frivolities, it has the power to transform industries and mindsets, forming a new world in its image.
By breaking down barriers that divide genders, by championing individuality and expression, and by insisting on safer, more sustainable practices and standards for quality and ecology, the nature of Parfum d'Exception signals a brighter perfumery industry for all.
The future isn't just golden… It boasts the sweet scent of liberation and self-expression.
To get the latest updates on Maison 21G, do follow the Instagram @maison21g or Tiktok @maison21gparis.
For more beauty reads, click here.