---
Style & Beauty
Essential Bridal Hair Accessories Every Bride Must Know
A bridal outfit is not complete without complementing tiara, hair comb and hair vines.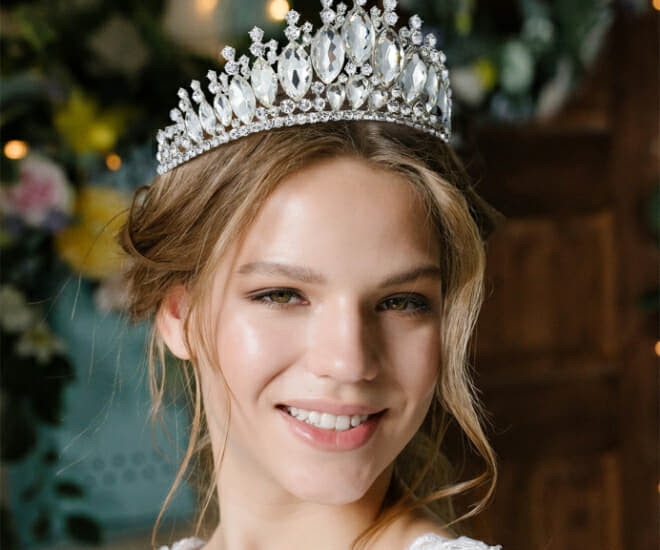 You're a bride-to-be, and you're probably feeling excited, nervous, and overwhelmed. You have a lot of things on your plate right now: planning a wedding and getting ready to start a new life with your partner.
But don't forget the little things! We know you've got a lot on your mind, but we also know that when it comes to having the best possible wedding day experience, it's all about the details. And one of those details is choosing the right accessories for your big day.
AW bridal has an exquisite range of all bridal accessories available at their store online. Let us have a look:
Hair Combos and Pins
We know you're busy and don't always have time to pick out the perfect accessories for your wedding day. That's why we recommend hair combs and pins; they're simple and easy to find, but they also look amazing! They're decorated with rhinestones or crystals, making them a favourite for brides who want to achieve a glam look.
Hair combs are great for holding up your veil or securing loose hair into place. They come in all shapes and sizes, so you can find one that fits perfectly into your style. If you want something more ornate, try hair pins; they're similar to combs but have more decorative elements like flowers or gems attached to them.
Hair pins available at AW Bridal include:
AW White Alloy Flower Hair Comb
AW White Alloy Flower Hair Comb is a must-have for the modern woman. It comes with
a clip on the back and is made of high-quality alloy material, which makes it durable and
easy to wear. This flower comb will give you an elegant look every time you wear it.
AW Gold Alloy Flowered Hair Comb
It is a great addition to your hair styling accessories. This comb is made of alloy and features a floral design with a gold finish that looks beautiful in any hairstyle.
The AW Gold Alloy Flowered Hair Comb is perfect for adding an extra touch of elegance to your hairstyle. It can also be used as an everyday comb to keep your hair neat and tidy.
AW Gold Flower Alloy Hair Comb
Beautiful and delicate, this hair comb is perfect for women who want to add a touch of elegance to their look. This beautiful gold flower alloy hair comb is perfect for any occasion, whether you're going out for the night or just want to add a bit of flair to your everyday style. It's also great for those with long hair who need extra help holding it up.
Next comes the hair vines; if you want some change from pins, you can choose hair vines.
Hair Vines
This season, we're seeing a lot of our brides-to-be opting for headpieces that are more than just a veil or tiara. They're going for wedding headpieces that are unique and bold, so they can turn heads with their bridal look.
Wedding headpieces like chains, vines, barrettes, and clips are your best bet. These pieces will help you stand out from the crowd and all those other brides who have opted for more traditional accessories.
AW Bridal hair vine collection includes:
AW Crystal Elegant Hair Vine
Brighten up your hair with this AW Crystal Elegant Hair Vine. The blue and green crystals will add a pop of colour to your ponytail or braid, while the crystal-studded vine adds some sparkle.
AW Rhinestoned Flower Hair Vine
Add a little flower power to your look with our Rhinestoned Flower Hair Vine! This hair accessory features a floral design in the shape of flowers and leaves, which is made from real rhinestones. The vine itself is flexible and can be styled in a variety of ways, making it perfect for any occasion.
AW Flowered Gold Alloy Headband
The AW Flowered Gold Alloy Headband is made of a sturdy alloy material that will last through many wears and washes. The flowers are made of a soft, plush fabric that will feel great against your scalp. You can wear this with anything from jeans to a dress and look great no matter what you're wearing.
Bridal hair accessories are the perfect way to add a little extra sparkle or drama to your wedding day look. From headbands and bobby pins to combs and clips, there are many ways to make your hair come alive on your big day.
At AW Bridal, we offer a wide variety of options for your hair in order to ensure that your look is perfect. Our selection of headbands includes everything from gorgeous sequin-covered headbands to simple satin bands with delicate floral accents. So what are you waiting for?
For more fashion reads, click here.