---
Style & Beauty
Bling Ring: Gucci Fine Jewellery at Baselworld 2019
At the time of writing, Gucci's high jewellery boutique has just debuted at Place Vendôme, Paris, in the midst of Couture Week. A few months back at Baselworld, the wide array of Gucci fine jewellery on showcase was, on hindsight, a timely precursor of the luxury fashion brand's foray into haute joaillarie territory. Not just revealing the authenticity of being […]
At the time of writing, Gucci's high jewellery boutique has just debuted at Place Vendôme, Paris, in the midst of Couture Week. A few months back at Baselworld, the wide array of Gucci fine jewellery on showcase was, on hindsight, a timely precursor of the luxury fashion brand's foray into haute joaillarie territory.
Not just revealing the authenticity of being aligned to maestro Alessandro Michele's refreshed brand vision and narrative, Gucci's exploits in the world of jewellery also attest to innovation and creativity now running free-flow in the House.
Extending its GG Running fine jewellery collection, Gucci riffs on a set of rings and hoop earrings, to good effect. The pieces elicit romance and eclecticism, woven together with the GG detail that harks back to an archival design from the 1970's, a defining era of the House.
Starting from a foundation of 18k white and yellow gold and diamonds, both the ultrafine, delicate earrings and ring offer partial and full-diamond options.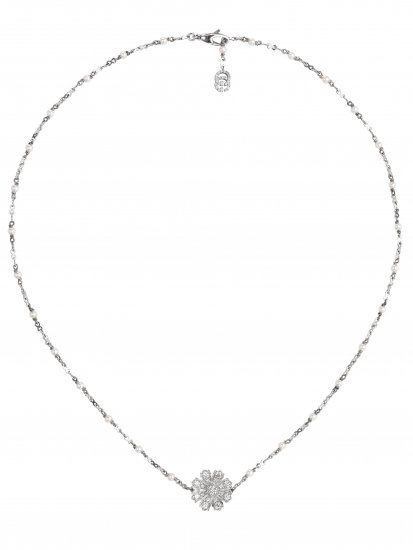 Where the yellow gold hoop earrings, available in two different sizes, come embellished with a diamond-encrusted GG, the white gold variation is wholly diamond-studded for more glimmer. Unconventional yet totally fetching, the uber-slim GG Running rings highlight the Gucci's flair for details. The graceful criss-cross silhouette with three variations of diamond accents gives off a dainty, geometric look, which easily complements other jewellery when worn together.
Gucci's signature floral pattern offers the Gucci Flora fine jewellery collection a perpetual reference in a nod to the power and beauty of nature. The selection of bracelets, necklaces, rings and earrings in 18k white gold are embellished not just with diamonds, but feminine flowers, bows and pearls, with the GG motif as an unmistakable Gucci stamp.
In the collection are two delicate chain necklaces and bracelets with a floral-shaped diamond centerpiece and a GG-motif at the clasp. The chains of one of the necklaces and bracelets are decorated with pearl beads for a slightly more ostentatious vibe.
There are two ring iterations for Gucci Flora: a between-thefinger design featuring the GG detail and a floral motif; and a diamond-studded flower ring, perfect to wear together or individually. Echoing the asymmetry trend in earrings, Gucci Flora's interpretations artistically combine diamond-encrusted flowers with the GG detail, juxtaposed with pearls as lovely punctuations.