---
Style & Beauty
Ashleigh Ivory: Dynamic Duo
Some things just work better in pairs – an iPhone with headphones, wine and cheese or in the skincare context, Ashleigh Ivory's Black Diamond Beauty Roller and Fuji Shiitake Age-Defying Serum. "If better is possible, good is never enough." With regards to skincare solutions, the search for the best is ongoing and never-ending. And more […]
Some things just work better in pairs – an iPhone with headphones, wine and cheese or in the skincare context, Ashleigh Ivory's Black Diamond Beauty Roller and Fuji Shiitake Age-Defying Serum.
"If better is possible, good is never enough."
With regards to skincare solutions, the search for the best is ongoing and never-ending. And more often than not, the best often comes in a winning pair. Ashleigh Ivory, for one, acknowledges both principles, constantly taking one step further with its procurement of top quality, natural products that effectively combine Japanese ingenuity with outstanding skincare. Its Japanese-crafted Black Diamond Beauty Roller with Fuji Shiitake Age-Defying Serum set is testimony to that.
The one of a kind lightweight beauty roller bearing 48 facets like the facets of a diamond on each of itsthree rollers is designed to gently stimulate skin. Additionally, it comes with high thermal conductivity, capable of changing its temperature in an instant by simply immersing the beauty roller into either warm or cold water for a second before effortlessly applying the warm or cool treatment to the contours of your face. This enhances circulation and tightens pores respectively.
Black Diamond Beauty Roller
Master-crafted from three terahertz ores, the Ashleigh Ivory Black Diamond Beauty Roller emits terahertz waves that work marvellously to counter the effects of skin ageing with its soothing, lifting and firming action. Not only that, it also preps skin to allow skincare to penetrate 10 times deeper, acting directly on the skin's cellular level for optimum results.
Fuji Shiitake Age-Defying Serum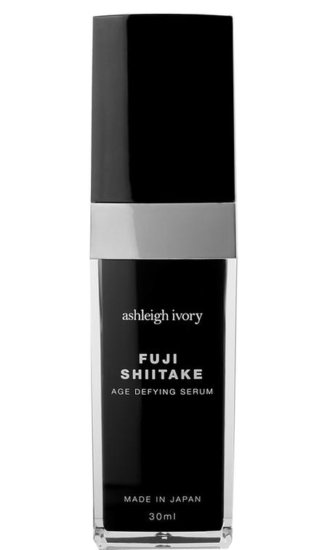 The all-natural, chemical-free Fuji Shiitake Age-Defying Serum then steps in to complement the magical effects of the roller. Formulated using 'miracle' ingredient Fuji Shiitake mushroom, eight amino acids, Kojic acid as well as a high content of Vitamin C, all that is needed is one small pump to deliver a number of skin remedies – fading pigmentation, reducing blemishes, and brightening, toning and firming up of the skin.
With the powerful combination of both the light and portable facial roller and luxurious miracle serum, the age-old excuse of compromising the well-being of your skin should stay buried in the past.