---
Style & Beauty
10 Hottest Sneakers Collaborations To Know In 2022
This year's round-up of sneakers and footwear collaboration ranges from conceptual designs by Craig Green to elevated casualness by Paria Farzaneh.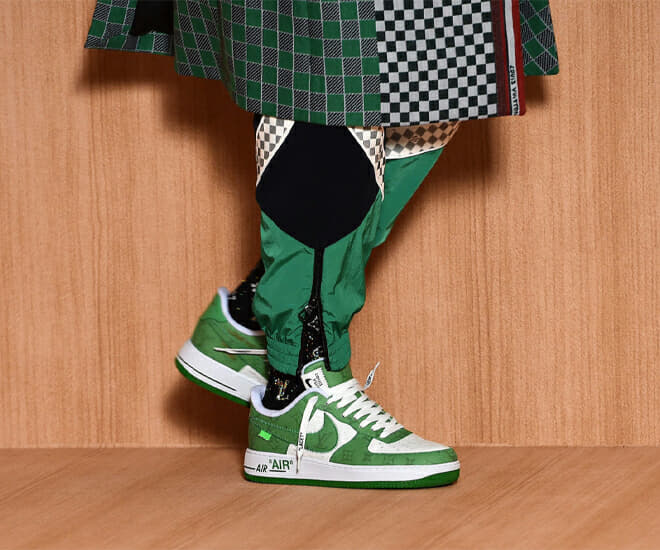 Sneakers are the final piece of an outfit that will possibly elevate your entire look. Having said that, to spice things up further, brands are collaborating to come up with fresher sneaker models each year. Collaborations bring a sense of newness to existing series and could potentially propel the participating brands to the next level of "coolness", such is the case for the famed partnership of Louis Vuitton and Nike. If it all works out well, brands stand to gain greater brand awareness and heightened consumer interest, which in the long run is beneficial for the parties and cement their positions as fashion icons.
Ahead are the 10 hottest sneakers collaborations along with some interesting variations for the ultimate styling asset so far this year.
Dior X Birkenstock
We start off this list with a pair of sandals; not just any off-the-mill kind but a pair from Birkenstock. The German shoe manufacturer has earned a reputation for designing comfortable footwear that is now a go-to when one mentions a standard pair of sandals. But the brand does not stop at just that, it has since collaborated with notable fashion designers throughout 2021 like Rick Owens, Proenza Schouler and Manolo Blahnik to produce its iconic footwear with a punch of high fashion.
However, it is this year that truly cements Birkenstock's status in within the fashion community and is its partnership with French luxury fashion house Dior. Dubbed as "a modern take to function and elegance", the pair of footwear has been reworked to reflect Monsieur Dior's love for gardening. This is apparent in the shape, where it could be used outdoors, especially when tending to the flowers in one's garden.
View this post on Instagram
This luxe "house slipper" is made in the trademark Dior grey and delicate floral embroidery is seen throughout the felt of the shoes. As with all Birkenstock sandals, the pair is constructed to be fitted for the foot's anatomy and shape, and the iconic cork-latex footbed remains. Another reference to the French Maison is the use of the utility buckle, which is seen on most Dior bags like the Saddle. The Dior x Birkenstock sandals are the pair to have for elevating and summer dress codes.
Louis Vuitton X Nike Air Force 1
View this post on Instagram
This collaboration is perhaps the most talked about so far and it is none other than the Louis Vuitton x Nike Air Force 1. This collaboration is one of the last collections that the late Virgil Abloh had personally been involved with in the creative process. Of the 47 new sneakers created for the Spring Summer 22 collection, nine editions of the bespoke Louis Vuitton x Nike Air Force 1 sneakers will be launched at a later date.
Both brands are giants within their own fields and this coming together is a final ode to Abloh's vision of how luxury and streetwear can co-exist — the line between the two "fields" has now become even more blurred.
Paria Farzaneh X Woody
View this post on Instagram
With a similar idea of wishing to rock your house shoes in public, Paria Farzaneh X Woody Clogs are the answer. The clogs are paired with the comfort of those bedtime home slippers with the sole support you need for everyday life. They also happen to offer exactly the kind of groovy, good-weird energy that many fashionable outfits require. The clogs are pairable with many kinds of dress codes, such as the formal if one can style it outstandingly, to the casual dressed down comfortable style.
The Paria Farzaneh x Woody Clogs are the answers to rocking house shoes in style while strutting in public. It has the sole support needed for everyday life while adding an eccentric flair that puts the spotlight on the wearer. While not exactly a "famous" collaboration, the unusual aesthetics of the shoes are what makes this pair desirable and owning them is a subtle signal that you are part of the closely-guard fashion charmed-circle.
A-COLD-WALL* X Converse: Sponge Crater CX
For the brutalists footwear lovers, there is nothing like the Converse x A-COLD-WALL* collaboration. The first release by the duo, the Converse Aeon Active, had been a hit amongst those who like futuristic silhouettes. This time around, the pair is set to show off the Converse Sponge Crater CX as a new model.
View this post on Instagram
It is a follow-up design to the Aeon Active CX as they are similar in shape and texture. However, the Sponge Crater CX is more straightforward with reduced components allowing for effortless wear. Take notice of the minute details like the grey heel tabs, the spandex material collar and the shell of the shoe made of foam encompasses brutalism. What is most remarkable about the shoe is its unique texture mimicking the moon's craters. For those that are fond of this futuristic theme, the Sponge Crater CX may be the pair that is only available once in a blue moon.
MM6 Margiela X Salomon
View this post on Instagram
Having just teamed up with Carhartt WIP and presented its collection, Salomon has now teamed up with Maison Margiela's MM6 line. The collaboration between the two has resulted in a more refreshed look that features multi-coloured shoes with lugged soles contrasted with dusty pink hues and sand tones. Blue, green and grey shades are also present on the midsoles and base, together with an adjustable ankle gaiter that's perfect for weatherproofing and outdoor activities. While the sneakers are much preferred for conquering mountainous hikes, the MM6 x Salomon pairs well with a monochrome suit or casual denim pants, bringing a refreshed look to any outfit.
Balenciaga X Crocs Boots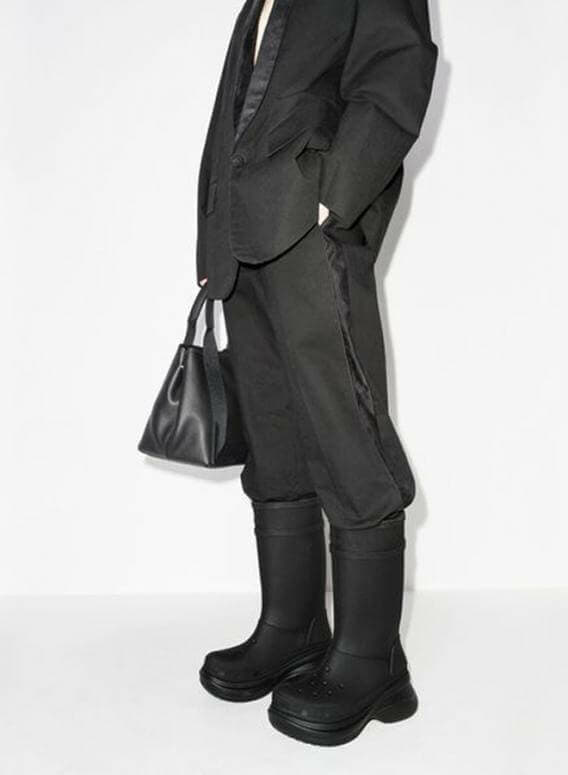 Whoever said Crocs were just a fad couldn't be proven more wrong because the luxury fashion house Balenciaga is making a fashion statement with its latest collaboration with the rubber shoes maker. The famed style now comes in the form of a boot. Coming in 100 per cent ethylene-vinyl acetates (EVA), the out-of-the-ordinary creation features a round toe cap and is debossed with Balenciaga logo at the front.
This co-branding exercise is perfectly in-synced with how Balenciaga has created conversations and maintained its brand visibility in this saturated market. It is constantly making itself relevant by working with the most mundane objects and that has served its purpose of attracting attention to the brand and becoming one of the hottest brands around. Standing on par in this collaboration is Crocs, which has been a growing favourite for many Gen Zs and this partnership is a fruitful exercise for each brand to tap into the respective audiences.
Prada X Cassius Hirst
The Prada Linea Rossa America Cup sneaker is synonymous with sportswear as it was created especially for the Luna Rossa team to compete in the 1997 America's Cup race. Just when one thought that the world of sports would not collide with the art world, the Italian brand introduced a collaboration with artist Cassius Hirst (son of artist Damien Hirst) to create his version of the world-renowned shoes.
View this post on Instagram
Hirst has broken down the footwear collaboration with Prada into four models: ATT4CK, D3CAY, SUST4IN, and REL3ASE. The ATT4CK pairs are toughened with moulded spikes and sprayed in neon, while D3CAY are made from aged leather and faded on intentionally. SUST4IN are coated with white relief detailing, while REL3ASE are also covered with a neon-spray finish. The result is wearable art that has been hand-picked by Prada, meaning no two pairs are indistinguishable while also highlighting the brand's excellent craftsmanship. Having a pair definitely makes for a prized collection for sneakerheads.
MMW 5 X Nike: Nike Zoom MMW 5
As one of Nike's main collaborators, Matthew M Williams has a long-established history of projects with the American footwear and apparel company. From futuristic footwear to reimagined activewear, Williams has scored on a variety of capsules with Nike. The summer-ready Nike Zoom MMW 5 is incorporated with Williams' signature utilitarian characteristics perfect for the great outdoors.
View this post on Instagram
Ideal for the summer months, the sneakers have small cutouts throughout the toe cap and soles for breathability and its slip-on mechanism makes wearing a pair an easy feat. The style of the shoes pays into the design codes of the designer and his ingenuity when it comes to creating distinct pieces that are a joy to wear. Already featured on Alyx's Spring Summer 2023 runway show in Milan, this item will soon be seen on many celebrities in the coming months and become the next "It" shoe.
Y/Project X Fila Stackhouse
As more fashion brands are diving into sports apparel, the Y/Project and Fila collaboration is perfectly positioned between sportswear and the avant-garde with a playful take on the widely beloved old-school classic, the Stackhouse model. Even though Fila is over 100 years old, people still associate it with the 90s and that is a good opportunity as the current obsession with the era is all the rage now.
View this post on Instagram
The modernised Stackhouse sneaker features a smooth panelled design and a balanced combination of matte leather uppers with contrast textile detailing throughout. Y/Project X Fila Stackhouse sneakers provide the opportunity for Fila to reposition itself as a powerhouse through this collaboration. Chunky shoes that many already associate the brand with take a step forward where it is now seen as a more modern brand with a unique look and feel.
Craig Green X Adidas Originals: Split Stan Smith
As the fashion seasons go by, Craig Green and Adidas Originals have continuously proven to be a creative force to be reckoned with. The latest collection emphasises exaggerated utilitarianism through its practical apparel and footwear. The classic Stan Smith is transformed into a conceptual piece where it is chopped in half and is presented in a wrapped style.
View this post on Instagram
Slashed vertically into two, protruding rubber strips act as a connective element for the two halves while it is fastened with metal rivets. This one-of-a-kind design certainly makes a good conversation starter for any party. As more designers delve into abstract designing, it begs the question: is commercialism killing creativity or does it encourage it? Either way, consumers are in for a treat and it makes fashion a tad less boring.
With this list of the hottest sneakers and footwear collaborations in the first half of 2022, we hope to see more interesting designs as we progress on to the remaining months of the year.
For more fashion reads, click here.