---
Arts, Culture & Lifestyle
Romain Langlois: Artist and Alchemist
As we become increasingly blind to the world around us, Romain Langlois and his striking sculptures urge us all to take another look.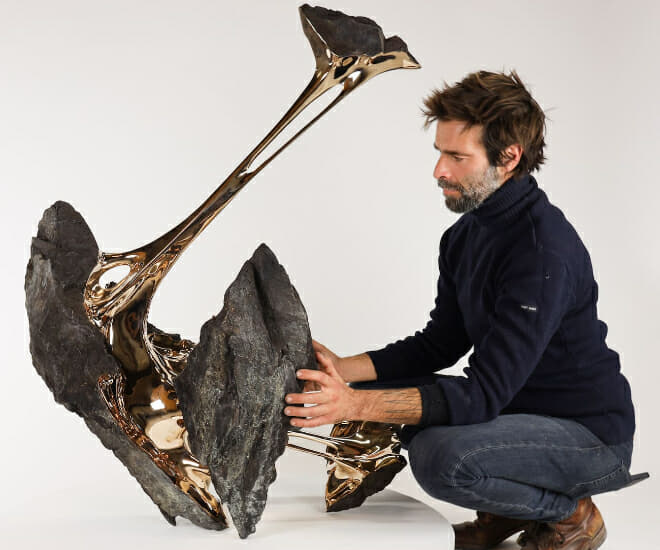 "Plastiglomerate" is the name for an unnatural stone that appeared in the south of the island of Hawaii, made up of volcanic rock, sand, shell debris and plastic. Some scientists have identified this rock as a marker of the Anthropocene, a new geological epoch characterised by the irreversible impact of human activity on the planet.
The evidence of this era can be found all around us, from deforested areas to illegal dumps and quarries. These sombre sites provide Romain Langlois with the inspiration for his sculptures: an abandoned beam on a demolition site, a tree trunk found in a wasteland, a chunk of stone used to block off a road… a plethora of "objects" torn from nature and discarded after use.
The artist appropriates this "cultural sediment", transforms it, and presents it to us in a museum or exhibition space, as if to say: "And now, what do you see?"
Like a true alchemist, he has transmuted the ordinary into something extraordinary. The rock that sits before you is not stone: it's bronze. That tree trunk is not wood but calcite, created by crystallising calcium carbonate, a process that has been mastered by just a handful of artisans. The resemblance is striking, but the artist does not restrict himself to this trompe l'oeil effect.
His rocks are broken apart to reveal their contents — a radiant liquid resembling magma— while the rafter seems to be lifting itself into a vertical position, with folds forming on its surface much like human skin. The inert materials seem to come alive before your eyes, exposing their latent life force.
According to the artist, "everything is alive, everything is in motion, everything is in a process of transformation. There is life below the surface, just waiting to be unleashed. Through my sculptures, I am able to tap into this innate force and reveal it to the world." Romain Langlois has drawn on this intuition of an ubiquitous life throughout his career as a sculptor.
The 43-year-old French artist is entirely self-taught, driven by passion, a thirst for knowledge, and a desire to make his own way and become one of the great names in this art. For 12 years, surrounded by anatomy references, he sculpted human faces and bodies, striving to master each technique according to his own high standards. From white bronze to bismuth, crystal, silver and stone, the artist has tried his hand at a whole range of materials, gaining an intimate knowledge of every medium. "Working with a material is the only way to truly understand it," he explains, "the touch of your hands creates a unique bond."
In the world of contemporary art, where concepts take precedence over execution and where know-how and craftsmanship are often considered secondary, Romain Langlois chose to put materials at the very heart of his artistic approach. Although he has moved away from depictions of people, his work continues to explore the human condition from an environmental angle, scrutinising humanity's profound impact on our surroundings.
His sculptures capture a nameless truth about life itself: something that binds us to the wood and the rocks, and raises questions about the place we occupy in this natural order.
Born in Saint-Etienne (France) in 1977, Romain Langlois turned to sculpture after completing his design studies and spending several years working in an architecture firm. His works have been exhibited at the Museum of Modern and Contemporary Art in Saint-Etienne and at the MAD in Paris. They are also found in several prestigious private collections.
Romain Langlois is represented by Paris–based Artistics contemporary art gallery.
For more art reads, click here.