---
7 Incredible Yacht Charters That Cruise Asia Pacific Waters
With sailing activities in Indonesia, Langkawi and Myanmar ramping up in recent years, more yacht owners are discovering the joys of exploring this part of the world, say industry experts. Yacht Style looks seven of Asia-Pacific's top charter vessels and their itineraries.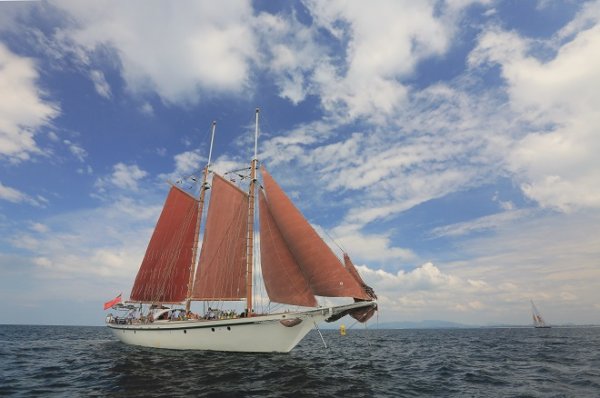 With sailing activities in Indonesia, Langkawi and Myanmar ramping up in recent years, more yacht owners are discovering the joys of exploring this part of the world, say industry experts. Yacht Style looks nine of Asia-Pacific's  top charter vessels and their itineraries.
Silver Fast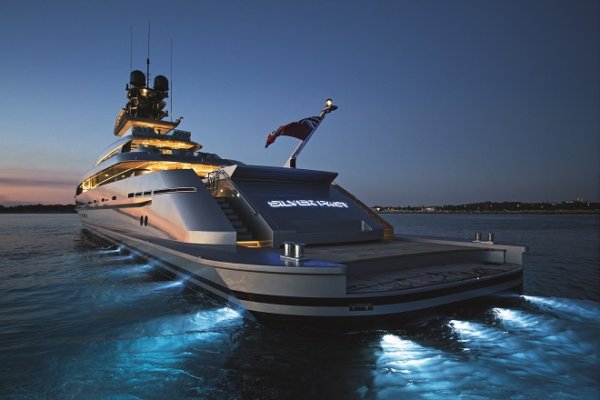 Australian-built Silver Fast enters the charter market for the first time this year. Her metallic silver livery and sleek profile stamp her as one of the most striking superyachts on the water today.
A shallow draft and average cruising speed of 25 kts endow her with unique advantages for exploring the atolls of the Maldives and the islands of the Andaman Sea. Epitomising stylish contemporary luxury, Silver Fast provides an expansive owner's apartment on a private deck and her array of amenities include a comprehensive water toy chest and a beach club with full spa amenities.
LOA: 77m (253 ft) • Guests: 12 guests in 8 cabins • Crew: 19
Build: SilverYachts, Australia
Cruising areas: Indian Ocean and South East
Charter rate: From US$650,000 per week
Joy
Joy presents a rare opportunity to charter a brand new Feadship in the glorious waters of the Maldives or the Andaman Sea. Studio Indigo's interior design exudes elegance, richness and individuality, executed with over 250 different finishes, textures and materials.
The uninterrupted flow between interior and exterior areas offers tremendous appeal for indoor-outdoor living. The sea level beach club transforms into a party zone and the sun deck features a large jacuzzi with bar, barbecue and sun loungers.
Full massage and beauty treatments are offered by the trained on board therapist and a spa area is located on the lower deck. The very impressive and professionally equipped gym displays a striking skylight feature into the jacuzzi above.
LOA: 70m (230 ft) • Guests: 12 guests in 8 cabins • Crew: 17
Build: Feadship, Royal Van Lent, The Netherlands
Cruising areas: Indian Ocean and South East Asia
Charter rate: From US$700,000 per week
Titania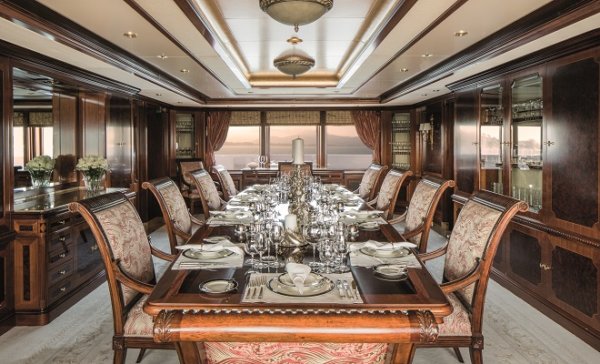 This impressive yacht has returned to the Indian Ocean and South East Asia for her second winter season and is available for charters in the Maldives, Malaysia, Thailand and Myanmar.
With a fabulous range of leisure options on offer, guests can indulge in a massage and treatments from the on board therapist, cool off in the huge pool with swim-up bar and work out with the fitness instructor in the fully equipped glass-panelled gym on the sun deck.
Titania also has a wonderful beach club with sauna, bar and easy access to the extensive water park and array of water toys. Unusually, the yacht offers two large master suites of comparable size.
LOA: 73m (239.6ft) • Guests: 12 guests in 7 cabins • Crew: 20
Build: Lürssen-Werft, Germany, 2006 (refit 2012)
Cruising areas: Indian Ocean and South East Asia
Charter rate: From US$420,000 per week
Saluzi
The unique Saluzi is a vast eye catching display of colour that slices through the water with an imposing presence. With an extensive array of facilities on board, Saluzi lends herself well to cruising in remoter regions.
Expect a sumptuous spa with on board masseuse, two deck jacuzzis, an open air cinema and well-equipped gym. For exploration, Saluzi masterfully cruises into small coves and anchorages thanks to her shallow draft.
Licensed to charter legally in the floating garden islands of Palau (a top rated dive destination) and Indonesia, this is a special opportunity to discover some of the world's most untouched cruising grounds.
LOA: 69m (227 ft) • Guests: 32 guests in 16 cabins • Crew: 32
Build: Austal, Australia, 2003 (refit 2014)
Cruising areas: Palau and Indonesia
Charter rate: From US$480,000 per week
Meamina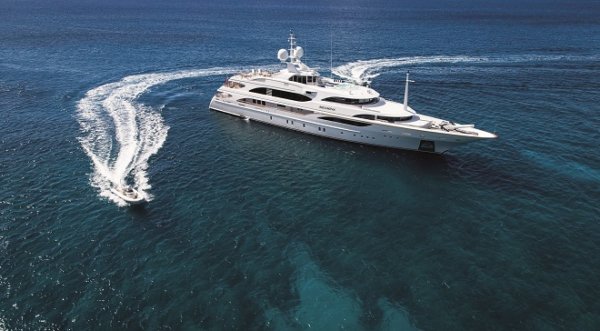 With her bold and sophisticated interior by Studio Massari, Meamina exemplifies Italian style and elegance, accommodating 12 guests in six luxurious cabins.
The split-level master suite includes a lounge and relaxation area, with steps up to a forward-facing semi-circular study offering spectacular views and direct access to a private foredeck area.
For relaxation, the large sun deck comes complete with jacuzzi, sunpads and loungers, while the comprehensive inventory of water toys will keep all the family entertained. Wellbeing services include an on board massage therapist and a personal trainer for workouts in the gym.
Meamina is available for charters in the Maldives and Seychelles this winter.
LOA: 59.3m (195 ft)
Guests: 12 guests in 6 cabins
Crew: 15
Build: Benetti, Italy
Cruising area: Indian Ocean and South East Asia
Charter rate: From US$371,000 per week
Northern Sun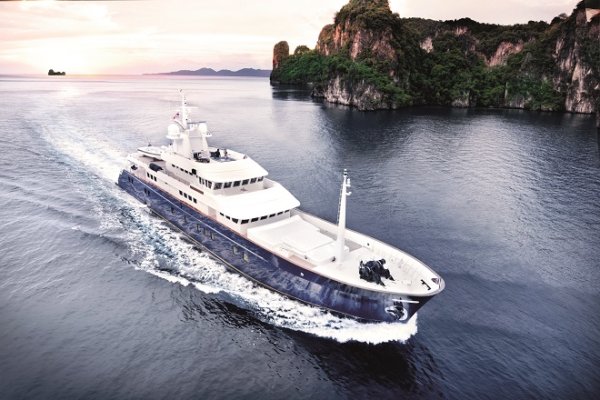 Based year round in Phuket, the midnight blue hull of very popular Northern Sun is instantly recognisable as she cuts through her home waters of Thailand. A distinctly Asian influence in her interior décor instils an aura of calm, providing expansive comfort for parties of 12.
An entertainment saloon with games table and piano as well as an arsenal of water toys are popular with guests of all ages. The yacht is available for charter throughout the Andaman Sea and is licensed to legally charter in Myanmar.
LOA: 50.9m (167ft) • Guests: 12 guests in 6 cabins • Crew: 12
Build: Narasaki Shipyard, Japan, 1976 (refit 2007)
Cruising areas: South East Asia and Indian Ocean
Charter rate: From US$133,000 per week
Hemisphere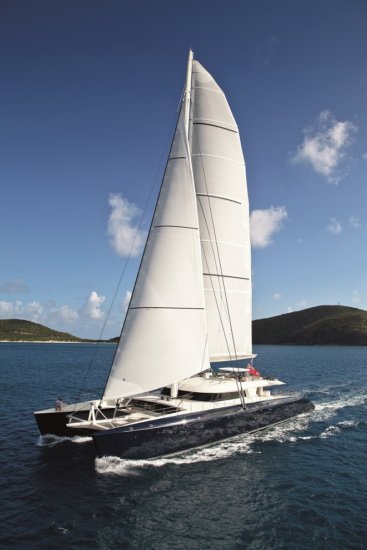 The largest luxury sailing catamaran in the world, Hemisphere is close to completing a multi-year circumnavigation, and is the perfect platform for off-the-beaten-track cruising.
She boasts a sophisticated interior designed by Michael Leach, vast deck spaces for al fresco dining and relaxation, and offers exceptional facilities for diving and fishing.
Full scuba gear for 12 guests including Nitrox air is provided and the yacht is a certified PADI dive training centre with two dive masters as crew members, enabling guests to attain PADI certification while on board.
Hemisphere is accompanied by a 16m (54ft) sports fisher tender which is ideal for game fishing, diving and guest excursions. The yacht is starting the year in Thailand before moving onto the Maldives.
LOA: 44.2m (145ft)
Guests: 10/12 guests in 5 cabins • Crew: 10
Build: Pendennis Shipyard, England, 2011
Cruising areas: Thailand and Maldives
Charter rate: From US$260,000 per week
And a helpful tip for getting the most out of your luxury charter from Burgess Yachts:

Chartering big boats in Asia has gradually taken off, and in 2017 Burgess is Central Agent for a record collection of seven diverse vessels available in the Indian Ocean, South East Asia and Pacific. On offer is the opportunity to explore the Maldives, Seychelles, Thailand, Malaysia, Myanmar, the Indonesian archipelago and as far as Palau in the North Pacific.
Says a spokeswoman for Burgess Asia, which now has offices in Singapore, Hong Kong and Tokyo: "Charterers looking for a taste of the exotic on their next superyacht holiday can expect Robinson Crusoe beaches, ancient temples, soaring karsts, golden pagodas, high-end exclusive resorts and a wonderful underwater world".
Such charters are not for everyone, as the going rate runs to US$700,000 a week for Joy and US$650,000 for Silver Fast, but even in this stable there are some relative bargains, for example the world's largest luxury sailing cat Hemisphere at only US$260,000 a week, and the more traditional but eminently comfortable and popular Northern Sun at a mere US$133,000 a week.
If this is still a bit steep – remember a few like-minded couples or families can share costs – we offer a wide spectrum of other suggestions later on, including Sunsail and The Moorings bareboat charters.
Charter enquiries: Burgess, London • Tel: +44 20 7766 4300 – Email: [email protected] • Web: www.burgessyachts.com

From: Yacht Style #38.
Save
Save