---
Arts, Culture & Lifestyle
Ultra Exclusive, the Never to Be Seen Again whiskies of The Secret Speyside
Pernod Ricard is offering a Secret Speyside collection, a gathering of bottles from never again to be seen distilleries and what is expected to be the world's rarest whiskies once sold out.
Créateurs de convivialité Pernod Ricard owners of Chivas Brothers, the makers of Royal Salute and other fine whiskeys has just released its biggest single malt collection to date. Dubbed The Secret Speyside, it is the gathering of fifteen age statement single malt whiskies from four of Speyside's rarest yet most sought after Scottish distilleries.
For knowledgeable collectors, The Secret Speyside Collection is a carefully curated selection of 18-30 year old whiskies from four of Speyside's most elusive distilleries, each with its own rich histories and unique characters.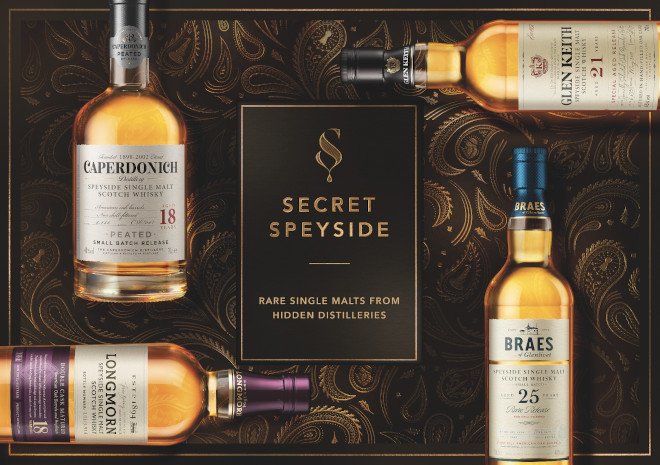 With centuries of rich whisky heritage against a jaw-dropping Scottish landscape, Speyside is the treasure chest of Scotch and brimming with untold stories. Curating the Collection has been a labour of love for the Chivas Brothers team; its contents have been hand-selected to help shine a light on some seldom-seen distilleries, their rare malts, and unique histories. Any whisky connoisseur will find something new in this world-class selection, which demonstrates the breadth of flavour and character that Speyside distilleries can achieve." – Alan Winchester, veteran Speyside distiller of over 30 years
Ultra Exclusive, the Never to Be Seen Again whiskies of The Secret Speyside
Never to be seen again, these exclusive single malts hail from the vanished distillery of Caperdonich which operated between 1898 and 1902, and then again between 1965 and 2002, supplying one of the core whiskies in the blended Chivas Regal; the pioneering Longmorn distillery designed by founder John Duff in 1894, utilising the tech of the era and incorporating a railway station next to the distillery for supply logistics and then sending finished bottles up to the North for distribution to whisky lovers; the landmark Glen Keith distillery, built by and owned by Chivas and the first new distillery to open in Speyside since the great whisky crash of 1898, whose production today is used almost exclusively across Chivas Brother's blended whiskey; and finally the Braes of Glenlivet, established in the early 1970s at the southern end of Speyside, the Braeval distillery was mothballed by the Brothers between 2001 and 2008 with the bulk of its spirits used in blends.
The desirable fifteen-bottle collection which comprise The Secret Speyside consists of three rare Single Malts from each of Glen Keith, Longmorn and Braes of Glenlivet, together with three peated and three unpeated expressions from Caperdonich, which distilled its final Single Malt in 2002, before closing its doors and finally being taken down brick by brick in 2011.
Caperdonich
A secret of Speyside, the whiskies released from this 'vanished distillery' offer a rare opportunity to discover and compare peated and unpeated expressions of the same age (21 and 25 year old), once found as foundational spirits in blended malts in their truest Caperdonich expressions.
The unpeated spirit is full of ripe orchard fruits that give Caperdonich's sweet single malt a complex body and long smooth finish. When gently peated, an untraditional process for a Speyside Single Malt, a sophisticated smokiness adds an extra element and depth of flavour.
There will be six whiskies released from Caperdonich, with half being peated whiskies and the other half unpeated. The peated selection includes an 18 year old (48% ABV), a 21 year old (48% ABV) and a cask strength 25 year old whisky. The unpeated whiskies are a 21 year old (48% ABV), 25 year old (48% ABV), and a cask strength 30 year old.
LUXUO's favourite Caperdonich: 25 year old Caperdonich's Unpeated (48% ABV) is a rich malt full of complex flavours, most notably the pear and chocolate notes backed by notes of blackcurrant, and a hint of Acinnamon spice leads to a long and succulent finish. Retails $480
Longmorn
One of Scotland's best kept secrets, Longmorn has often referred to as 'every distiller's favourite apart from their own.' Long been considered world class by distillers and connoisseurs, Longmorn single malts  lie at the core of many of the Chivas blends
The three whiskies from Longmorn in this collection are an 18 year old (48% ABV), 23 year old (48% ABV) and a cask strength 25 year old, with each bringing a more intense take on the soft, creamy toffee and rich flavour profile that is highly regarded by distillers and industry experts worldwide.
LUXUO's favourite Longmorn: The Longmorn 25 year old (cask strength, 52.2% ABV) which starts fruit-driven particularly of red apple and mandarin orange before giving way to dark honey notes with a finish of dark chocolate. Retails $450
Glen Keith
Glen Keith was the first Speyside distillery built in the 20th century. The distillery rose from the ruins of an old mill on the banks of the River Isla, famed for its pure water and leaping wild salmon. This collection marks the first official* age-statement release this century from the landmark distillery.
The three whiskies from Glen Keith in this collection are a 21 year old, 25 year old and a 28 year old (all 43% ABV). Each is exceptionally smooth as Glen Keith's pot stills are taller than most, giving an extra 'copper kiss' to the single malt and resulting in a complex, intensely smooth example of the classic Speyside style, bursting with juicy summer fruit notes.
LUXUO's favourite Glen Keith: Easy to drink and not overly complex, the Glen Keith 21 year old is a perfect balance of fruit and sweetness. A little water brings out a syrupy sweetness, accompanied by the smooth tones of lightly waxed wood and then followed by notes of soft peach and citrusy pineapple, with a dry toasted almond finish. Retails $180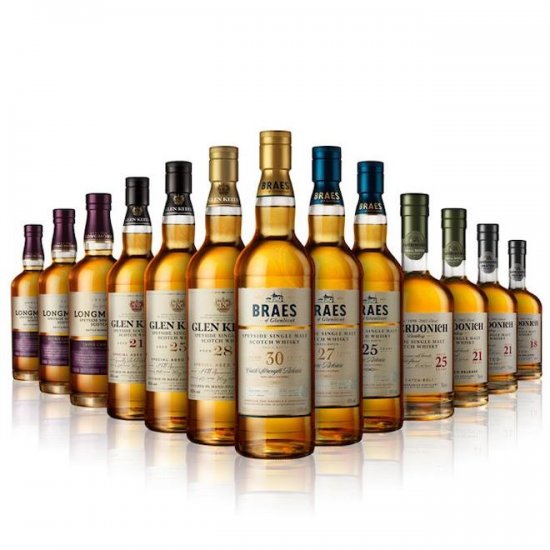 Braes of Glenlivet
This is the first official bottling from one of the highest distilleries in Speyside. The remote distillery is watched over by a lone keeper at night and is truly at the mercy of the uncompromising Scottish elements.
The three whiskies from Braes of Glenlivet in this collection are a 25 year old (48% ABV), 27 year old (48% ABV) and a cask strength 30 year old. Made using the purest water from the Preenie Well, 2 miles deep in the Braes hills, the resulting whisky is smooth, balanced and packed with tropical fruits.
LUXUO's favourite Braes of Glenlivet: Velvety, opulent, and then easing into blackberry, orange and light vanilla, the 30 year old Braes of Glenlivet (cask strength, 50.3% ABV) builds into a long-lasting, sweet finish. Retails $600
The Secret Speyside Collection is available now exclusively in Global Travel Retail, before rolling out into selected markets globally from summer 2020. The first ever collection of ultra exclusive, never to be seen again whiskies of its kind will offer Single Malt connoisseurs the chance to uncover, sample and collect some of the hidden malts which comprise some of the blended variations of their better known brothers, giving you exquisite flavour profiles and the chance to experience the true terroir of the iconic Speyside region.