---
Arts, Culture & Lifestyle
Editor's Review – Alila Manggis, East Bali is a True Resort Stay closest to Singapore
A few resort-like facilities or yoga classes do not a "resort" make. Instead, the secluded Alila Manggis East Bali, filled with its natural beauty, fits the definition of a true resort stay.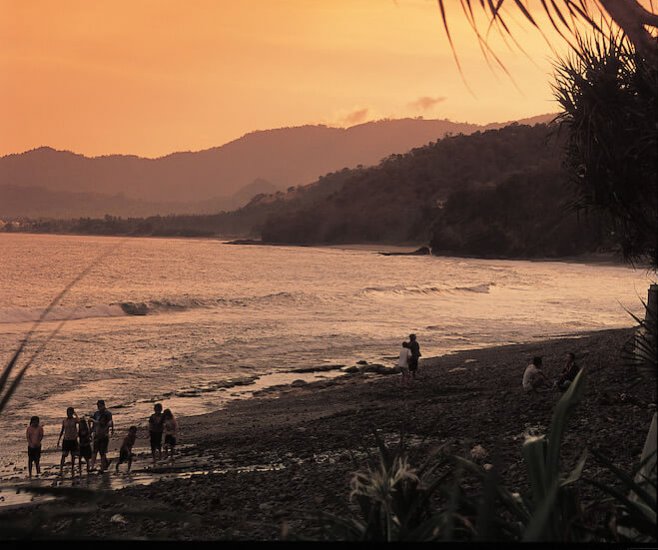 Approximately 2.5 hours and 1600 kilometres away from Singapore, lies Denpasar Bali. While Bali rightfully enjoys its status as a resort island closest to Singapore, it is unfortunate that the idyllic Indonesian island is often discussed on equal footing with Bintan simply because the nomenclature for "resort stay" finds equivalence in terms of holistic service, or resort-type amenities. While a resort-hotel provides however luxurious lodging and meals for its guests, Alila Manggis is not a hotel, it is a true resort meant to provide wellness in addition to relaxation and recreation.
Yes, Bintan is home to a few nice resort-hotels but a few resort-like facilities or yoga classes do not a "resort" make. Instead, East Bali, filled with its natural beauty, artefacts, and heritage sites, is something which fits the definition of a true resort stay, simply because when one is Bali, one avoids the typical tourist traps in abundance on its sister island.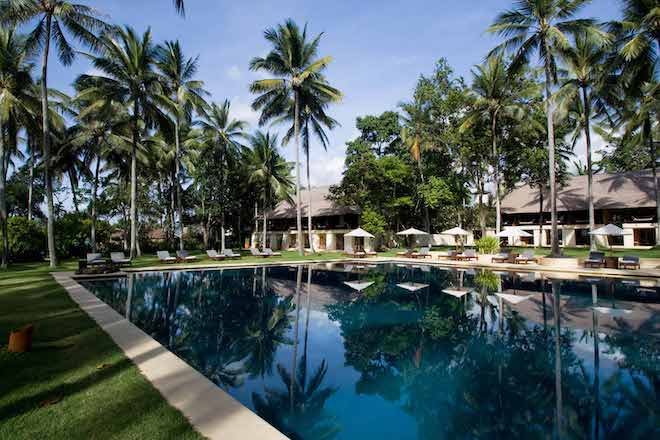 While Kuta,  Seminyak, and Ubud have grown increasingly "touristy" thanks to hipsters looking for beach-grams (as the kids call instagram today) and its proximity to Ngurah Rai International Airport (Denpasar Bali's airport); Manggis, in East Bali retains a lot of its true Balinese character, heritage and genuine service reflective of native islanders (I caused accidental offence trying to tip the concierge at Alila Manggis, more on that in a bit). In fact, the sheer numbers of visitors to the iconic Tanah Lot temple in Kuta tends to attract the kind of touts and cheats which define a typical tourist trap, making it a semi-stressful experience, the anti-thesis of a true wellness stay, full of holistic recovery, spiritual and emotional wellness.
One and a half hours from the airport, two hours in traffic, sits a secluded, stylish seaside resort in the namesake town within East Bali – Alila Manggis. 62 kilometres away from Kuta, the haven of serenity set amidst a coconut grove, nestled between the sea and Mount Agung, Bali's most sacred mountain, is about as far as away as one can get from Bali's growing tourist traps while still experiencing some of the creature comforts of a luxury resort stay. As the airport transfer provided by Alila Manggis whisks you away from the bustle of the island's only international airport, one is immediately struck by the quick disappearance of taxis and the growing numbers of islanders on motorcycles as you head towards one of the more secluded, less developed parts of the island.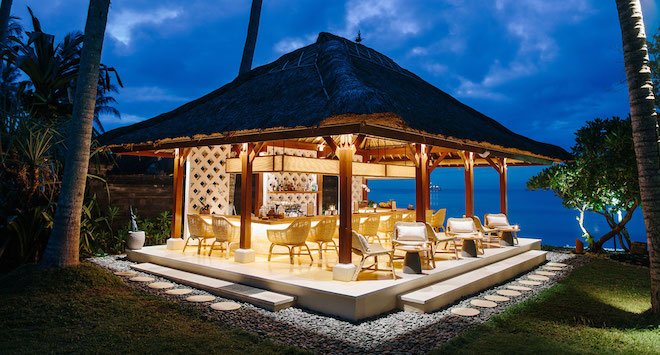 In a departure from marketing or commercial norms, no signage announces the resort's presence, instead, you're greeted with a quiet, forested road and the only clue is a the Alila Manggis guardhouse, where a security officer sights the airport transfer and raises the barrier, allowing the vehicle towards the alang alang thatched roof of the main lobby, a hallmark of traditional Balinese architecture. More importantly, designers at Kerry Hill Architects designed the resort grounds with the philosophy of free-flowing interaction between buildings and nature and so, physiologically speaking, wellness and relaxation begins right at reception when you're handed a glass of refreshing herb-infused Balinese iced tea and the concierge whisks your luggage and hand carries away to the front desk sight unseen while you cross the polished ivory and coloured concrete floors to the lounge instead of the usual standing aimlessly while front desk staff process your stay and documentation. At Alila Manggis, the activities manager takes you through your resort itinerary and confirms your choice of activities and when you're just about done, you're already processed and taken to your room.
The best way to experience Alila Manggis
Four two-storey buildings of cool white stone, lit up in geometric beams of warm tones after dark, house the guestrooms but its the epic corner villa and its accompanying corner balcony which makes this particular guestroom the best way to experience everything Alila Manggis has to offer. Be it breakfast at day break or a sensuous evening on the outdoor recliners as dusk falls into twilight, while basking in the moonlight accompanied by the soundtrack of the Bali sea, my corner suite may be the best but each block, already a skilful execution of traditional and contemporary Balinese architecture is set at a 45° angle to the beach, allowing all rooms and suites a view of the sea and the resort's centrally featured pool. That said, paying a little more for the corner room in early celebration of a treasured ocassion is well worth it.
Checked in, we changed into our swimwear and headed to the central swimming pool, perhaps more accurately described as a "water feature" nestled amidst beautifully landscaped lawns and swaying coconut palms. The pool itself is unique designed, shallow at the edges and deepest at the centre, its a peaceful place to have a relaxing dip, lulled by the crashing waves nearby or at night, ripe for skinny dipping, since it is lit only by the stars with nary an artificial light source after nightfall.
Meals at Alila Manggis' Seasalt restaurant
Named for the sea salt farmed from the salt pans of Goa Lawah nearby, Alila Manggis' in-house restaurant is no slouch. The meals are exquisite, flavourfully bold and representative of authentic Balinese cuisine – nothing is watered down or commuted to suit foreign taste buds. For those less adventurous, there are international favourites like an old fashioned Alila burger or fish and chips but why would you? When in Rome, do as the Romans.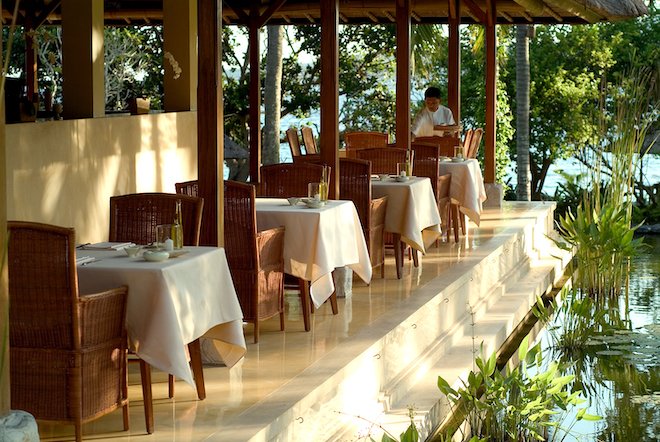 Using fresh ingredients (the biggest tell being how easily shells come off prawns), Alila Manggis' Seasalt restaurant delivers an impeccable Traditional Balinese Megibung, a collection of shared dishes, some served on a Dulang –  a Balinese carved timber stand: the Nasi Kuning or Turmeric flavoured rice is lends its fragrance to the occasional punctuation of salty sea-air when gusts of wind carry a calming breeze inward, the Palem Udang, a dish of fresh prawns with young coconut, ginger, chili, lemongrass and tamarind, is my personal favourite (it was a stay of many favourites I'll admit) along with the Ares Bebek, a combination of robustly flavoured braised duck, lime leaf, galangal, turmeric and banana stem, to name a few.
Since our first repast began with dinner at Seasalt, our expectations for breakfast was a little low. Needless to say, Seasalt cleared that bar by miles and we were appreciably surprised by the sumptuous course of freshly baked bread rolls and banana bread slices, accompanying the superlatively poached eggs benedict rivalling those of the fine Parisian cafes. For the next three evenings, there was little reason to head into the nearby town, we had found one of the best restaurants within the resort grounds and it was a gastronomic memory seared into our memories.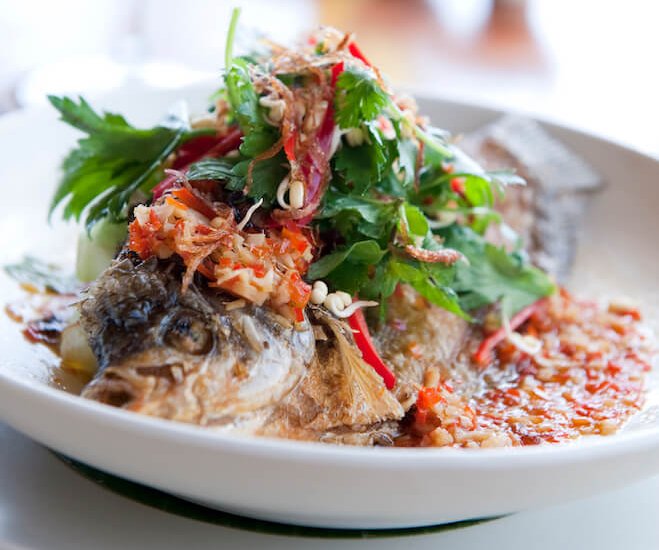 Must Tries at Seasalt
(Requires 12 hours to prepare so order a day before) Bebek (Duck) Betutu – a dish for two. A choice of duck or chicken, but I went for the duck; marinated in tamarind, coconut oil and "Bumbu Bali – Balinese spices", wrapped in palm husks and traditionally roasted for 8 hours. Served with duck eggs, cassava leaf salad, pandan-flavoured organic Balinese rice and long bean salad
Nasi Goreng Sune Cekuh: A Stir-fried Balinese rice with pork and chicken, garlic and aromatic ginger served with pork skewer
Seafood Kare: Fresh caught fish of the day, prawn and octopus with Balinese spices and coconut milk served with steamed rice
The Mango Lassi and Coconut ice-cream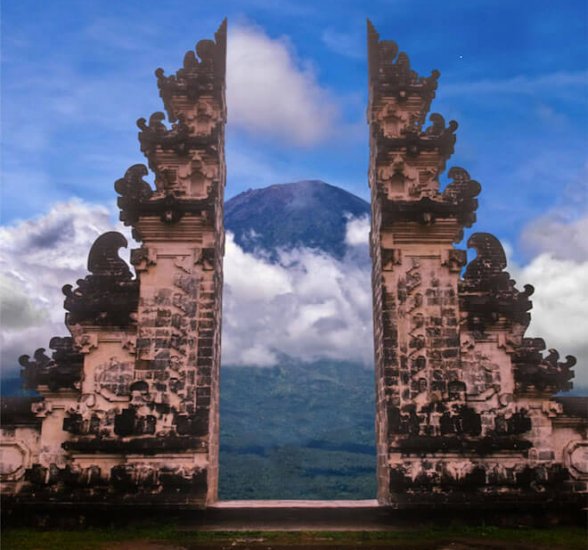 The Alila Experience
Adventure, cultural immersion, and culinary explorations form the heart of The Alila Experience. The Alila Leisure Concierge team comprised of the well-informed Hathmawan and Budi will help shape the experiential aspect of your stay at Alila Manggis and introduce you to the varied treasures and secrets of East Bali.
The wife and I were initially booked for a cycling journey to visit "Pura Ayu" located in the village of Ngis under the Lempuyang hill but since a potentially strenuous ride through the countryside and the surrounding rice fields, wasn't on the cards for the wife, Budi was quick to recommend other activities better suited to her desires and inclinations. That said, you are rewarded with fresh young coconuts and a beachside meal of fresh grilled fish at the end of your journey.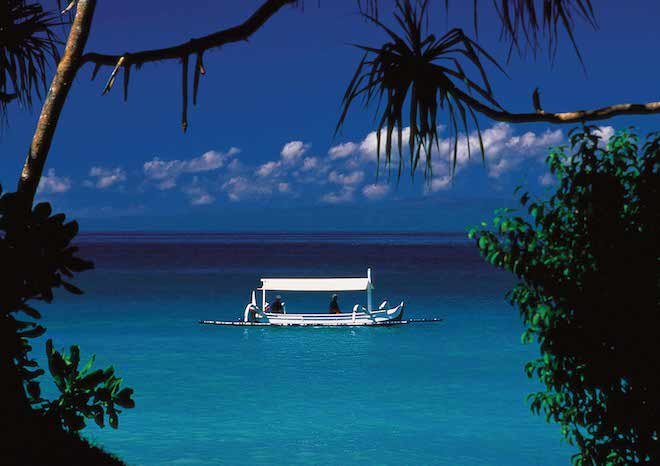 Pick from a selection of lifestyle activities tailored to individual interests across five themes – Cultural Learning (love of history and artisanship), Conscious Living (wellness, environs and community), Active Spirits (outdoor sporting pursuits), Culinary Arts (cooking school and food trails) and Couple Celebration.
Another option planned for us was a visit to a famed, spiritually gifted, Balian Healer, from Perasi Village. The Balian has been the focal point of healing in Bali for centuries, usually using herbs in tandem with an ancient Balinese massage to heal your aches and pains. That said, we opted for another activity as well because the Spa Experience at Alila Manggis is beyond reproach (more on that shortly)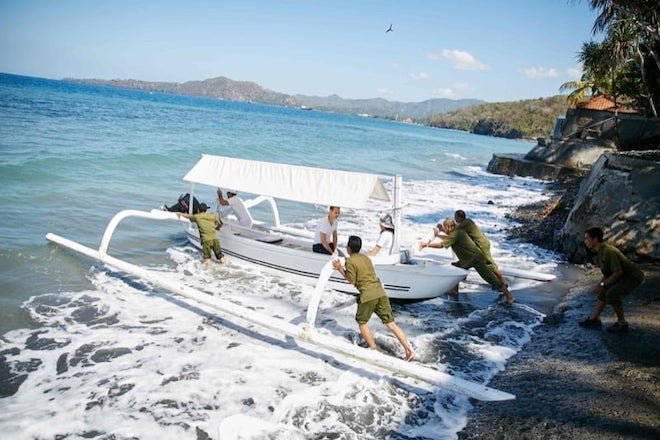 What we did do:
Visit Heaven's Gate: An hour's drive away from Alila Manggis, lies Hindu temple, Pura Penataran Agung Lempuyang. The good news is that since the iconic heritage temple is a collective 3 hour drive from Seminyak and Kuta, chances are rare that visitors rarely make it to Lempuyan otherwise known as Heaven's Gate. The bad news is, it's so beautiful and rustic, and one of Bali's most photographed venues that many would brave the long drive just to get a couple of shots of the cliffside mountain and its surrounding rice padis. Naturally, the wife and I took an iconic shot which every couple who visits Heaven's Gate is required on pain of death to take – the stereotypical tandem jumping or hug with kiss shot – dutifully provided by the temple's on-site "photographer" (really just a guy who holds your camera phone to a mirrored surface, hiding the trash from discarded offerings on the floor) who then snaps your image per diem.
Snorkelling at Blue Lagoon: Moored on the sandy beach fronting Alila Manggis is the resort's own motorised Jukong or canoe. Booked for a maximum of 4 guests per trip (so book early), a dive coach and guide will take guests out to the Blue Lagoon for a spot of snorkelling. 4 amazing hours, swimming around the warm waters of the Bali sea, occasionally buffeted by eddies of cold currents, you're close enough to actually brush the corals at some points but ecologically speaking, you're highly encouraged not too. The first trip leaves at 9am and the second at 11am, subject to suitable sea and weather conditions.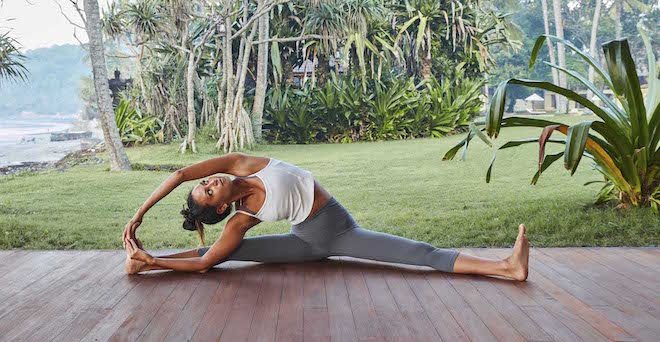 Sunset Yoga: I don't like yoga, never have, required physiotherapy after a session in my 20s once but at Alila Manggis, a taut, tanned, nubile Yoga instructor made all the difference. She expertly manoeuvred me into complex positions that I never knew I was capable of. Warm hands (she was probably packing some serious internal strength) pressed against my back, shoulders and butt as she contorted to me to the more challenging poses which I would never in a million years have believed I was capable for. I wouldn't describe the experience as painless although the soreness from having never properly stretched in the last 30 years probably takes its toll. Yoga by the seaside, I challenge you to stay awake during the dead man's pose as you "meditate" to an orchestra of the crashing waves.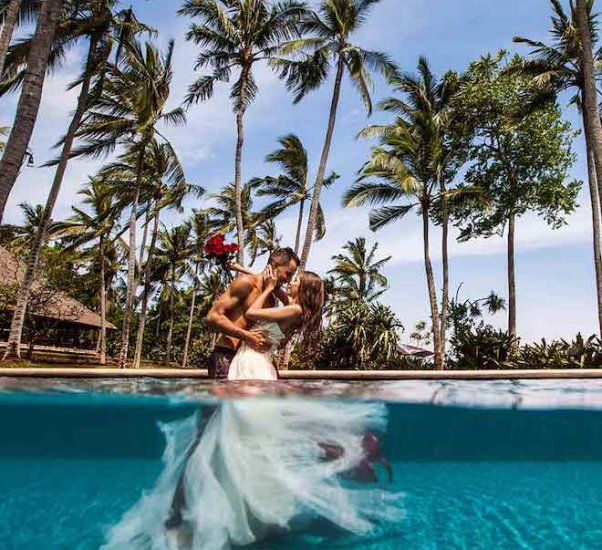 What we wanted but didn't have an opportunity to do:
Chase the Sunset: Blessed with gorgeous panoramic oceanscapes, Bali's eastern coast is a popular destination among tourists seeking to catch some of the most amazing sunrises and sunsets. The seas here are as calm as a lagoon when you visit just before dawn. Take the resort's Jukung, a traditional wooden boat, and cast off from the beach out on to the water to witness one of the most beautiful sunrises across the whole island. Marvel the view from the ocean of majestic Mount Agung being bathed in the first light of day as you pass by the three small Gili islands off the coast of Candidasa. Imagine the sites you could have seen as daylight wanes and watch the sky transform into a brilliant mural of sunset hues and then return shore with beautiful pictures, memories of a truly magical experience and then Bebek Betutu for dinner. What better way end your stay?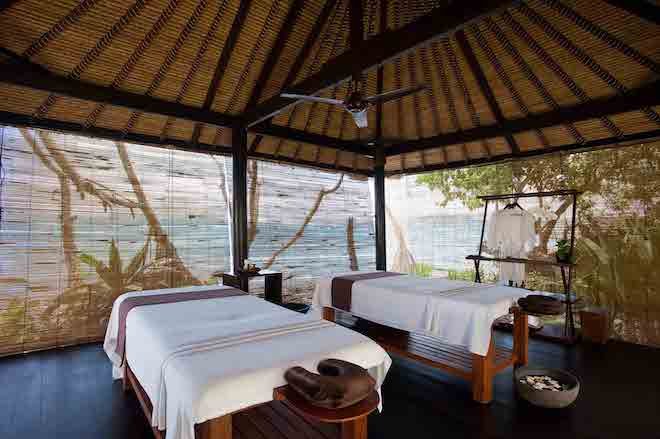 The Alila Spa Experience
I probably mentioned the waves more than once already but it is a feature of Alila Manggis. I have travelled to several resorts in my lifetime but the ocean while adjacent, is not exactly right at the resort's doorstep. Here, we enjoyed a full body massage at a thatched hut right by the water's edge. Now, admittedly, the beginning 10 minutes was probably the most relaxed I had ever been at a massage as I felt all tensions in my back and shoulders melt away but the next 80 minutes are a mystery to me since I was lulled to sleep with the oceanside soundtrack and the expert rubdown. Oh yes, go for the rice oil – it smells similar to vanilla and with all the lemon-grass flavoured meals, you would probably appreciate the change of scent palette. Given the naturalist landscapes and the literal vicinity to the water, try not to crack a fuss if you find bird or lizard droppings on your massage bed. It's expected, you're in the real outdoors, inform the staff and fresh linens are immediately provided, fuss-free.
There are many reasons to stay at Alila Manggis but sea-side seclusion is the best one
Look. It's not a "getaway" if you truly haven't gotten away. Alila Manggis is a luxurious secluded seaside resort not so much in that it provides the opulent finishings touted by other high-end hospitality groups but rather the wealth of experiences and authenticity of stay. Celebrate milestones or new beginnings with a deeply cultural adventure – Sajian Susantara will give guests a live performance of the unique local Legong Dance, while the Boxing Day Cycle from Mountain to Sea will provide a scenic bike ride. You aren't completely disconnected from the world since Wi-Fi is present, and a ready fleet of bicycles, available rent-free can take you anywhere and even through the forested slopes of Mount Agung, and its nearby villages and Pasir Putih beach.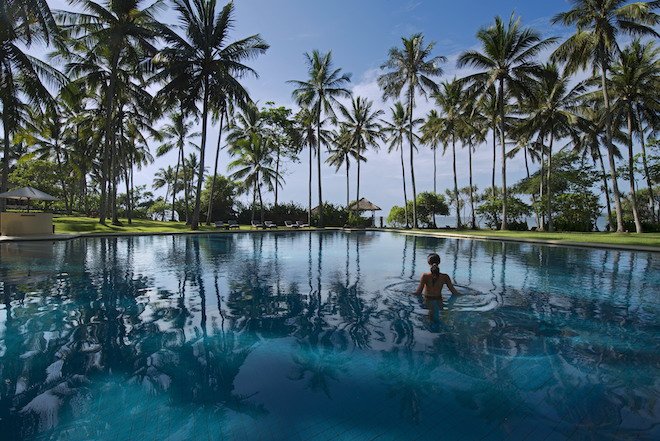 The food is spectacular at the resort, hence, there's little need for you to venture out to Candidasa town other than picking up resortwear at more wallet-friendly prices as opposed to the boutique within Alila. The sun-creams and shampoo are all made in-house and natural. The service is downright impeccable – the affection and friendliness is absolutely genuine. The Alila Porter took mild offence (he didn't express it but I could tell from his body language) when I motioned for him to wait for a tip. A tip about tipping at Alila Manggis – it's not a percevied insult when the staff have gone out of their work scope and responsibility – for example, when we asked our driver to find a reputable Balinese housewares store in Candidasa. But when you attempt to tip someone for something is simply their "duty" and work, i.e. a porter sending bags to your room, it gets dicey.
Alila Manggis is a stay I won't soon forget.