---
Arts, Culture & Lifestyle
Chiara Ferragni's secret Nespresso recipe looks like a summer dream
This summer, Nespresso is delivering some stylish sizzle with its latest collaboration with Chiara Ferragni. Adored for not only her eye for style but also her endless support towards women empowerment, Chiara Ferragni brings her eccentricity and playful spirit with her to bring this collaboration to life. From coffee machine to various accessories, the hero […]
This summer, Nespresso is delivering some stylish sizzle with its latest collaboration with Chiara Ferragni. Adored for not only her eye for style but also her endless support towards women empowerment, Chiara Ferragni brings her eccentricity and playful spirit with her to bring this collaboration to life.
From coffee machine to various accessories, the hero products of Nespresso are given the Chiara Ferragni treatment with her signature eye motif clashing with Nespresso's monogram. The Nespresso x Chiara Ferragni Essenza Mini is accompanied by a matching milk frother Aeroccino 3 to elevate espressos into a luxurious milky coffee. The Nespresso x Chiara Ferragni Coffee Mug is created for a delightful coffee indulgence at home, while the Nomad Travel Mug is tailored for on-the-go lives.
View this post on Instagram
In celebration of the launch of this collaboration, Chira Ferragni has imagined her own iced coffee recipe, fusing her favourite iced espresso with a summer twist of rich coconut flavour, topped with pink cotton candy or pink marshmallows.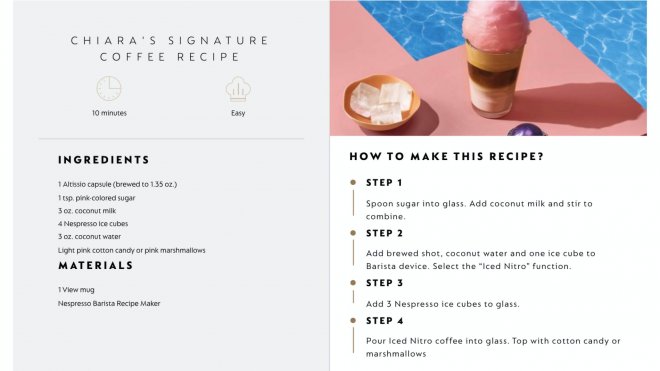 Swipe the gallery to take a closer look at Nespresso x Chiara Ferragni collection:
Visit nespresso.com to find out more.
This article was originally published on www.lofficielmalaysia.com.