---
World Of Watches
Richard Mille dedicates the perfect women's timepieces
From the red carpet to the sporting arena and beyond, renowned and respected public figures such as Michelle Yeoh, Margot Robbie and Ester Ledecka may hail from different countries and professional realms, but their strengths, talents and accomplishments, as well as their affinity and affiliation to the watchmaking brand of Richard Mille are in absolute solidarity. Among the […]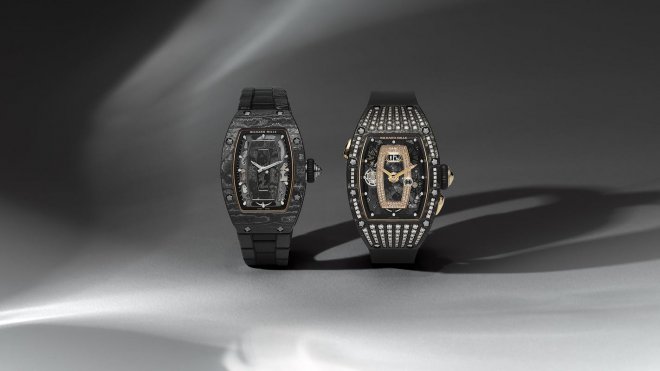 From the red carpet to the sporting arena and beyond, renowned and respected public figures such as Michelle Yeoh, Margot Robbie and Ester Ledecka may hail from different countries and professional realms, but their strengths, talents and accomplishments, as well as their affinity and affiliation to the watchmaking brand of Richard Mille are in absolute solidarity.
Among the phenomenal females in the Richard Mille family is Malaysian-born, award-winning actress Michelle Yeoh. Known for her beauty, talent and fearless attitude towards work and life, the prolific Asian superstar with a global profile and portfolio was chosen and appointed as the first female brand partner.
From the silver screen to off-screen engagements such as designing a pair of Richard Mille jewellery watches for women, serving as a UN Goodwill ambassador, and raising awareness for the ICM Bain and Spine institute; Yeoh's credentials in show business and humanitarian work lend great substance to her brand partner appointment.
"We share the same artistic values and principles. Richard chooses his ambassadors based on the values they represent— the same ones he wants his brand to be associated with. Be that elegance, determination, integrity or any number of specific things," said Yeoh.
Another exemplary Richard Mille partner is Australian actress and producer Margot Robbie, whose ascending stardom is showing no signs of slowing down.
In recent years, she has won awards and garnered nominations for acclaimed roles in films such as I, Tonya, Suicide Squad and Once Upon A Time In Hollywood from her distinguished filmography.
"I was astonished by the intricacy of the watches, by the way in which, when you look closely, the detail and craftsmanship are incredible. I was simply amazed that a thing so delicate felt so sturdy on my hand," Robbie remarked.
"I am really excited to join the Richard Mille family, I have always admired the brand's artistry and innovation. The watch we are working on embodies Richard Mille's vision of horology; it's beautiful, unique and modern. I can't wait for everyone to see it."
From the grit of working in front of film cameras to the glamour of film premieres and award events from Hollywood to Cannes, we traverse to the snowcapped Alps, Olympic stadiums and high- profile sporting venues to find the Richard Mille family's ninth female partner, Ester Ledecka.
Famed for being the first athlete to combine snowboarding and alpine skiing internationally at the highest level, this trailblazer boasts a record-breaking performance in the PyeongChang 2018 Olympic Games that puts her in the league of the world's elite sportswomen.
"Richard Mille and I both love what we do. We strive to be the best in our field and enjoy it," said Ledecká, neatly summing up the raison d'être of her relationship with the brand.
Parallel to its universe of female brand ambassadors, the Richard Mille ladies collection of watches similarly inhabit a uniquely feminine universe in fine watchmaking. What sets it apart is the juxtaposition of extreme watchmaking with beautifully elegant expressions in a quest to turn dreams and desire into reality.
Case in point: the peerless and ultra-creative Talisman and Bonbon collections launched in recent years boast stunning designs and inimitable technicity, being truly second to none.
In constant pursuit of technical solutions, boundaries are constantly being pushed at Richard Mille that includes a mission to create unusual and exceptional ladies' movements. This is encapsulated by the brand's very first in-house automatic-winding tourbillon used to power the RM 71-01 Automatic Tourbillon Talisman collection.
Designed with ten different dials and available in various permutations of stone settings and colours, the collection exemplifies watchmaking for contemporary women with a taste for the utmost.
Highly focused and outstanding, Richard Mille's ladies timepieces can be said to follow very closely behind its men's collections in the choice of materials. In 2016, Richard Mille extended the use of its proprietary NTPT carbon, a signature feature of its men's collections, to the case construction of its women's collections that gave not only a striking and powerful appearance, but ensured optimal protection for the calibre.
Following this milestone, the brand charges along to mount its next apex by debuting a Richard MiIlle exclusive: gem-set NTPT carbon, which was applied to references RM 07-01 and RM 037.
Besides being a showcase of unmatched elegance, the brand's technology of setting stones in cutting-edge materials like ceramic and Carbon TPT® is an achievement in technicity that has made it possible for the first time ever to combine 21st-century case materials with every type of setting, alongside enhancing the watches' comfort and ease of use. The RM 037 and RM 07-01 in Carbon TPT® are available in both plain and gem-set versions.
Never one to rest on its laurels and paving the way for the brand's next breakthrough is a full bracelet in Carbon TPT®, developed for the RM 07-01. This wristwatch is emblematic of and tailor-made for the multifaceted lives led by modern and remarkable women for its unparalleled lightness and strength, and sophistication and sportiness.
It can only be concluded that the variety and choice of settings, materials and stones in its ladies models—such as those reflected in RM 037 and RM 07-01—is symbolic of the achievement by the Richard Mille ladies collection in technicity, beyond the freedom of choice with options such as precious metal bracelets and straps in a plethora of of colours and materials.
Dedicated to creating the most extraordinary women's timepieces imaginable, Richard Mille perfects its feminine realm that allows a woman to express and empower her personality, lifestyle and aspirations.
Visit richardmille.com to find out more.
This article was originally published on www.lofficielmalaysia.com.