---
World Of Watches
An Exclusive Interview With Nicola Andreatta
Roger Dubuis CEO Nicola Andreatta wants to invite you on a journey into what he calls hyper horology.
You may not be familiar with Nicola Andreatta as CEO of Roger Dubuis but he knew the company from the era of Mr Roger Dubuis and Carlos Dias – basically right from the company's origins. A man with watchmaking in his blood, Andreatta has spent his entire career deep in the trade, thanks in part to his family business, Timeo SA.
Based in Mendrisio, Switzerland, the family business is Swiss, through-and-through, and was a supplier to the Roger Dubuis company, back in the pre-Richemont days. Andreatta's involvement here was far from casual – he was managing Timeo from 2003 till 2013. "My father made one of the first cases for Roger Dubuis," said Andreatta in a piece published online by the South China Morning Post; Andreatta's father is the founder of Timeo SA.
Andreatta also started his own watch brand, N.O.A. Watches in this period, and is a familiar face to many collectors and journalists thanks to his stint as Vice President and General Manager of Tiffany & Co, Swiss Watches SAGL. This was when we first encountered Andreatta, as he toured Asia in 2015 and 2016. As it happens, he is also quite familiar with the watch trade here because his first professional engagements were in this region, after he graduated with a business degree in 1997.
In our first interaction, Andreatta told us that he needed 10 years to make watches a successful part of the American jeweller's business. This figure should not be scoffed at, with no less than Jean-Claude Biver himself noting that it took him a decade to build up Hublot. Fortunately, Roger Dubuis finds itself in a good position already, with previous CEO Jean-Marc Pontrué having left the manufacture a better place than when he found it. Andreatta is certainly not about to change any of that, telling us that he intends to keep the production numbers of Roger Dubuis stable for at least three years.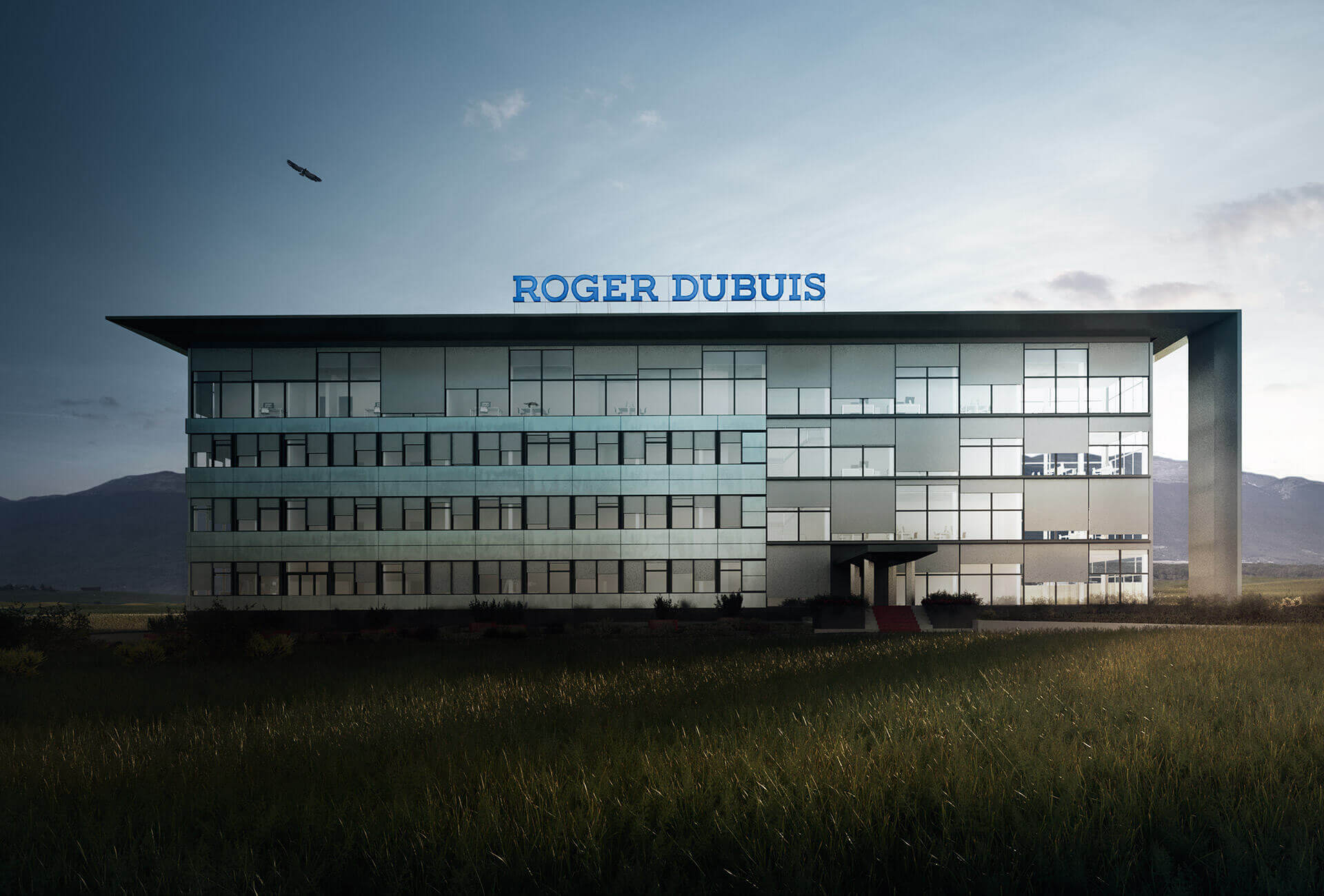 Armed with an infectious smile and a magnetic personality, Andreatta is the sort of business leader who makes you feel like you can achieve great things. This is precisely the quality a CEO needs to have, which is not something that can be learned. His own history with watchmaking leaves him perhaps uniquely suited to the top job, especially at a firm that is very much of this contemporary age.
Andreatta was in Singapore in late 2019 to officiate the opening of the refurbished Roger Dubuis boutique at ION Orchard.  We caught up with him for a chat about the brand and his plans for its future.
As the new man at Roger Dubuis and Richemont, what's the welcome been like?
It has been incredible! My family business was connected with Roger Dubuis, right from the beginning (from the era of Mr Roger Dubuis and Carlos Dias), so I know the brand. But I've discovered even more. The introduction was fun, because you know, my father came to SIHH this year, and now he sees me on the other side! There's pride there of course.
You've been in watchmaking your entire professional life. How has this helped you at Roger Dubuis?
The good thing about my career is that I know pretty much every single job in a watch company! I know how to manufacture watches physically; I know how to use the machines; I've designed watches; I've worked in the business of making watches in Switzerland, and in Asia; working with the suppliers… This is an advantage because it allows me to be closer to my team.
One thing I heard from my team was that they were happy to be able to discuss production with me, which may not have been the case with other CEOs (who don't have the relevant experience in watchmaking). I know what I'm talking about and this allows me to find the trust and respect I need from my team. (In turn) I'm more useful to them because they find in me a partner instead of a boss.
When I came to Roger Dubuis, I discovered amazing things, yes, and maybe the people who had been there for 10 years (or more) didn't see those things anymore. They are so focussed on what they do that they don't change perspectives (so this is where I can contribute).
Roger Dubuis has been described as entrepreneurial. What doe that mean to you?
I say Roger Dubuis is an entrepreneurial brand because of our size, relative to our competitors; there is still a lot of room to grow. In the end, entrepreneurship is all about evolving, learning, growing and improving things. With my team, there's a lot we can do to take this brand to new heights. With the help of Richemont, we can be entrepreneurial and find the right direction for the brand. As you know, Richemont is the most important watchmaking group in the world.
I hate the idea of chasing customers. I feel like you are successful when they come to you
You've spoken about maintaining the direction of the company, but adding your own vision. What is that vision?
I cannot really tell you my vision, because we like surprises at Roger Dubuis! What I can say is that changing completely what Jean-Marc Pontrué (he is currently CEO of Panerai, another firm within the Richemont stable) did, would be a mistake. He traced a very good line with the partnerships between Roger Dubuis and Pirelli as well as Lamborghini; this has been very successful for us. Because of this, we manage to express ourselves in the territory that we want…with all the adrenaline and the style of excess. It is all about evolution for us, rather than dramatic changes. There will be bumps of disruption here and there because that is everything Roger Dubuis is about. For example, there is something coming next year that will (really speak to the brand's reputation) as a serial innovator. You will see at Watches & Wonders (the new name of the SIHH) in Geneva.
Roger Dubuis calls itself a "serial innovator." What does that mean?
Innovation is not only in the product for us – it is also about the company. Now, you cannot just go to the staff and say I want 10 ideas from each of you. No, you have to create the environment for creativity and innovation. Innovation can come from anywhere in the company – maybe the cleaning staff have incredible ideas and bring a new perspective. You know, I asked the marketing people to think about production; I asked the finance people to think about the design. Crazy and incredible things came up! I mean, our CFO is a potential client after all!
All watchmaking brands want to reach young people, but it seems a certain generation is resistant to standard forms of luxury marketing. How does Roger Dubuis address this?
I hate the idea of chasing customers. I feel like you are successful when they come to you. It's like what Steve Jobs said about creating desire; a need for something (that they never knew they needed). I feel like we've been overwhelming people with luxury, inflating products with higher and higher prices…and people tend to understand less and less. My problem isn't about the price (per se) but to make sure the perceived value is aligned to what they are going to spend. Because that's when they spend with us.
Why do you want to keep Roger Dubuis' production to its current levels? Is this to maintain the exclusivity of the watches?
I'm not into selling watches; I'm into creating a brand that people want to come to. It is about having a beautiful experience, and (a Roger Dubuis watch) should be a sign of the life you want to live. (This is) the Roger Dubuis world, where people live the life they want to. Our customers are a sort of tribe.
Our world is connected to hedonism – to seeking pleasure. When customers come to us, they get an experience. It is beyond what money can buy. We create moments for our customers: when they come to Geneva we take them skiing on a glacier via helicopter with a champion skier; we take them flying on an aerobatic plane. We offer sensorial experiences. These moments create emotions, and those emotions are what people will remember.
Given that Roger Dubuis has a certain pedigree, is it dangerous to veer so far from the origins of the manufacture?
These experiences (that I talked about) are not only about (thrill-seeking); they are about things that bring you pleasure, like wine or great hospitality. So we will also be connecting to the very beginnings of Roger Dubuis – our complications. We are going to be redesigning our traditional Excalibur case. We will be looking once more at our tourbillons, our minute repeater, our perpetual calendar…always with a twist!
I want us to stop talking about men's watches and women's watches; this is a bit anachronistic today. Why should we limit ourselves in this way?
We also use Mr Roger Dubuis' quotes with our staff internally all the time. This is the spirit we need because we need to be true to our DNA. Too many brands lose this when they go looking for clients – they try to be the brand for everybody. We are not the brand for everybody; we are the brand for those few who understand who we are and want to be a part of our world.
That's a very exclusive message. How do you make that fit with raising awareness for the brand?
This is the biggest challenge for us. We don't need awareness everywhere but we (definitely need it) with our target group. You know, of all the marketing tools out there I think that word-of-mouth might be the best one to make sure that the brand gets renowned in the right circle of friends. I want to extend Roger Dubuis's circle, invite more people into the tribe; if they find what they like (in our world) they will come back.
Turning back to the world of adrenaline, why is it so much easier to understand the passion for cars than it is to understand the same passion for watches?
A watch is more difficult to understand because a car gets you from place to place, basically. In our world, a car has to be noisy and (provoke) emotions. Watches, on the other hand, when you start talking about complications, (you enter) a very peculiar world. There is something philosophical there. It is about the quest to control time, which is impossible. I love the idea that there is a connection between the (engines of time) and the concept of time. You must also not forget about the metiér – the handwork. When people come to the manufacture, they understand what the Geneva Seal means – that every component has to be finished by hand. This changes perceptions because people realise that it takes (the input) of hundreds of people to develop and produce a movement.
Despite having made many more calibres in the recent past than most other brands, even much larger ones, Roger Dubuis only has two collections now. Will you be changing this?
The beauty about our past is that we've been very creative – maybe too creative! We need to choose our battles, and be focussed on how we express ourselves. There were just too many things in the past and (Pontrué) did an amazing job in reducing our collections to just the Excalibur and the Velvet; one for men and one for women.
I want us to stop talking about men's watches and women's watches; this is a bit anachronistic today. Why should we limit ourselves in this way? It's a myth that watches with diamonds (and other gems) are only for women; plenty of Asian customers like this. Who says that women should only wear small watches? I know a lot of women who wear 45mm or 47mm watches! For sure I will stop (defining watches as) men's or ladies'.