---
Style & Beauty
Van Cleef & Arpels' Perlée sweet clovers
It has only been a little over a decade since its inception but the clout and celebrity status of the Perléefamily is already rivalling Van Cleef & Arpels' seasoned mainstays, if the many iterations of it are any indication. The Perlée sweet clovers, which marries two emblems of the maison, the golden beads and the […]
It has only been a little over a decade since its inception but the clout and celebrity status of the Perléefamily is already rivalling Van Cleef & Arpels' seasoned mainstays, if the many iterations of it are any indication. The Perlée sweet clovers, which marries two emblems of the maison, the golden beads and the lucky clovers, to stunning effect, is the latest entry to the ripe and rapidly expanding line.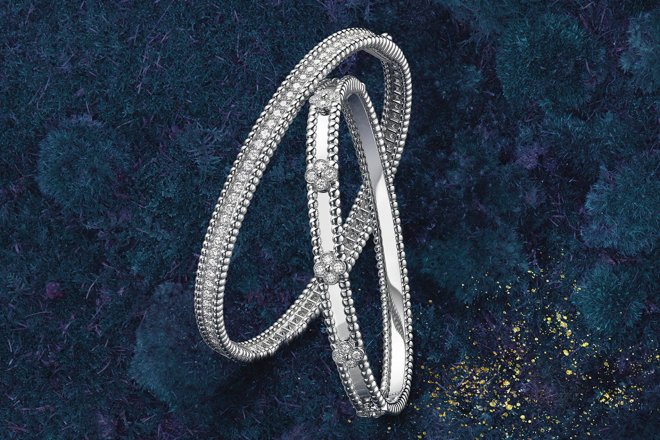 Cut from the same cloth as the first Perlée clovers creations, the "sweet" version reworks the shimmering ribbon with ten clover motifs on the bracelet and five on the ring—each featuring a central bead surrounded by four round diamonds— while preserving the contour of glistening globes on its rim. The pieces under the banner come with a chock-full of personality especially in the white, yellow and rose gold renderings.
A worthy stand-alone in its own right, the Perlée sweet clovers, however, is crafted with a duality function in mind that allows it to turn and transform via unique pairings with the jeweller's other masterworks. Its gleeful gleam blooms opposite the Perlée pearls of gold—radiating on a daytime jaunt when matched with the Perlée diamonds and expressing an elegant harmony when juxtaposed with the calligraphic etching of Perlée signature.
The tradition of creative partnership at Van Cleef & Arpels continues with the rolling out of the new range. This time around, the jewellery house has enlisted three artists and graphic designers specialising in 3D animation to enrich the wonderful universe of Perlée. Arthur Hoffner, Clement Chia and Friedrich Neumann have each reinterpreted the refined curves of the Perlée pieces in a series of visuals and short videos.
"In my eyes, the sphere is almost too perfect to be real. Its quintessential roundness inspires motion, embodies balance and conveys a feeling of suspended time. That's what I tried to bring out in this collaboration," says Hoffner in a statement. Chia also shares the same sentiment as he admits to being taken by Perlée's elegant design: "The precision in each jewel inspired me to find the perfect balance between minimalistic and artistic result," he adds.
"The Perlée collection is defined by elegant and organic shapes. To convey this concept, it is important to generate a natural and harmonious feel on both visual and auditive levels. The use of light and joyful colours, interesting but minimalist environments and harmonious motion in combination with sound variations was essential," says Neumann on his thought process. To him, the representative bead ultimately implies a playful and rhythmic interaction between spherical shapes and jewellery.
Visit vancleefarpels.com to find out more.
This article was originally published on www.lofficielmalaysia.com.