---
Style & Beauty
The Niki Baby Bag by Saint Laurent
Born under Anthony Vaccarello's creative direction, the Niki bag first made its appearance in Saint Laurent's Spring/Summer 2018 campaign, in which Kate Moss flaunted a fur coat with the leather bag dangling on her shoulder. And you know it can only be a rock star if a bag makes its debut on the arm of […]
Born under Anthony Vaccarello's creative direction, the Niki bag first made its appearance in Saint Laurent's Spring/Summer 2018 campaign, in which Kate Moss flaunted a fur coat with the leather bag dangling on her shoulder. And you know it can only be a rock star if a bag makes its debut on the arm of the one and only Kate Moss. The Niki bag was destined to become a modern classic that goes beyond seasons and trends.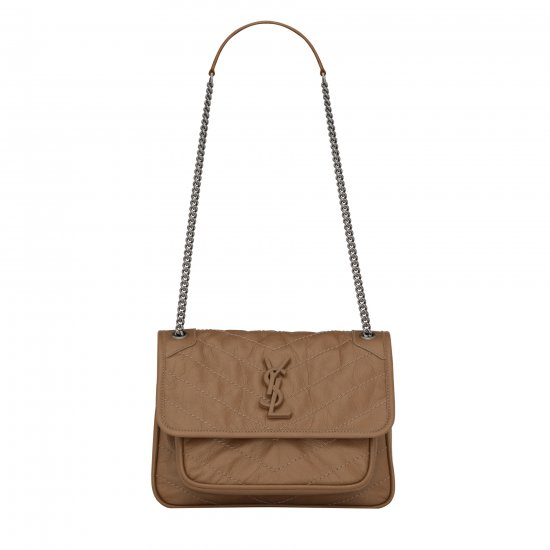 With Saint Laurent's rock 'n' roll legacy running deep, its rectangular structure and flap closure are borrowed from elder sibling, the Loulou bag. Reinterpreted in a softer, wrinkled leather that lends a hint of grunge and nonchalance, the bag comes finished with the unmistakable chevron stitching and Cassandre logo. As alluring as it is versatile, the Niki bag comes with a roomy interior and thoughtful pockets to keep close your daily essentials: iPhone, AirPods, journal, purse, hand sanitiser, hand cream, lipstick. Meanwhile, the convertible chain equipped with a leather pad ensures the comfort of the wearer's shoulder.
This season, Saint Laurent presents the new Niki Baby bag rendered in dark toffee quilted vintage crinkled leather. Muted and monochromatic, this rendition lets the silhouette do the talking as it complements any attire to exude a sense of strength and confidence sans the need of loud colours and logos.
Visit ysl.com to find out more.
This article was originally published on www.lofficielmalaysia.com.