---
Style & Beauty
The Great Outdoors Dominates Paris Men's Spring Summer 2023
The Paris Men's Spring Summer 2023 collections showcased textures, prints and lightweight tailoring that further precipitated outdoor adventures.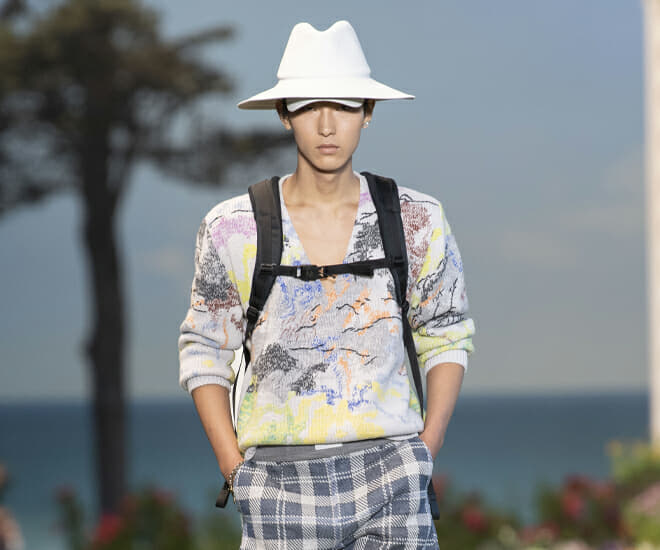 The exploration of the great outdoors has been the cornerstone of this year's Paris Men's Spring Summer 2023 runway shows. Milan Men's Spring Summer 2023 was ladened with utilitarian styles and similar aesthetic appeals were carried through to Paris. Major fashion houses led the conversation of the great outdoors through their intricate craftsmanship. Dior Men was one to look at, as with Hermès, where clothes appears to encompass lightweight materials with fabrication made for travelling, trekking and gardening. Others like Loewe, Louis Vuitton and Givenchy all gave a nod to the idea of springtime adventure.
Layering And Weatherproofing
View this post on Instagram
Outdoor exploration was apparent in Hermès's Spring Summer 2023 collection as it showcased a varied range of weatherproof layers such as windbreakers, parkas and sweaters. The French Maison's vibrant colours are layered over simple tonal colours of inner shirts, making for easy pairing at anytime. The inner shirts were lightweight, which enhanced the idea of weightlessness and resonated strongly with the brand's focus on lightness — a recurring theme of the past seasons.
At Dior Men, the brand's ankle-length wellington boots appeared to be able to withstand tough conditions common to hiking trails. This is a balance of essentials that suits the ruggedness of the outdoors while making a straightforward fashion proposition.
Fabricated For An Outdoor Escapade
Along with the idea of the great outdoors, Givenchy upgraded its ensemble with easy-to-wear cargo pants, skinny motorcycle pants and tracksuits — potentially preparing your wardrobe for the host of summer activities next year. The brand's creative director Matthew M Williams further elevated Givenchy's Spring Summer 2023 menswear collection with pieces like utility track jackets, windbreakers and belts — when venturing outside, these are the essential items to have.
View this post on Instagram
Apart from the usual trekking or biking, Casablanca gears you up exclusively for the wild west. The vibrant-coloured cowboy jackets, wide-collared shirts and loose-fitted pants prompted a tension-free expedition into the unchartered terrain of Texas. The brand, known for its vibrant orange and green, opts to go fresh with university blue, sky blue, pastel yellow and crimson red. The pop of colours, while reminiscent of summer, could easily be paired with warm brown or black scuffed boots.
View this post on Instagram
Uplifting Textures
View this post on Instagram
Looking at Y/Project's Spring Summer 2023 Menswear collection, the mix of various layers of materials is evident. From cotton to chiffon and jersey to denim, these textures round up the collection's looks. A fitted jersey top and loose-fitting chiffon overlay paired with ruffled denim skirts emphasised how different textures could play a vital role in reinventing a toned-down construction.
The main focus was encouraging a more casual summer look but keeping some necessary styling layers. Such were the classic Y/Project jeans, vests, polos and rib-knits. Mixing-and-matching different textures are how brands seek to elevate the stylistic element associated with the great outdoors. This pushed the boundaries of what forms and structure a silhouette could become when spring arrives.
Marine Serre Men's Spring Summer 2023 spotlighted athleisure during its runway presentation by incorporating jerseys. The designer focused on the functionality of her clothes while creatively utility fabrics to accentuate the wearer's body. We reckon that it will be a hit in the months to come.
Flower Power
Following through the outdoors to textures, we observe the late Virgil Abloh's team that worked with him at Louis Vuitton, employed couture-grade techniques that the French luxury fashion house is familiar with into the collection. The iconic Louis Vuitton floral motif was hand-crocheted all up the sleeves of a denim jacket. An array of embroidered floral details of sequined poppies and wildflowers call to mind a vivid summer fantasy in the fields.
View this post on Instagram
Floral pattern shirts were also spotted at the Paul Smith's Spring Summer 2023 collection. With the subtle floral prints, you do not need to know your hibiscus blooms from your orchids to be cognizant that print overkill is best to be avoided. To ensure you do not wander away from the garden and into the jungle, you may want to stick to a single print and blend it with simpler block colour pieces. Officine Générale, Isabel Marant and Kidsuper had hints of floral prints and patterns that resonate with the blooming season.
View this post on Instagram
Lemaire's Spring Summer 2023 collection incorporated camp collar shirts that were pre-scrunched with hibiscus prints. For a refreshed look, a top could be paired with the patterns with light, crisp cotton pants making it a toned-down, relaxed summer attire for any getaway.
View this post on Instagram
Interestingly, Loewe Spring Summer 2023 collection had a different take on the season. Jonathan Anderson, creative director of Loewe, pushed the whole fascination with the great outdoors onto the garments. Plants were seen sprouting from the shoes, tracksuit bottoms, jeans and coats. As attention-grabbing as it is, some tinge of excitement is most welcomed and it is also a cool reminder that we are one with nature.
View this post on Instagram
Exposed Midriff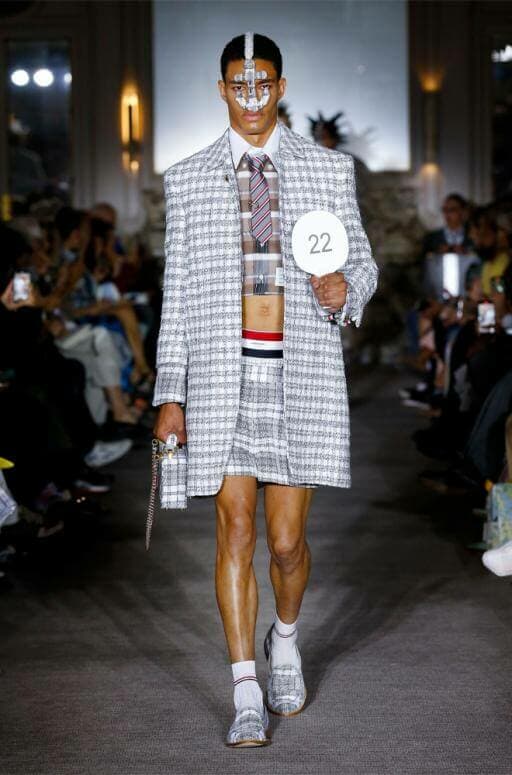 Paris Spring Summer 2023 Menswear was not all about nature and its vibrant atmosphere, the exposed area of the abdomen was quite apparent across multiple brands like Dior Men, Thom Browne and Y/Project. At Dior Men, models were seen wearing see-through garments or shirts with just one button holding the sides together. The midriff was exposed at Thom Browne while keeping in line with the brands renowned neat, sophisticated style. Y/Project and Amiri also had this feature in their collection, where the season is fitting to show some skin.
The overall styles of Paris Spring Summer 2023 Menswear altogether summarised luxury fashion houses' technicalities of construction to suit the hot season. Furthermore, the styles were pushed even further, anticipating the concept of nature and reclaiming the conversation that summers should be spent outside.
For more fashion reads, click here.