---
Style & Beauty
Glow Recipe founders talk Korean skincare and tricks you've been overlooking
Back when K-beauty was more known for the sweet, pastel packaging than for its holistic approach to skincare and wellness, Sarah Lee (@sarah_glow) and Christine Chang (@christine_glow), the former L'Oreal executive duo, came up with the idea to bring to light the core philosophies of Korean beauty ritual.  "Growing up watching our mothers […]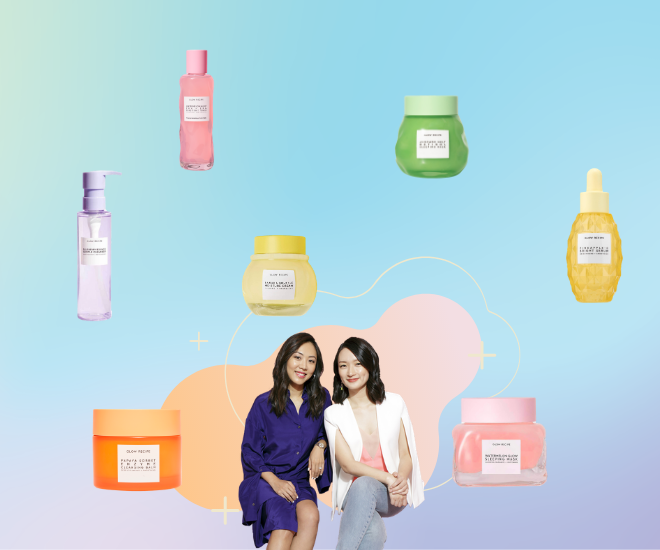 Back when K-beauty was more known for the sweet, pastel packaging than for its holistic approach to skincare and wellness, Sarah Lee (@sarah_glow) and Christine Chang (@christine_glow), the former L'Oreal executive duo, came up with the idea to bring to light the core philosophies of Korean beauty ritual.
 "Growing up watching our mothers and grandmothers incorporating superfood ingredients from the kitchen into DIY skincare products, we have this strategy where we hero a synergistic fruit and active pairing in each product, such as watermelon combined with AHAs, avocado with encapsulated retinol."
Established with a mission to educate, Glow Recipe took off as a curated e-commerce site featuring Korean indie brands handpicked by Sarah and Christine, accompanied by a blog-turned-community that delivers everything you want to learn about your skin.
In 2017, Glow Recipe debuts its in-house skincare line with the now cult Watermelon Glow Sleeping Mask – making waves across the beauty industry.
View this post on Instagram
"K-beauty is no longer limited to its label and is beyond a category, " said Sarah when asked the influence of K-beauty on the perspective of skincare, "the most innovative textures have come from Korean skincare, like bouncy, stretchy, and jelly textures, that really demonstrate the importance of an immersive experience with your routine."
Consider it a huge advocate of self-care, K-beauty is ditching the idea of treating skincare as a hassle, but instead making it into a truly enjoyable ritual to kick start the day and unwind yourself at night.
Here, Christine Chang and Sarah Lee share more about Glow Recipe, K-beauty and skincare tips you can actually pick up for your routine:
Congratulations on the launching of Glow Recipe in Malaysia, how has your 2020 been?
Sarah: It is no secret that 2020 has changed all of our lives and that it has dramatically impacted some lives more than others. Our hearts are with all of our teammates and customers globally, now more than ever. With the hit of an unexpected pandemic, Christine and I made it a goal to withhold levels of not only understanding for our Glow Recipe team, but also positivity.
I'm thankful for my amazing team, and of course my skin care routine, which is more therapeutic and healing now more than ever! 2020 has been a year of challenges and pivoting, and I'm excited and hopeful to see what 2021 will bring.
Tell us the definition of "K-beauty" in Glow Recipe's dictionary.
Christine: The approach to beauty in Korea is beyond product – it celebrates self-care and taking moments every day to enjoy your routine by centering around the concept of listening to your skin. The US customer is very results driven, so we were able to combine both of these ideologies for Glow Recipe by focusing on clear, concise education around our innovations and formulations, while tying it all back to the holistic approach we take to skin care.
Sarah: K-beauty has impacted the industry and consumers with its new perspective to skincare. With an emphasis on prevention and repair, the holistic approach portrays a way to self-care.
Christine: . Our K-Beauty inspired approach is all about personalizing your routine to work for you depending on how your skin feels each day, and we've seen this type of messaging resonate really well with our community, as it empowers them to make their own skin care choices.
View this post on Instagram
What do you think is the biggest myth or misconception of K-beauty?
Christine: A common misconception that we always aim to dispel is the idea that a Korean beauty regimen is a rigid, complicated 10 or 20 step routine, which doesn't reflect the more intuitive, fluid selfcare process that women in Korea actually do enjoy. We are always working to debunk this and prioritize creating multi-taskers that are both time-efficient and highly effective.
Our OG Watermelon Sleeping Mask is a great example of a holy grail multi-tasker as it gently exfoliates with AHA while hydrating with watermelon extract and hyaluronic acid. In general, a sleeping mask is a great product to have in your 'wardrobe' as it can be easily swapped into a routine, and has multiple uses. Sleeping masks do all the hard work overnight or can give an instant result when used as a wash-off.
Mists are another versatile, multi-purpose product to have in your skincare wardrobe. Our Watermelon Ultra-Fine Mistcan be used as a toner, makeup setter, and skin refresher. Having a convenient, on-the-go face mist that can keep up with you, is key to maintaining moisture levels throughout the day.
How to Use the Watermelon Glow Ultra-Fine Mist
View this post on Instagram
What made you decide to focus on superfruit-based formulas for Glow Recipe?
Christine: Fruits have always been an important part of our beauty rituals growing up. Both Sarah and I watched and learned as our mothers and grandmothers incorporated superfood ingredients from the kitchen into DIY skin care products. Watermelon in particular was something that we both experienced with our grandmothers who would rub the chilled rind on heat rashes to soothe skin in the hot summer months.
We took our community behind the scenes to demonstrate how we leverage and maximize the soothing and anti-inflammatory benefits of watermelon in all its forms for our OG Watermelon Sleeping Mask but how we also infuse the formula with AHAs, to provide the effects of a K-beauty facial in a jar. We have a strategy where we hero a synergistic fruit and active pairing in each product, such as watermelon combined with AHAs, avocado with encapsulated retinol, so that we're able to provide in-depth education on key ingredients and their effect on skin. With each launch we also infuse inspiration from the fruit ingredient we are using into packaging to formula textures and overarching sensorial experience.
                                                   How Our 🍉 Glow Mask Is Made ✨
View this post on Instagram
Your career involves a lot of product testing, how do you ensure the well-being of your skin?
Sarah: We love testing new products and innovations but it can definitely take a toll on our skin. When your skin becomes compromised, it's so important to go back to the basics of your routine, which would be a cleanser, eye cream, moisturizer, and SPF.
The Blueberry Bounce Cleanser deep cleans pores while still hydrating the skin with hyaluronic acid so that your skin won't feel tight or dry, preventing any irritation from the start of the routine. Eye cream is so important because your under eye area is the thinnest skin on your face, so you want to make sure that it's treated properly. The ophthalmologist tested Avocado Retinol Eye Cream is specially formulated for the eye area, providing it nourishment, hydration and gentle encapsulated retinol for firming and de-puffing.
With the moisturizer step, I use either the Pink Juice Moisturizer or the Banana Souffle Moisture Cream, depending on what my skin needs that day. If I'm more on the oilier side, I will use Pink Juice Moisturizer because it's oil-free, lightweight and instantly cooling. If my skin is feeling dry and dehydrated, I enjoy going with the Banana Souffle Moisture Cream to provide calming nourishment, while still being lightweight. During the daytime, be sure to finish your routine off with the SPF of your choice. Skin care is all about what works for you!
                                                  Anti-Breakout Skin-Care Routine ✨
View this post on Instagram
Skincare is slowly forgoing the classification of skin types, and is instead bringing attention to daily skin needs. What are your thoughts and advices on the idea of "listen to your skin"?
Sarah: Your skin changes on a daily basis due to so many external factors like sleep, pollution, stress, diet, seasonal changes and more. We are huge proponents of listening to your skin and giving it what it needs depending on how it's feeling that day.
If your skin is feeling dry and dull, mix a few drops of the Pineapple-C Bright Serum with a nourishing moisturizer like the Banana Souffle Moisture Cream to deliver instant glass skin and juicy hydration. If your skin is feeling extremely dehydrated, we love layering hydration throughout the routine by spritzing the Watermelon Ultra-Fine Mist between skincare steps.
We believe that addressing your skin's constantly changing needs in a fluid way, which can evolve daily depending on the environment, hormones, seasons, etc., is the best approach versus sticking to a rigid routine. We want to provide our consumers with the most education possible so they feel empowered to make their own skin care choices, rather than being limited by predetermined categories like skin type.
View this post on Instagram
Sarah talked about how she preps her skin every morning with the Watermelon Glow Sleeping Mask, is there any other little-known skincare hacks to share with our readers?
Christine: The main Korean skincare tip we can give is patting your skincare in to aid absorption. It goes back to the skincare philosophy of Korean women being as gentle as possible. Fast movements cause friction and over time it can cause micro-tears in your skin. Tugging and pulling at the skin can contribute to wrinkles, so we always advocate patting in skincare in all of our content. We support patting toners, serums, and moisturizers all the way as it also minimizes downtime between steps to avoid waiting for the product to dry. To take the patting philosophy to the next level, we created a fun video that ended up going viral, which explained the 7 Skin Method where you pat in a toner or mist seven times in a row. It may sound excessive but your skin drinks up all the moisture. Patting helps drive the product deeper into skin's layers and skin is plumped with hydration from within.
Another beauty hack is to ditch the towel after cleansing. Typically after cleansing, you would reach for a towel automatically, but that can cause rubbing and friction on your skin. It's also impossibly hard to keep your towel clean in the bathroom, so instead of using a towel or constantly changing it out, just pat the moisture in after cleansing! It's super easy and skin is plumped and slightly damp to adsorb the next steps of your skincare. Another easy skin care hack is to mist between each step of your routine, which helps to layer hydration at every touchpoint.
4 Myths About Pores To Stop Believing
View this post on Instagram
For someone new to Glow Recipe, what is on your recommendation list?
Christine: Our community is always excited every time we launch something new but for people wanting to try new skincare, we have some top picks to try from the line. Our Watermelon Glow Sleeping Mask is definitely one of our most popular products from the inception of Glow Recipe, and we were humbled to see it sell out multiple times and garner a long waitlist after launch in the US. Our customers love that it packs hydrating and gentle exfoliating benefits into one treatment for a post-facial result, as well as the sensorial, gel texture that makes application fun and enjoyable.
Our Avocado Melt Retinol Eye Sleeping Mask was really exciting because we introduced a powerful ingredient like retinol, in an approachable, gentle way with the encapsulated form. It has become one of our core products due to the amazing reviews and feedback on how it has helped customers treat their milia while brightening and firming the eye area. A recent launch from 2020 that has quickly become a cult favorite is our Watermelon Glow PHA+BHA Pore-Tight Toner.
Inspired by the K-Beauty Aqua Peel Facial, we created a treatment that both refines pores while hydrating the skin so that customers could enjoy multiple skin benefits from the start of the routine, instead of using toners as an astringent cleansing step. As our most recent addition to the Watermelon Glow family, it has definitely become a favorite in our portfolio.
Why BHA Is the Best Ingredient for Clear Skin
View this post on Instagram
Glow Recipe will be available at Sephora Malaysia starting 28 January 2021.
This article was originally published on www.lofficielmalaysia.com.