---
Style & Beauty
Daniel Martin of Tatcha unfolds beauty tips and tricks only an insider like him knows
Newly appointed as the Global Director Artistry and Education at Tatcha, Daniel Martin (@danielmartin) has one of the most phenomenal resumes as a makeup artist. His client ranges from magazine publications to designers like Proenza Schouler and Cynthia Rowley and a string of celebrities including Meghan Markle, Olivia Palermo, Jessica Alba – just to name a few. As you may wonder why this cult Japanese skincare brand goes […]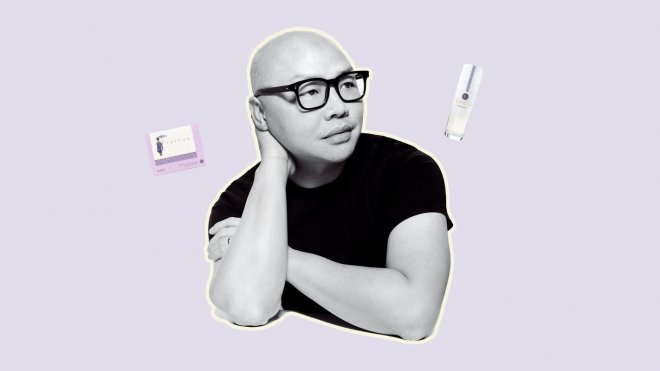 Newly appointed as the Global Director Artistry and Education at Tatcha, Daniel Martin (@danielmartin) has one of the most phenomenal resumes as a makeup artist. His client ranges from magazine publications to designers like Proenza Schouler and Cynthia Rowley and a string of celebrities including Meghan Markle, Olivia Palermo, Jessica Alba – just to name a few.
As you may wonder why this cult Japanese skincare brand goes to Daniel for beauty advice – it is his skin-first ethos that holds dear to Tatcha's core identity. In fact, this is not the first collaboration between Daniel and Vicky Tsai, the founder of Tatcha.
The duo has created Chloë Sevigny's Met Gala 2014 beauty look with a custom red lipstick inspired by geisha's makeup ritual, made it one of the most iconic looks on Met Gala Red Carpet.
"Daniel is the makeup artist who made people fall in love with their skin again, he believes makeup is not just about covering but elevating and exposing"
– Vicky Tsai, founder of Tatcha.
And if Meghan Markle's wedding look that reset beauty trend back to the natural glow and untouched brows look is any testimony, we look forward to more Tatcha holy-grail skincare (or even makeup) coming our way.
L'Officiel Malaysia caught up with Daniel Martin of Tatcha as he talks works, skincare, Tatcha, and more:
Congratulations on your journey at Tatcha! How's everything so far?
Thank you so much! It has been so exciting to finally (officially) be a part of the Tatcha family, and the past several months have been incredible.
Your career involves a lot of product testing, how do you ensure the well-being of your skin?
One of the favourite parts of my job is testing out product formulas, but I have naturally sensitive and reactive skin that is also prone to eczema flare-ups. It sometimes makes testing difficult, but it's also a great litmus test to see if a formula is too harsh or too irritating on the skin and I use it as a challenge to see if there are ways we can improve the formula to suit all skin types without affecting the efficacy.
Luckily, Vicky has skin like mine, so formulas are created for all skin types and can be used by those with similar concerns to mine.
Do you have any advice to those who like to go experimental with their skincare routine?
It's important to test new formulas to see what works with your skin, but so many people don't give their skin enough time to properly react to a formula before making up their mind as to whether it fits into their ritual or not.
Skin cells take about 30 days to regenerate, so you won't really see a difference until a month after you begin using it. That said, I always recommend testing formulas you may not be certain about on a small patch of skin before using it all over your face. This will allow you to see if your skin reacts to the formula or any specific ingredients without causing any further irritation.
What's that one thing you will never do to your skin?
Harsh skin treatments that disrupt the moisture barrier. If your skin turns red, gets irritated, or starts to freak out after a specific treatment or product, that means you shouldn't be using it. Gentle, efficacious formulas are the way to go. Your skin is your body's biggest organ, so treat her with respect!
How a proper skin prep can affect the result of makeup?
My ethos to makeup is that it should be used to highlight and accentuate the natural radiance of the skin beneath it, so it's imperative to begin any makeup prep with a proper skincare ritual. You should always be sure to cleanse, replenish, moisturize and prime before any makeup application.
By using the proper skin care products and caring for your skin, you, in turn, will reduce the amount of makeup you ultimately need to apply after. To me, it's so incredibly important to invest in a skincare ritual that works, will care for your skin, and deliver the desired results.
To someone who is new to Tatcha, what's on your recommendation list?
The Essence. It's 98.7% pure Hadasei-3, Tatcha's proprietary double-fermented complex created from Japanese Green Tea, Rice and Algae.
It plumps the skin by instantly increases the skin's hydration levels by 150% in seconds, brightens and evens the complexion with naturally occurring lactic acid that also gently resurfaces, and floods the skin's transmembrane channels with hydration to allow all skincare you apply after to work better. It's been a complete game-changer for my skin.
Tatcha is available at Sephora Malaysia boutiques and online at sephora.my.
This article was originally published on www.lofficielmalaysia.com.