---
Style & Beauty
Alessandro Michele reinterprets the bamboo bag with Gucci Diana
When it comes to the history of handbags, few elements are as recognisable and inventive as the curved handles of the famous Gucci bamboo handbag. However, like many brilliant innovations—from astrophysics to candy-making—necessity was what drove the creation of this particular novelty. In 1947, countries around the world were still rationing resources due to the […]
When it comes to the history of handbags, few elements are as recognisable and inventive as the curved handles of the famous Gucci bamboo handbag. However, like many brilliant innovations—from astrophysics to candy-making—necessity was what drove the creation of this particular novelty. In 1947, countries around the world were still rationing resources due to the aftermath of World War II. When materials like leather were in short supply, Guccio Gucci and his design team got creative and imported bamboo cane from Japan instead. The craftsmen then developed a patented method to heat and bend the bamboo in a way that the shape would be retained before it was affixed to a handbag.
The distinctive bamboo top-handle bags became an instant hit through '50s and '60s, and were featured in many iconic movies like Journey to Italy (1954), A Cat On A Hot Tin Roof (1958) and Blow up (1966). Since then, the bamboo handle has been a fixture in Gucci's handbag line-up—worn and well-loved by many from Lady Diana to Beyonce and Carla Bruni.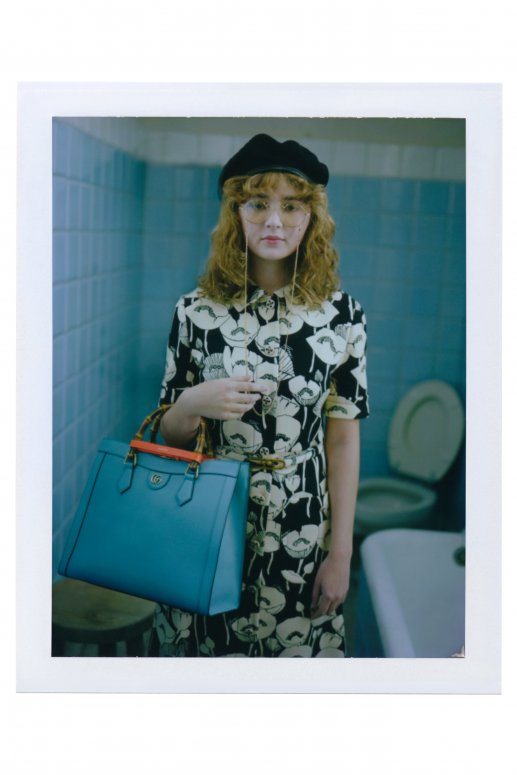 Dubbed the Gucci Diana, the centennial version is an iteration of the bamboo handle tote first launched in 1991. Reconceptualised by Alessandro Michele, the Gucci Diana is distinguished by removable, neon leather belts—a nod to the functional bands that once came with the bag to maintain the shape of the handles. Framed by a silhouette that maintains a timeless appeal, it is imbued with clean lines and a minimalistic design.
The colour palette is both bright and elegant with a touch of surprising hues. There are seven colours of leather in total: black, white, a timeless cuir, bright emerald green, striking red, poudre light blue and light rose, across three sizes: medium, small and mini.
Each bag is paired with either a fluorescent yellow, pink or orange belt which comes with a buckle featuring a Gucci script logo in gold metallic film on the outer side. Of course, you can acquire additional leather belts to your liking, while an embossing service for the leather belts is also available.
For an even more luxurious touch, there are versions of the bags in precious leather like python crocodile and ostrich in a variety of colours and finishes. Either way, the classic appeal of Gucci Diana makes it a sure-fire purchase for everyone from boomers to Gen Z alike.
Visit gucci.com to find out more.
This article was originally published on www.lofficielmalaysia.com.