---
Properties, Tech & Motoring
Waterfront Projects To Benefit Cities Economically and Ecologically
Explore some of the upcoming waterfront projects that marry eco-living and livability while promoting the economies of cities.
New water-adjacent developments around the world seek to revitalise their cities by merging design and nature and creating closer connections between land and water. These key waterfront projects are set to give cities a much-needed boost to their economies while respecting Mother Nature.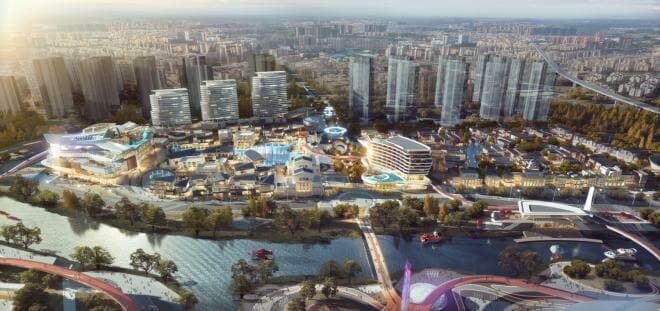 It is no mystery that a successful waterfront development can bring economic activity and improve the quality of livelihood in a city. These developments tend to contain a balance of uses that bring a mix of people into an area, combining public spaces, commercial and residential properties, and retail and cultural activities that can ensure sustained development and economic viability.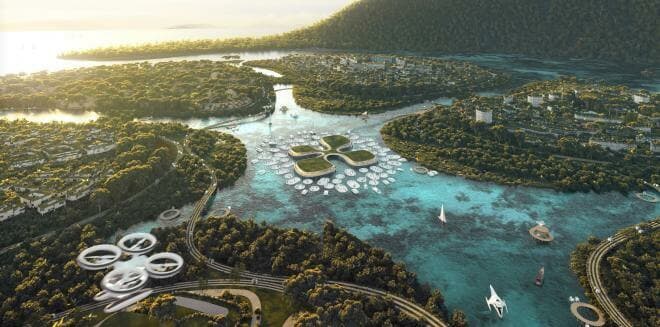 The best waterfront solutions put public goals, not short-term financial expediency, first. Successful developments are the ones that take on a holistic approach, right from the development of a master plan to a project's implementation. As more cities envision their waterfronts as lively public destinations that keep people coming back, some of the most ambitious future waterfront developments around the world are emerging to transform waterfront sites into vibrant locations, paying respect to the local waterscapes through a balanced mix of tradition and modernity. Here, we take a look at some of the most ambitious upcoming projects that are set to transform their waterfronts into liveable and vibrant destinations of the future.
Shenzhen Bay Cultural Park by MAD Architects
For the new cultural complex and park along the waterfront in Shenzhen, China, architect Ma Yansong of MAD Architects envisioned an ethereal artistic urban landscape that juxtaposed the 'ancient' and the 'future'. "I wanted to create a surreal atmosphere, so that the people who visit, relax or exercise here have the possibility of engaging in a dialogue with the past and the future. Time and space are dissolved and placed against each other, manifesting a sense of weightlessness, and unrestrained imagination," says Ma Yansong.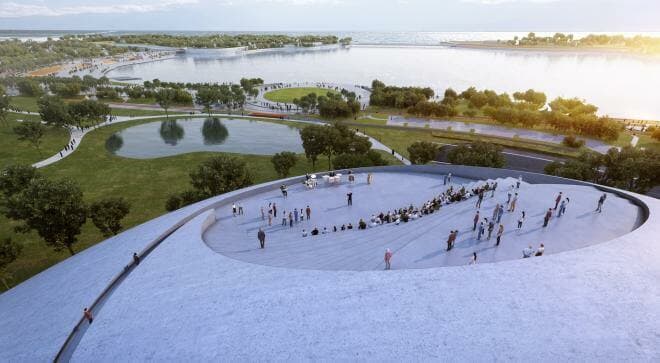 Expected to be completed in 2023, the development includes the Creative Design Hall, the Shenzhen Science and Technology Museum, and an expansive public green space stretching beside the waterfront. With the park serving as an extension of the city's main road towards the water, pedestrian walkways and cycling paths weave between the buildings and across the sprawling lawn space, providing citizens with an expansive recreational space.
Sochi Waterfront Masterplan by UNStudio
Architectural firm UNStudio has been selected as the winner in the competition for the development of Sochi Waterfront on the Russian Black Sea coast. The proposal reimagines the Sochi Coast into SoCo: the ultimate destination designed to create opportunities for locals and attractions for visitors.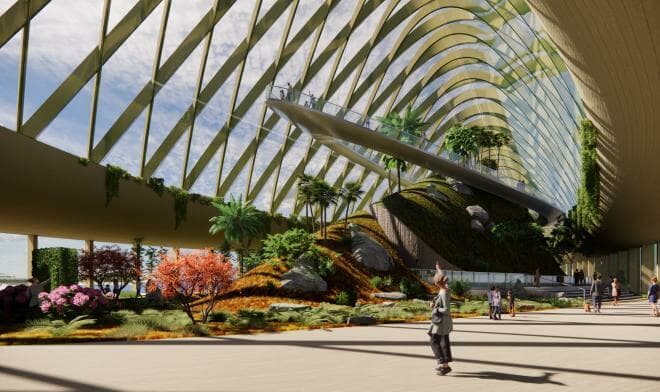 Providing a well-balanced combination of principally flexible programme components, the development will ensure 24-hour activity and winter-summer transitions that are organic, versatile, and engaging. The mix of activities and uses rebrands Sochi as a vibrant and inclusive destination that focuses on hospitality, business, and culture while benefitting from the grand cultural legacy of the existing context of the city. The long-term goal of the master plan is to make Sochi a progressive and international harbour for culture, technology, health, and innovation and to enrich the life of the local community and visitors.
Zhongshan OCT Harbour by LWK + Partners
As part of a large-scale cultural-tourism project in Shiqi, LWK + PARTNERS has created a master plan for Zhongshan OCT Harbour in Zhongshan, China. The master plan, based on a 'One Ring, Two Hearts, Three Belts, Six Zones' concept, presents a response to urban recreational demands, business needs, river ecology, healthy living, and sustainable development goals.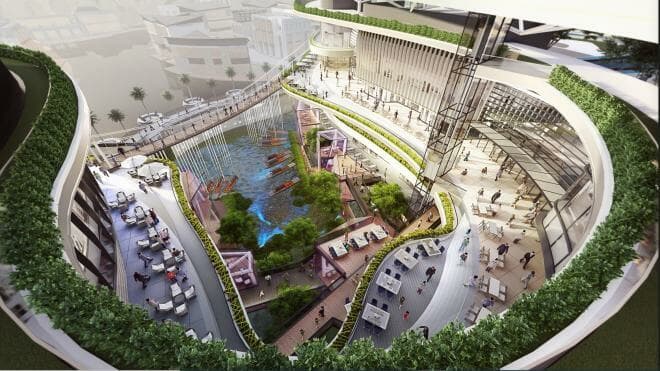 Like the masterplan, the architecture pays respect to the local waterscape through a sensible mix of tradition and modernity, aiming to recreate Zhongshan's version of the glamorous Shanghai Bund. Five interactive urban spaces were devised in an interplay of natural, cultural, commercial, and social elements, offering multisensory experiences on water, and air. They engage visitors and encourage them to explore the space, opening up a range of urban dialogues and possibilities. These diverse experiences also serve the function of stimulating the people to flow within the irregularly shaped development site.
BiodiverCity by BIG
BIG, Hijjas, and Ramboll have been selected as winners of Penang State Government's international competition to design a master plan for Penang South Islands, providing approximately 4.6km of public beaches, and 600 acres of parks, and a 25km waterfront. The master plan proposal – BiodiverCity – supports the Penang2030 vision with a clear focus on liveability and stimulating socially and economically inclusive development and environmental sustainability for future generations. BiodiverCity's goal is to create a new sustainable, global destination where people and nature co-exist in one of the most biodiverse places on the planet at the southern shore of Penang Island.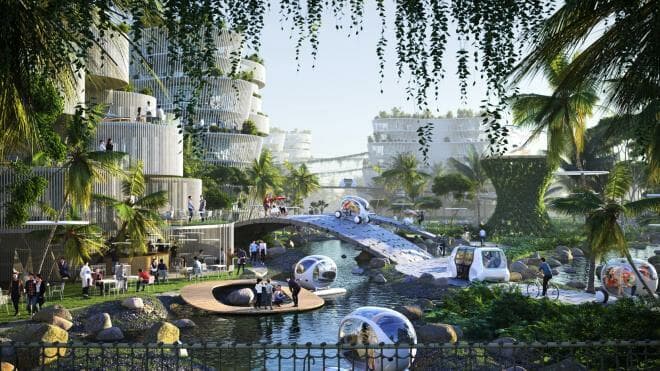 "In recent years, Penang has seen its coastal zones and natural habitats disrupted by urban developments," says Daniel Sundlin, Partner at BIG. "Penang has vast biodiversity that spans various topographies and protected environments. To provide a solution to this, BiodiverCity is conceived as an 'urban mosaic' of three diverse islands, and with a set of urban design guidelines for mixing programs: addressing pedestrian and mobility networks, building sustainably, and harvesting resources."
River Ring by BIG
Another project by BIG in Brooklyn, New York seeks to create a living waterfront, restore natural habitats, and elevate the standard for urban waterfront resiliency. BIG's River Street Waterfront Master Plan vision, in collaboration with Two Trees Management and James Corner Field Operations, enhances the connectivity of the public waterfront and intends to complete the continuous waterfront that stretches from Bushwick Inlet Park to Domino Park, addressing a major missing link in the public route from Williamsburg to Greenpoint. The Master Plan extends the urban connection from the city grid out toward the water, encouraging people to explore the ecological park.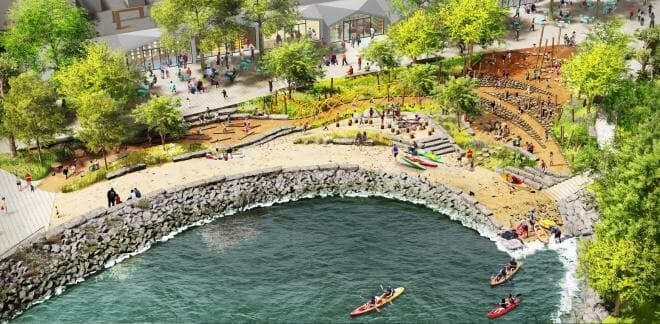 "The expanded and enhanced shoreline creates six acres of new park space (including three acres of in-water programming), featuring an outdoor tidal classroom, tidal pools, picnic, and hammock grove, and a nature walk," points out Sundlin. Additionally, habitat restoration addresses the biodiversity gap on the East River and builds off other initiatives in the region to encourage the return of wildlife to the East River that are already beginning to be observed today.
Check out other architectural reads here.