---
Properties, Tech & Motoring
Editor's Travels: Three Days, Two Nights – Four Seasons Hotel Milano
Housed within Milan's most fashionable district, the Four Seasons Hotel Milano is a comfortable, secret sanctuary, walking distance to city's sights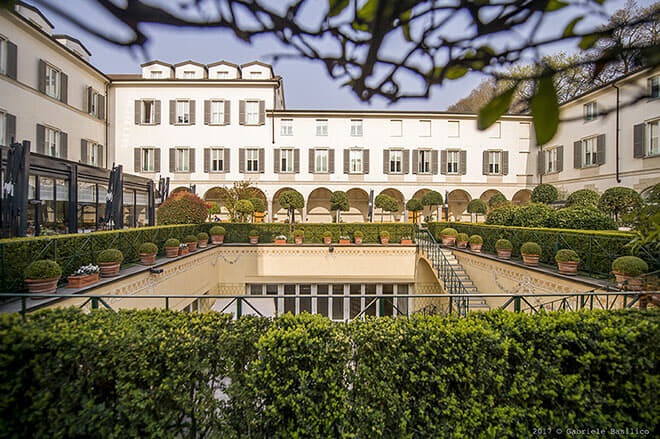 Occupying a street within Milan's most fashionable neighbourhood, the Four Seasons Hotel Milano is a comfortable, secret sanctuary with its discreet elegant entrance on Via Gesù, a mere 6 minute walk to the fashion capital's lauded Paper Moon fine dining venue and 10 minutes away from Milan's famed Duomo luxury boutiques and the awe-inspiring Duomo cathedral. After a 14 hour flight and a 45 minute shuttle transfer, the ivy-covered balconies of Four Seasons Hotel Milano with its discreet elegant entrance and unassuming doors was a gateway to rest, relaxation and stress busting joint yoga-gym facilities for a week of busy work.
Editor's Travels: Three Days, Two Nights – Four Seasons Hotel Milano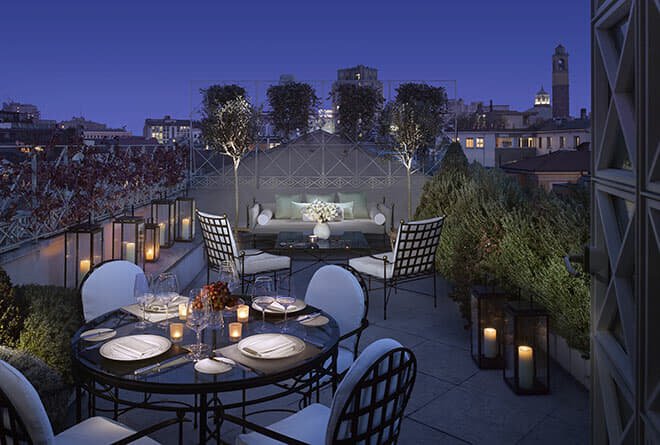 Opened in 1993, the Four Seasons Hotel Milano was the company's second property in Europe, making it one of the brand's most historical properties as well as serving as a refined temple to the city's vaunted heritage – the Four Seasons in Milan is housed in a former 15th century convent,where once past the almost secretive Via Gesù entrance, one is immediately greeted by the chic bar Il Foyer and lounge framed by granite pillars that once supported the church of said convent.
Through meticulous restoration, the Four Seasons has subtly infused the essence of Milan into with the brand's iconic elegance – Fragments of frescoes, a beautiful emblem of the building's sanctified past, create a meditative backdrop for relaxed elegant interiors with classic architectural flourishes.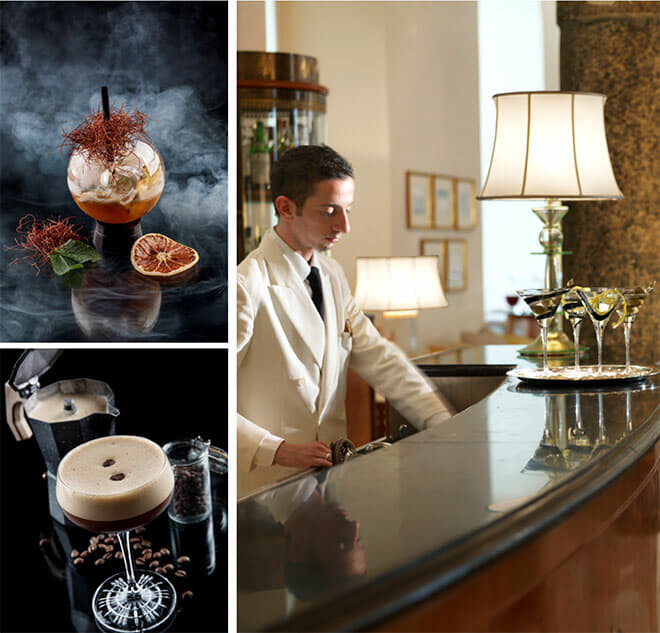 Comprising three buildings arranged around a cloistered courtyard within Milan's Quadrilatero della Moda – the luxury fashion district edged by Via Montenapoleone, Via della Spiga, Via Sant'Andrea and Via Manzoni, the Four Seasons Hotel Milano anointed description as a "sanctuary" is no mere editorial hyperbole – the centrepiece courtyard, appointed with manicured sunken gardens is not just mere view for tables at award-winning restaurant La Veranda, it is calm and serenity defined, for travellers like myself, less than fresh off a long haul flight, its the right kind of environs to ease the body clock into Italy's GMT+2 timezone.
Luggage in suite, I made my way towards the basement gym, just past the spa-haven designed by one of the world's most influence architects and found exercise equipment beyond my wildest dreams – a chin up rack for upper body workouts complete with strong bars for shoulder work and dips was present, if unnoticed within the secondary annexe of the primary workout area. This second alcove was a dedicated corner to yoga work, complete with yoga mats, yoga balls and rollers, not to mention a well stocked mini bar with Gatorade (which no civilian athlete worth his caloric burn rate would ever indulge) and choice of still or sparkling aqua vitae.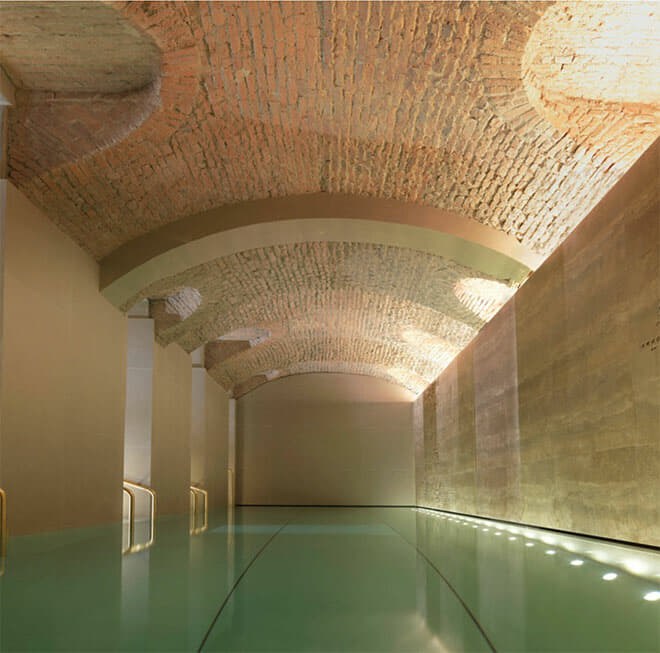 After a quick 45 minute bout of high intensity interval training, I'm sufficiently exhausted for a light siesta and in order to speed my body's acclimatisation to the new timezone. Editor's Travel Note: There's a park just two blocks from the hotel, a great way to get in 5km each morning. A button press on wall panels  thrust the room into complete darkness – oft taken for granted because while most decent hotels will have "light out" blinds, the Four Seasons hotel Milano does not force you to play "jigsaw" in attempting to keep slivers of light out from your room. Taking a well deserved warm bath in a bathtub accessorised with top of the Hansgrohe mixers and faucets, I sink into a bubble bath of Acqua di Parma foam, letting heavy eyelids droop over weary eyes with naught but the stirrings of downtempo electronica from Spotify.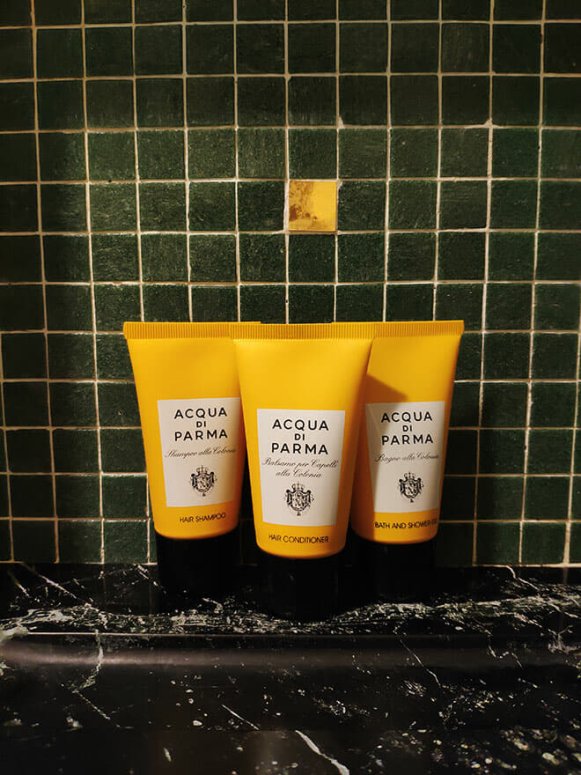 Four Seasons Milano Accommodations
The Milan Hotel's 118 guest rooms and suites are arranged around the inner courtyard in three
interconnecting buildings. Whilst unusual, the layout is a highly intelligent and innovative one, allowing groups of rooms and suites to be sectioned off – both for the privacy of guests and conference attendees, as well as advanced security options for the travelling VIPs and businessmen who might not want to mix the tempo of corporate business with the casual attitudes of holidaying elites.
Designed around the original 15th century architecture, each room is individual, blending historic details with timeless Italian design. Standard and deluxe rooms are decorated in shades of green, ochre and terracotta, with Fortuny fabrics, Frette linen and custom-designed sycamore burl and pearwood cabinetry. Common features in all rooms include a sofa seating area and an expansive walk-in closet. Carrera marble bathrooms include heated floors and back-heated, steam-resistant mirrors.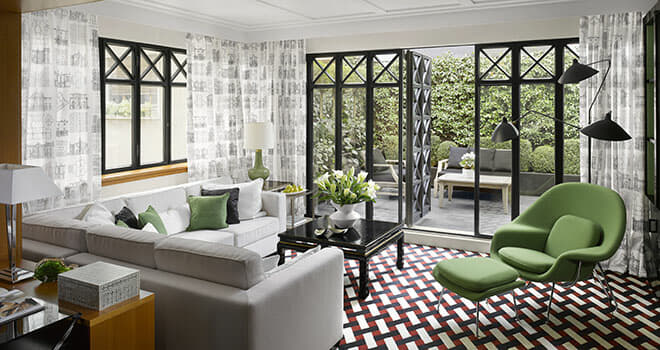 The Four Seasons Junior and Executive Suites are located in the quietest areas of the Hotel and
offer views across one of the inner courtyards or Via Gesù. Residential touches include Irish wool rugs and polished parquet floors. Some of the suites preserve original characteristics such as high or ornately painted ceilings, step-out balconies or direct access to the cloistered courtyard garden. That said, the piece de resistance of Four Seasons Hotel Milano happens to be its most stylish – the aptly named Fashion Suite or room no. 555.
Milano Fashion Suite, 555
Situated in the Four Seasons Hotel's 'casa ringhiera' wing, the Milano Fashion Suite (fashion is serious business in the city in case you don't already realise) is designed in keeping with the traditional Northern Italian style of accommodation, arranged around open balconies that overlook a glass covered atrium. Inside, the suite's designer furnishings impart the air of a cosy city apartment.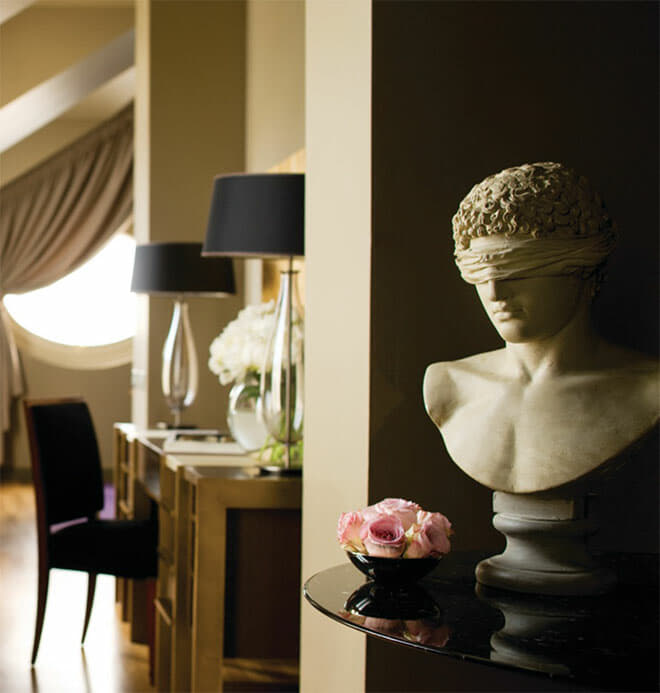 Four Seasons "Designer" Caruso Suite, 301
It goes without saying that a Travelling Editor's other favourite room happens to be the unforgettably chic – Four Seasons Caruso Suite, a designer room with beautiful lines, suitable for business, leisure or romantic occasions. Arranged as a loft-style apartment, the suite is decorated in shades of mauve, blue, red, light grey and mocha with step-out balconies overlooking the main courtyard. The eclectic and extravagant furnishings combine contemporary bespoke items with original antique pieces: from Castiglioni lights and the marble bust of a blindfolded 'god of luxury' by sculptor Pieter von Balthasar to a Luigi Filippo chair, silver Syrian coffee tables and walnut and oak crossword puzzle.
Dining at the Four Seasons Hotel Milano – La Veranda
A packed schedule meant that this editor consumed only his first evening's repast and subsequent breakfasts at Four Seasons Hotel Milano's award winning La Veranda bistro. The Milan Hotel's all-day dining room occupies a wide conservatory area overlooking the courtyard garden. Dressed in bright shades of yellow and crisp white Venetian blinds, La Veranda conveys a convivial atmosphere to the airy restaurant where a segmented menu features Traditional and Innovation selections of seasonal Mediterranean cuisine, as well as extensive vegetarian options. When in Milan, there are four things you must have to make it a complete experience (in no particular order) – Pasta, Gelato, Espresso and of course, Milanese Veal Cutlet.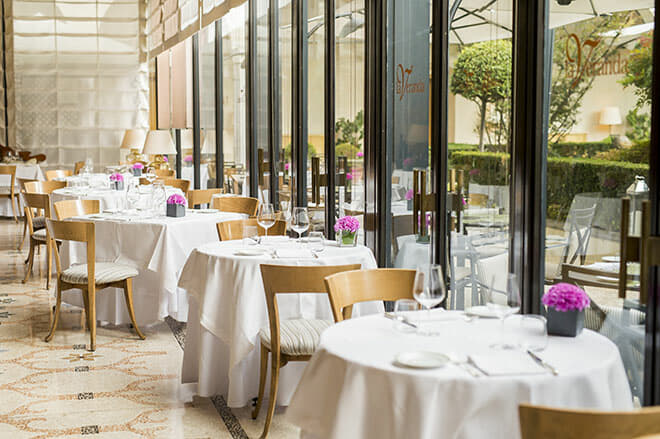 La Veranda is no mere hotel restaurant, it also happens to be a favourite amongst natives, especially for its refined signature dishes of Risotto Milanese (winner of the prize for risotto
Milanese 'Giallo Milano 2008') and for its Zucchini Flowers Stuffed with Ricotta Cheese and Mint with Light Pesto Sauce; that said, I opted for the Veal, not realising that I would be dining at Paper Moon the next evening.
Breakfast at Four Seasons Hotel Milano is a relatively simple affair – it's not exactly a continental spread but a surprising variety of healthy granola and yogurt options are available, cold cut meats and smoked salmon, as well as various french pastries and baked goods but it was the porridge and Miso soup which caught my attention, if only because Asian fare is a rarity in European hotel stays. Nevertheless, I definitely went for the espresso and a set of scrambled eggs and sausages. While not exceptional, it was perfectly done and well sauteed.
What to Experience Milan in a Day: What's Near the Four Seasons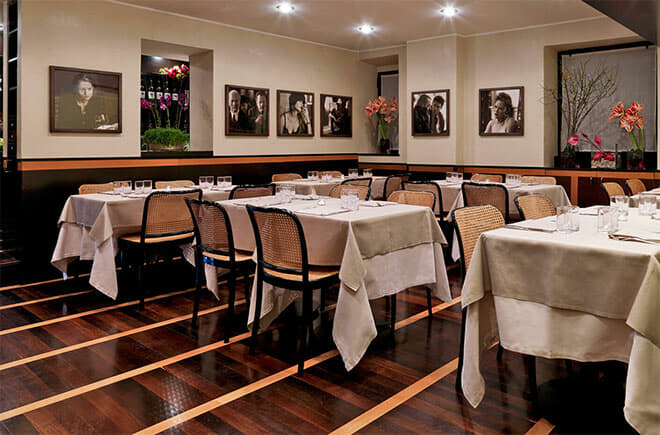 Paper Moon – opened in 1977 by Pio Galligani and wife Enrica del Rosso, the first restaurant in via Bagutta is packed without a two month advance reservation during fashion week and nearly impossible to get a table via walk-in most evenings. A stalwart of the city's dining history, Paper Moon Milano is a cosy venue filled with an intimacy and personal (if rushed, only because the restaurant is always at full capacity). What to order at Paper Moon: To start, Carpaccio di polpo del Mediterraneo con olive taggiasche e songino – a thinly-sliced octopus carpaccio with
olives taggiasche and mache salad. Carpaccio di manzo con rucola e grana padano – Thinly-sliced raw beef with rocket salad and shaved grana padano cheese. Main course, Battuta di manzo alla Paper Moon – Pan-fried beef with olive oil, garlic, rosemary and chili pepper. Entrecôte di manzo con verdure grigliate – Rib eye with grilled vegetables. Linguine Senatore Cappelli alle vongole veraci – Linguine Senatore Cappelli with clams and garlic. Dessert, Tiramisù Paper Moon. To Drink, Brunello di Montalcino · Ridolfi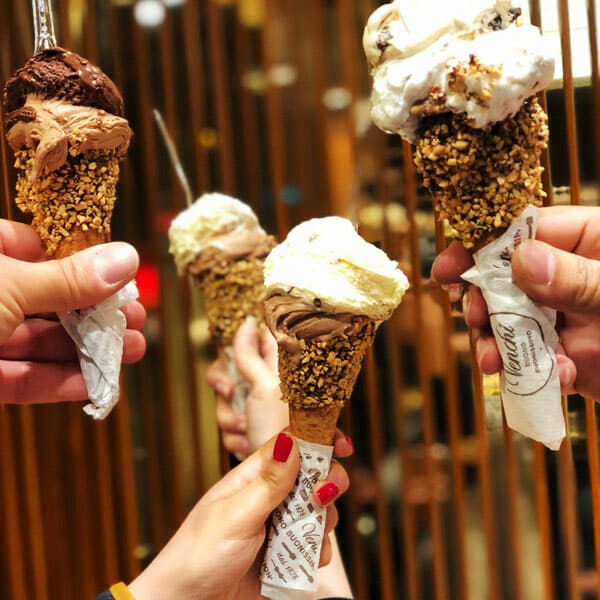 Venchi Chocolate and Gelato, Milano Via Mercanti, Duomo – A broad range of fine chocolates and artisan gelato flavours of the Italian tradition served in an elegant, welcoming setting with Cafeteria, ideally located between Duomo Cathedral and Sforza Castle and just a stone's throw away from the fashion district.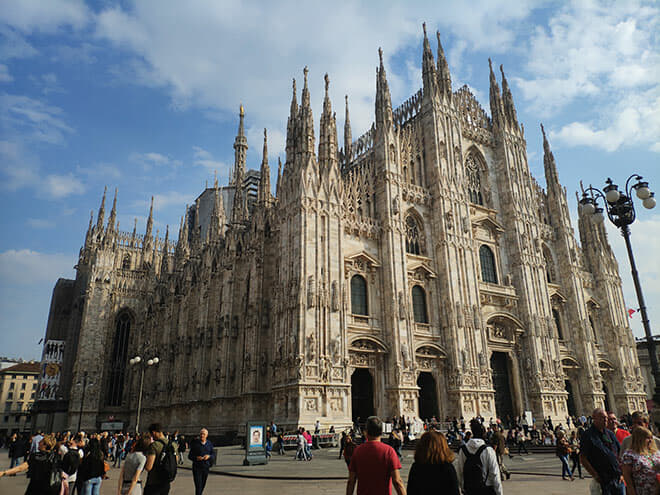 Il Duomo – the world's fifth largest cathedral, a gothic masterpiece clad in grey-pink marble with over 3,500 statues, roof terraces and space inside for 40,000 people
Santa Maria delle Grazie – the 15th-century monastery that houses Leonardo da Vinci's Last
Supper (L'Ultima Cena – Il Cenacolo Vinciano) in its refectory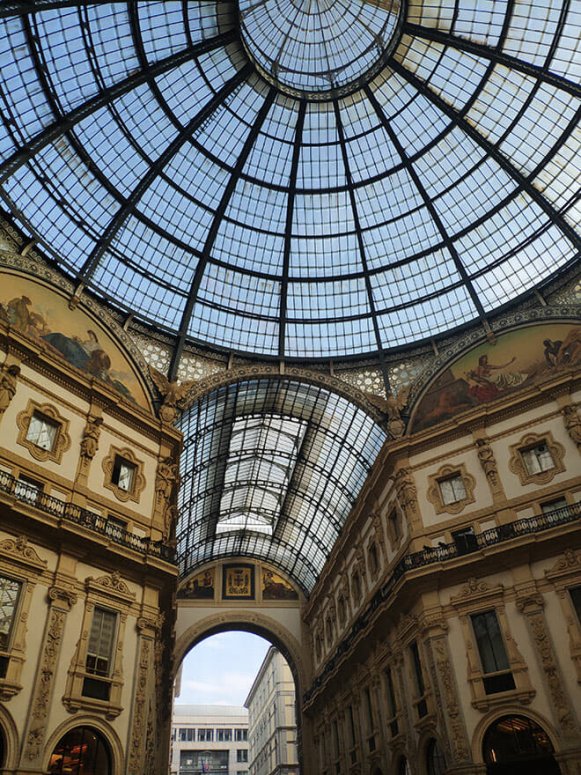 Galleria Vittorio Emanuele II – reputed to be the world's oldest shopping arcade, containing four storeys of boutiques and restaurants beneath a 47 m high glass cupola
Pinacoteca di Brera – one of Italy's largest art galleries, containing the country's finest collection of medieval and Renaissance art including Mantegna's Dead Christ and Raphael's Betrothal of the Virgin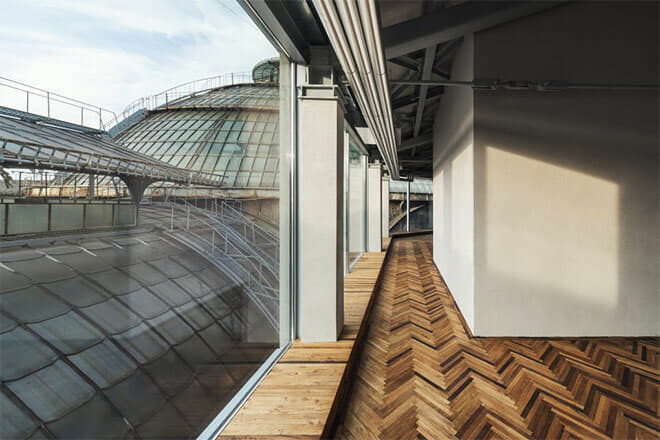 Fondazione Prada, Milan Osservatorio – Restored and maintained by Prada, the Osservatorio an exhibition space dedicated to photography and visual languages, located in Galleria Vittorio Emanuele II in Milan where trends and expressions in contemporary photography are explored.
Really stretched for time? Just visit Navigli – historic canal system of the 12th century and refined repeatedly, not least by Leonardo da Vinci. The central district around Navigli Grande and Pavase is among the chicest spots in Milan, with fashionable boutiques, nightlife and a monthly Antique Market. Four Seasons Hotel Milano offers customized Navigli cruises to experience the pastoral beauty of Lombardy at an easy pace, with limousine transport, visits to historic villas, lunch at a family-owned Relais & Chateaux, and afternoon return to the city by canal boat.