---
Arts, Culture & Lifestyle
REVIEW: M Social Singapore, a stay turned adventure that you need to experience
As Malaysians, Singapore is a destination we frequent a lot – for its close proximity and countless lifestyle excitement – and for that, we constantly look for a unique hotel experience to enhance our trip there. That's when M Social hotel comes into play with its impeccable service and ambience that can turn a simple […]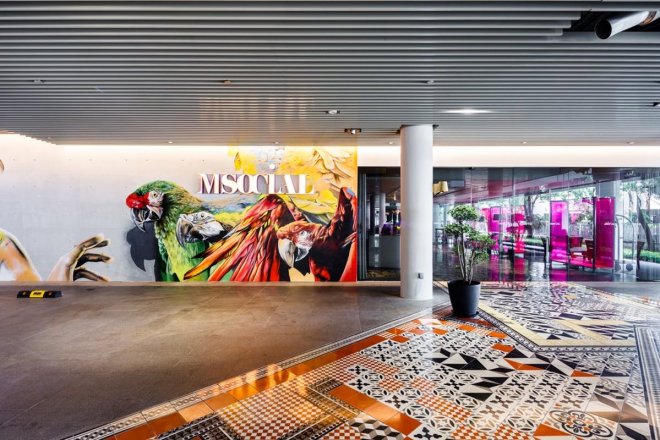 As Malaysians, Singapore is a destination we frequent a lot – for its close proximity and countless lifestyle excitement – and for that, we constantly look for a unique hotel experience to enhance our trip there.
That's when M Social hotel comes into play with its impeccable service and ambience that can turn a simple hotel stay into an adventure. Nestled in the buzzing neighbourhood of Robertson Quay, where a multitude of entertainment, dining hotspots and cultural experience find their home, there's no reason not to pay this hotel a visit.
Team L'Officiel has the opportunity to pay a visit recently to indulge in all it has to offer and here's why we think a stay in M Social can very well turn into an exciting adventure for you!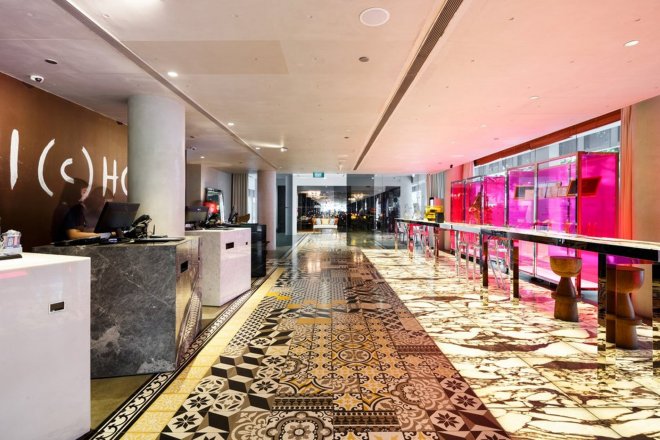 CHECKING IN
Upon arrival at M Social, the first thing that got us excited was the visual presentation of its lobby and reception area. Vibrating with chic modern vibes, each element within the space is planned with care and incorporated with various contemporary art pieces – from the tiles to its centrepiece and even wallpaper.
Like many modern contemporary hotels, check-in is made extremely convenient where you can expedite the process with its self-check-in counter that will scan your travel documents, track your room reservation and prepare your room keys instantaneously.
Of course, there will also be staff stationed at the lobby to assist you, should there be any questions, and to send your luggage straight to your room.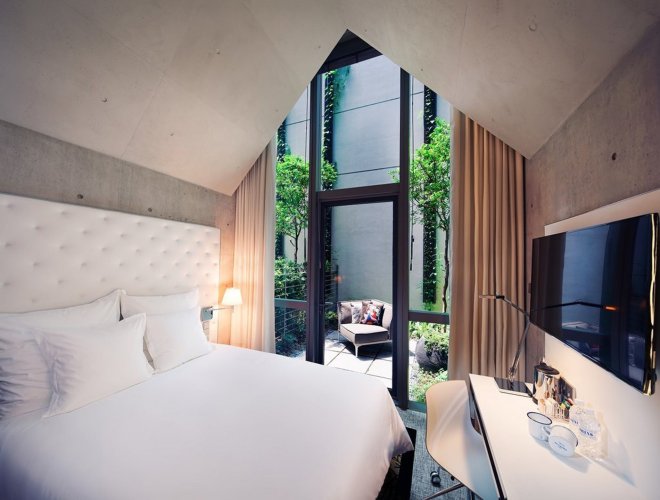 YOUR ROOM
When we talk about rooms available, M Social has plenty of variations prepared including the Alcove rooms, (a room designed with an alcove ceiling to mirror an attic-like experience) and the Loft rooms (a two-storey space that separates the sleep and lounge experience).
Even within the two options, you can further select whether you want a scenic view or a terrace setting, where you get a miniature personal garden to enjoy some peace and quiet.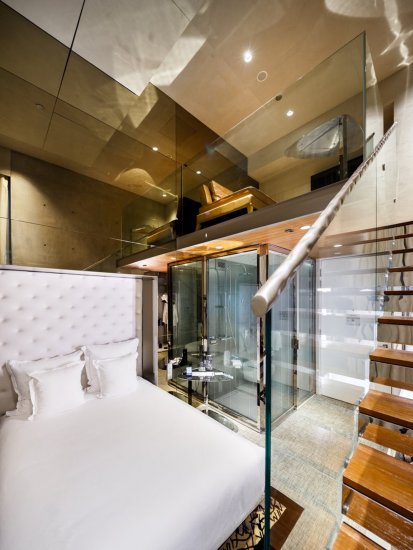 For us, we opted for the Loft Gallery Room, where you have your bath, sleep and closet on the ground level and a cosy study area on the mezzanine level. Compact, yet spacious (thanks to the two-level setting), you get a spectacular floor-to-ceiling window for an elevated view of the surrounding neighbourhood. Rest assured, sleek blinds are installed for your privacy.
Another thing we appreciate of the loft setting is how clever M Social plans its interior where each nook and cranny is utilised to its potential without wasting space – a sentiment fit for the new generation of minimalist.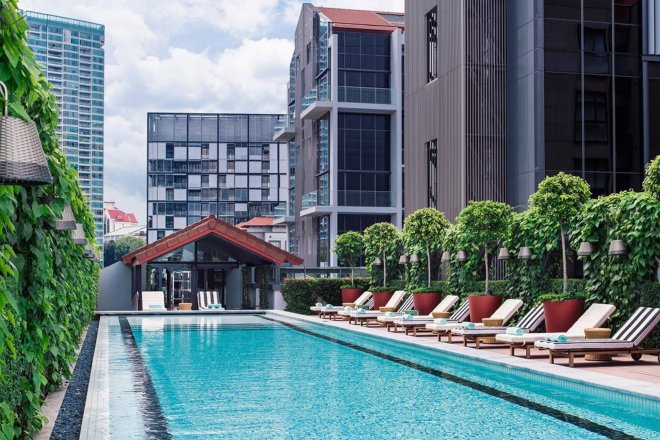 DISCOVERING M SOCIAL
After settling down and unpack, it is time to go on a mini excursion to discover the many facilities of the hotel. First stop, we have to highlight the outdoor swimming pool. Being further upstream of the Singapore River and on the edge of Downtown Singapore, M Social provides the perfect escape for you to enjoy a quiet and relaxing day by the pool.
Even if you are not up for sunbathing or a swim, you can lounge with a book and cocktail in hand for a sweet R&R.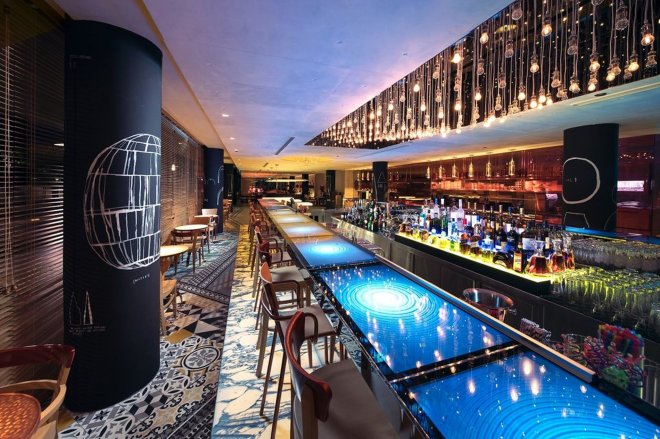 After the quick session at the pool, maybe it is time to grab a bite and their resident eatery Beast & Butterflies is a favourable option where they serve an array of Modern Asian Cuisine that combines Eastern and Western flavours. Chic, well-decorated and stocking up a delectable menu, Beast & Butterflies is also a hotspot where locals gather for a quick Happy Hour and dinner.
Beast & Butterflies aside, you have plenty of dining options for every meal of the day, thanks to M Social's location. Along the stretch at Robertson Quay, you can find an array of bars, bistros, cafés and restaurants to choose from including the popular PS Cafe, Common Man Coffee Roasters and Super Loco.
Or if you are looking to head out to the city, many tourist spots are within 10 – 20 minutes of walking distance including Chinatown, Clarke Quay and National Gallery Singapore. There is also a free shuttle bus provided to chauffeur you to Harbourfront and Buona Vista areas.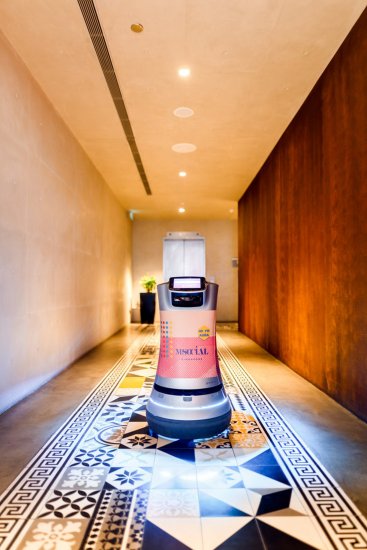 AN AUTOMATED SERVICE TO YOUR DOORSTEP
After a long day out and it is time to head back to your room to unwind and if you are are in need of simple amenities from a bottle of water, a can of coke or an extra towel, you can utilise the AURA robot, an automated room service robot that can deliver itself right to your doorstep.
M Social is actually one of the world's first hotel to deploy this kind of room service and while it sounds simple, to see it in action during your stay can be a rather fascinating and novel experience!