---
Arts, Culture & Lifestyle
Apollo and Artemis Diamond Earrings Fetch Record-Breaking $57.4 million at Sotheby's Auction
These gleaming gems hit the block for a record amount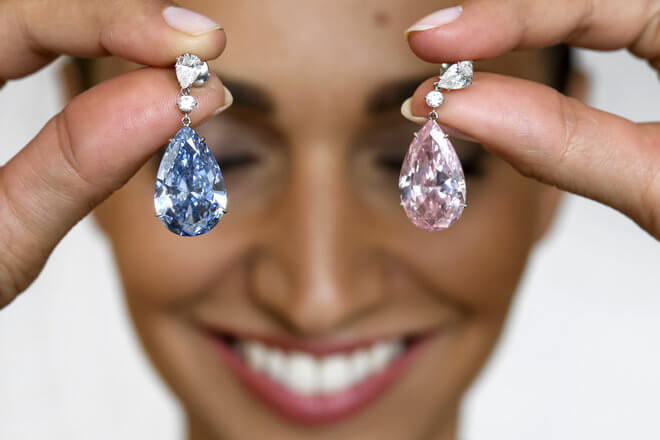 We previously wrote that this pair of earrings were likely to be the most valuable earrings to appear in auction—and we were right. Two spectacular diamonds— the Apollo Blue and Artemis Pink—mounted as earrings fetched a record $57.4-million (51.8 million euros) at auction on May 16 in Geneva, with an unnamed Asia-based buyer netting both, Sotheby's said.
After protracted bidding, the flawless and vivid Type IIb diamond "The Apollo Blue" fetched $42.087-million. The equally intensely luminescent "The Artemis Pink" went for $15.33-million, buyers premium included. The earrings were sold as separate lots.
The earrings, named after the twin Greek gods, had respectively been valued at between $38-million and $50-million and $12.5-million and $18-million.The 14.54-carat "Apollo Blue" is the largest gemstone in its category ever to be auctioned and has been cut and polished to a pear shape.
The 16-carat "Artemis Pink" is near identical in shape. It is also one of the world's most "chemically pure" diamonds, according to the Gemological Institute of America, which experts say gives the stone such a high degree of transparency.