---
Arts, Culture & Lifestyle
6 Things You Must Order at Kuala Lumpur's Mr Chew Chino Latino Bar
From Japanese-styled tacos to fish "char siew" buns, this charming bar by Mr Chew has everything you never knew you wanted to eat
For our neighbours in the north, or for those who find themselves spending the week in Kuala Lumpur for 2019's Chinese New Year, look no further for your next dining destination. Enter the extravagant abode of Mr Chew Chino Latino Bar and you'll be greeted by Empress Dowager Ci Xi herself, holding a plate of tortilla chips, a bottle of tequila and a pink flamingo – an odd mix but the stunning interior perfectly illustrates what dining at Mr Chew is all about – a mesh of innovative Asian flavours with touches of Western flair in-between.
Probably the most Instagrammed space since its inception, Mr Chew has so much more to offer than just a pretty interior, which is inspired by a Manhattan loft, complemented with pop colours, Asian culture and the perfect KL skyline view (although we have no complaints about that!).
From its Japanese-styled Nori Taco to its takeaway-packed Gin & Tonic and catfish "char siew" buns, there's a million and one things to try at Mr Chew.
But we're here to save the day by naming the top dishes to order for all first-timers.
6 must-order dishes for first-timers at Mr Chew
Mr Chew's 'Take-Away' G&T
The most photographed drink at Mr Chew, the Mr Chew's 'Take-Away' G&T is something everyone needs to try when dropping a visit.
Poured into the staple Chinese food take-away box, this cocktail here is everything we want in a Gin & Tonic and more!
Made with Opihr gin and a touch of pink peppercorn (for the little kick on the palate) and finished with slices of fresh guava, it is as refreshing as it can get – perfect to quench your thirst after a long day at work.
Nori Taco
"Chew On This". That's the first thing you see when you order the Nori Taco (which you must!).
Inspired by the popular Mexican bite-sized dish, but what you have here is not your regular tortilla folded with greens and meat within.
At Mr Chew, its taco takes form inside a crispy seaweed wrap filled with fragrant sushi rice and succulent salmon belly.
Within the crunchy bite that melts into the salmon and finished with a zest of salmon roe and velvety tobiko mayo, all you can say after is "more please"!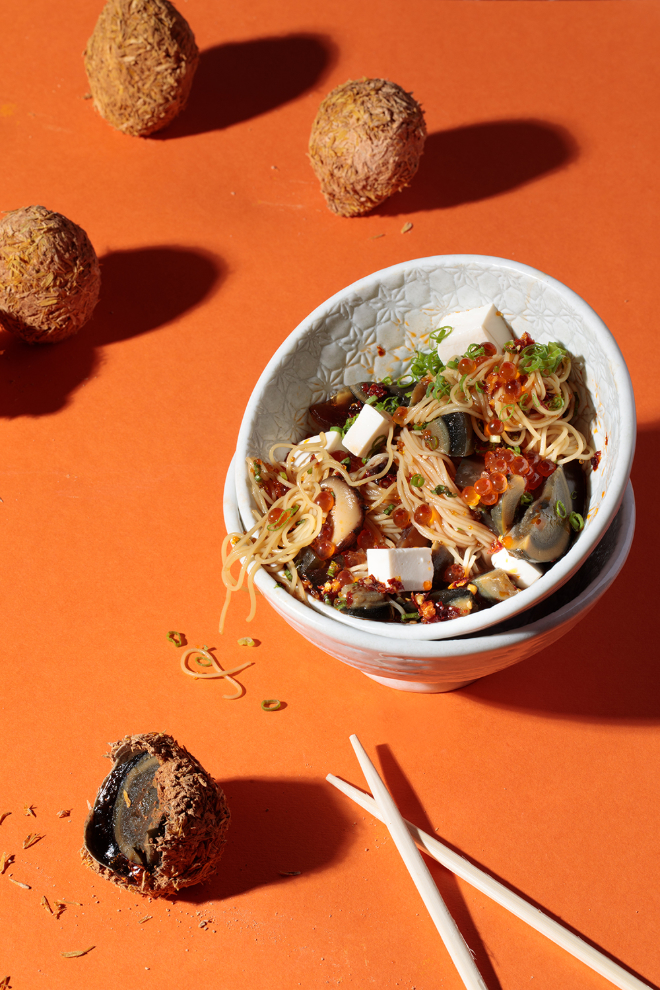 Century Egg Somen
Mixing two signature ingredients from the Chinese century egg and Japanese somen noodles, Mr Chew presents the mouth-watering bowl of cold noodles.
To some palates, the century eggs alone might be on the overpowering spectrum, but thanks to the sweet tofu and salty punch of salmon roe popping in every bite, this bowl becomes a perfectly executed dance of Eastern wonder.
There are really no words to describe its deliciousness. It's pure addiction, to put it short. Try it (we had two when we were there).
Catfish Char Siew Bao
As Malaysian, we all love our char siew baos (no matter if they are pork or chicken).
But be prepared to be surprised because the 'char siew' used at Mr Chew does not come from the land.
Behold, the catfish char siew baos that uses barbequed catfish meat as its main ingredients and paired with sweet and spicy som tam.
It really takes "catfishing" to the next level.
Pan Seared Barramundi
Onto bigger plates, one of the must-haves is the signature Pan Seared Barramundi.
Before we proceed, you and your friends should order the Mr Chew's Special Fried Rice to share and pair with the fish dish. You wouldn't regret it.
For the barramundi, it is a seemingly simple dish that reminds one of home, probably from granny's kitchen.
A crispy slice of barramundi paired with spicy tamarind chilli sauce, coconut cream & pineapple and avocado ginger flower salsa, what more can you ask for?
Dessert Tacos
Before we finish the night with more cocktails (Mr Chew has a legion of special concoctions that will have you drunk in ecstasy), let's talk about desserts.
From the selection given, which includes Breakfast Burritos, Peanut Butter Parfait, Lychee Ice Kacang and more, we personally recommend the Dessert Tacos.
Not only is it a visual pleasure (you can't go wrong with dry ice), the mini taco shells filled with delectable flavours are the combo of flavours to end the night with bliss.
On the plate, you'd find two variations – mango chunks mixed with pomelo pulps and strawberry mixed with nuts ala peanut butter jelly –, both finished with fresh cream.
One word – bliss.
Opened daily from 5 PM and 1 AM, Mr Chew Chino Latino Bar is located at The Penthouse of WOLO Hotel, corner of Jalan Bukit Bintang and Jalan Sultan Ismail, Kuala Lumpur.
So, take the risk and make a reservation by calling +603 4065 0168.