---
World Of Watches
A Colourful World: Ronde Louis Cartier Enamel Filigree
One of the two new M.tiers d'Art watches created by Cartier's artisans in La Chaux-de-Fonds, this umpteenth and unique rehash of the panther, Ronde Louis Cartier Enamel Filigree, is the culmination of exchanges among marquetry craftsmen, jewellers, designers, enamellers, gem-setters and miniature painters. These experts have manipulated motif, material and volume to realise la panthère's varied inspirations since its […]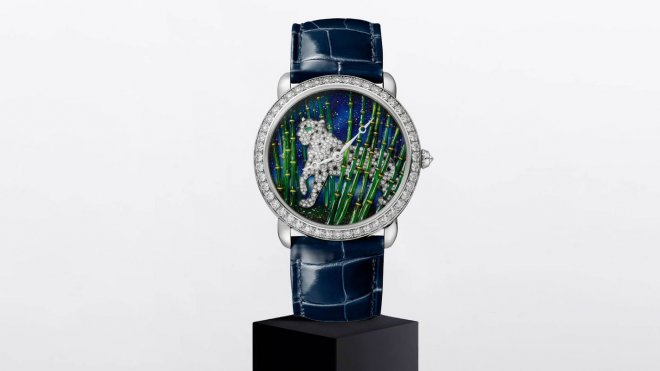 One of the two new M.tiers d'Art watches created by Cartier's artisans in La Chaux-de-Fonds, this umpteenth and unique rehash of the panther, Ronde Louis Cartier Enamel Filigree, is the culmination of exchanges among marquetry craftsmen, jewellers, designers, enamellers, gem-setters and miniature painters.
These experts have manipulated motif, material and volume to realise la panthère's varied inspirations since its first abstract form appeared in the Maison's treasure trove in 1914.
Just from the first glimpse, it is apparent why it has taken an orchestra of skills to create the exquisite dial. This latest unexpected encounter with Cartier's emblematic feline—a symbol of audacity, uniqueness and strength— takes place at a bamboo grove that has been enacted using the filigree technique and enamel.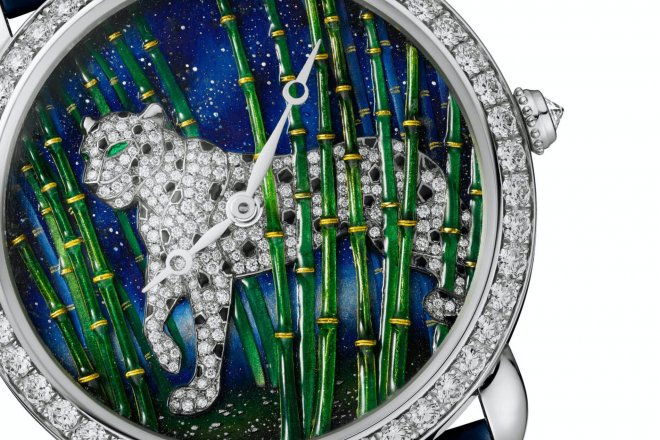 To create the bamboo foreground on the mesmerising dial, the craftsman has to first heat up the enamel powder before stretching the glass until it assumes the shape of the bamboo.
At this stage, it is then set and fixed to the dial with the help of tiny yellow gold strands. Next to be employed from the arsenal of Cartier's artisanal expertise to optimise the dial's sense of perspective and depth are: firstly, domed champlevé enamel for the bamboo in the background and the black spots of the beast's fur and eyes; and secondly, miniature painting for the sky and the background bamboo.
Only 30 limited-edition pieces of this individually numbered watch in 18k white gold are made available worldwide. Powered by a 430 MC manual-winding movement with 38-hour power reserve, it features a 36 mm diameter; a brilliant-cut diamond-set crown; a total of 269 brilliant-cut diamonds on the bezel, dial and buckle; and a blue alligator leather strap.
Visit www.cartier.com to find out more.
This article was originally published on www.lofficielmalaysia.com.