---
Arts, Culture & Lifestyle
Interview: Kos Cos expresses the beauty of emotions through dynamic portraits
Kos' work explores beyond the conventional and traditional, adding movement and energy through vivid colour and bold brushstrokes.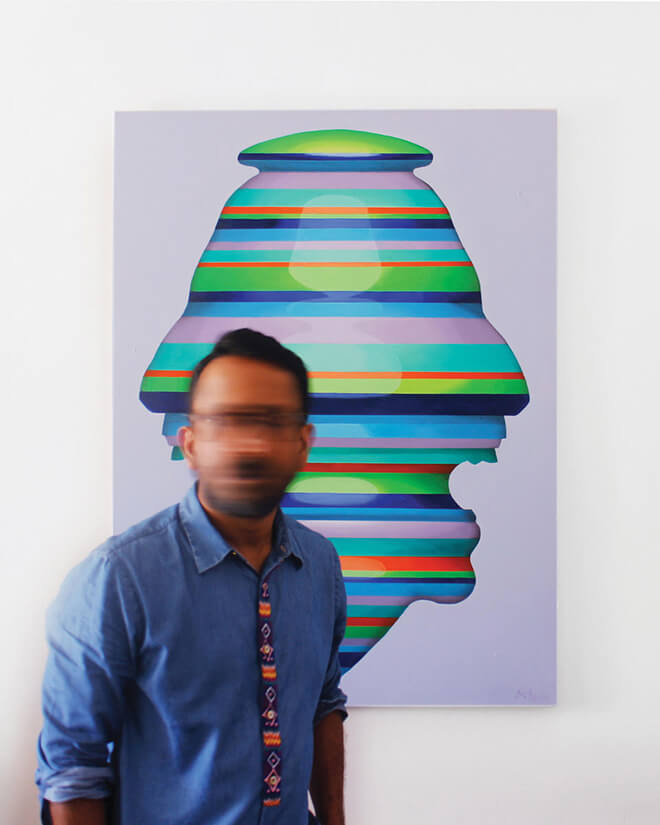 In the golden age of hand-drawn signage, Hong Kong-based artist, Kos Cos turned his father's agency workshop into a personal playground, where he studied and practised brush skills after school. Renowned for portraits that are distinctive through their use of vivid colour and bold brushstrokes, Kos' work explores beyond the conventional and traditional, adding movement and energy to create a more dynamic piece of work.
Kos Cos Depicts The Canvas of Our Every Emotion Through Dynamic Portraits
You were born in 1974 in Sri Lanka in an artistic family. What memories do you have of that specific time of your life, what influence has it had on your art?
I consider myself lucky to have been born to my parents. I had a normal childhood just like other kids growing up in the suburbs of Colombo, Sri Lanka during the late 70s to mid 80s. Life was slow-paced and simple – with lots of greenery and nature. In my mid-teens we moved to Mount Lavinia which is a coastal town: that's where I developed my relationship with the sea. I still love the sea and I'm currently living close by to the sea! I had a bunch of great friends while growing up: playing cricket was our favourite pastime. I remember being more focused on my studies until high-school. I gradually lost interest in academia and got more focused on the usual 'teenage activities' at that time.
My parents wanted me to be an engineer so they pushed me into related studies – and not art and stuff like that. So I never studied art formally, although later on my father sent me to one of his friends – an artist – to learn political cartooning. My homefront was always a creative space and influenced me greatly. My mother used to make patchwork using textiles in her free time. All this was done at this table with lots of colourful textiles next to her sewing machine. I watched her combining colourful pieces of textiles to create fantastic wall hangings etc – I feel this influenced me on colours. My father had his own outdoor advertising agency. I have vivid memories of this when I was 7-8 years old. I remember going to my father's workshop after school to see artists working on outdoor advertising billboards. Here, I had the first-hand opportunity to see painters creating advertisements from babies to movie stars, milk powder to cigarettes on giant billboards. In addition, there were also many art materials available to me, which I used to paint drawings and make crafts.
Sadly though, that was the last 2-3 decades of hand-painted outdoor billboards: everything went digital after that. I believe I am very fortunate to have that exposure to watch and learn from. Looking back, those outdoor billboards were a heavy influence on my early portrait works.
You moved to Hong Kong in 1999, working in the advertising & creative field. A rather radical change of life. What did Hong Kong inspire you of? When did you decide to focus fully on your art and creation? 
I wasn't planning on moving to HK; it was an opportunity that came out of the blue. One day I received a call from one of my best friends, who used to work at the same advertising agency as me in Sri Lanka. He asked me if I'd like to come and work in Hong Kong, I said yes and told my parents that I was going away for two years. So here I am, in Hong Kong – after 21 years!
Hong Kong was at the peak of advertising at that time, with agencies producing award-winning creative Ads. It was also much ahead in Multimedia and Web; which was a new learning area for me with new software and a new way of thinking to work with this new media. Working with top creative directors inspired me to come up with out of the box ideas. Having to learn new tools and also think differently to fit new media was a challenge for me initially.
Even at that time, Hong Kong was Asia's top Art Hub with many international and local galleries, artists and exhibitions. This was a lot of exposure for a young artist and I feel it greatly influenced my art-works. Personally, it was a big change in scenery compared to Colombo/Sri Lanka. It was a great opportunity to learn, experiment and grow as a person.
Coming to Hong Kong  straight from Sri Lanka was like entering a futuristic city with super tall glass and concrete buildings, massive colourful neon signs and infinite energy was an amazing experience. It was definitely sensory overload! Even food was an alien experience because of the bland taste (Sri Lankans love spices!) served with two sticks (chopsticks)!
With the spread of digital and social media, I felt that 'creativity' was starting to fade away from the advertising industry. In fact, I sensed this change many years ago. It was at that time when I decided to return to my canvases to express myself without any boundaries. Around 8 years ago, I was fortunate to have my work recognised by a gallery  in Hong Kong. After that I started to show my work regularly in galleries across Hong Kong and the United Kingdom.
In 2019, I finally decided to fully focus on Art as my career and went to open another studio in Belgium with my creative partner.
Portraits are at the very core of your art. Tell us more about your fascination for human faces in all their diversity?
Yes, I've always been drawn more towards portraits than any other type of painting. Our face is our identity. The human face is complex and constantly changes with emotions and moods. Of all the things in the world, humans are most susceptible – physiologically and biologically – to take an interest in another human face. This is because it displays a great deal of information about that person. When we meet someone, we look at their face to read their emotions and understand their personality.
I think portraiture has become a dying art with the development of photography. I knew of many artists who were put-off by portraiture as it gradually became out of fashion. So as an artist, I like to challenge myself – this is why I started with portraits. Further, I like to leave portraits artfully unfinished compared to traditional portraits. Not only does this bring a modern-touch but also, the viewer can engage more with the piece.
Tell us about your painting techniques. You are known for always looking at experimenting new materials and various forms of mixed media?
Oil is my main medium but over the years it has changed with the flow, influence or the subject matter. In my early works, I always started with a charcoal sketch and subsequently covered all the charcoal markings with oil paint.
Later on, I did a series called 'Serene Majesty', which was about my most beloved animal of all time – elephants. This series also started with charcoal sketching and then I found it's better to leave the charcoal marks because with these, I could bring to life the true character of the elephant. Later on, I experimented with pastels after seeing 'Two Dancers Resting' by Edgar Degas at Orsay Museum in Paris. Basquiat and George Condo further inspired me to work with oil sticks. Oil sticks are a great expressive medium which I love very much and I still do most of my studies using pastels.
While I have used different mediums, I also try to combine different mediums to create experimental works. So my technique always changes based on the medium that I use.
Are these thick vivid paint colours you are using your signature as an artist? 
With my early works, yes; I loved to apply thick layers of paint on canvas, as in the "Life goes on within you without you" series. Carefully selected vibrant colours are poured onto the canvas and left until a dried outer-layer forms. The entire portrait is painted over this crusty layer. I then make incisions using a palette knife. This releases the dynamic inner layers of still liquified paint which make their own unique impression along the portrait.
All these were my experiments in the recent past, so I wouldn't call it my signature as an artist. However, I feel my latest collection resonates more as a unique signature – I have a very positive feeling towards this. In fact, I'm also planning to make sculptures based on this series.
Your art has evolved over the past 15 years. Your latest collection, what story does it tell?
Many artists like to express their thoughts via paintings. However, I thought in the opposite direction for my "Shape of a thought" collection.
For me, the shape of a thought is a very abstract idea to play with. Subjectively our thoughts come from nowhere: they just pop into our heads; no one really knows what it looks like, it's colour, size, weight, shape or where they originate from. Objectively, we can say that thoughts emerge from neural processes. Thoughts are the result of interrelationships between forms and colours – they create an aesthetic experience which engages sights and emotions.
The thoughts we allow into our brain everyday shape our lives and impact our future. They contribute to our behaviours, decisions and therefore our actions, personality and character are based on our thoughts. We become what we think, our thoughts are as unique as our individual profiles. Therefore I created thoughts as the shape of a human profile in a cylindrical or spherical way, almost looking like a spinning top or a UFO.
Colours also play a major role in this collection as I believe thoughts come in a shape as well as colours. These colours change according to each particular thought. To create this phenomenon, I chose different colour combinations very carefully to convey your thoughts to those scenes. Colours are the tools to imagine what a scene might look like therefore, those combinations offer alternative and subjective interpretations to the viewer.
It's an idea based on a story of a thought. For instance "Riding a purple unicorn in a lavender field at dawn", "Paul Smith searching for his lucky rabbits while travelling to Nottingham", or "Kos walking through a bluebell forest in Belgium" (which btw, is my first ever self-portrait). In a way, it's more about what we expect a painting to be but the possibilities of what the painting could be if you think about long enough – and that for me, is the coolest aspect of these paintings.
5 Words which describe your work best?
Abstract, Colourful, Contemporary, Modern, and Timeless.
You have today collectors around Asia and around the world. You are referenced amongst the leading global art websites. What does such recognition inspire you?
I am humbled to have my work recognised locally and internationally. The intention behind my works is to express a point of view – mine. I feel it is important to build your worldview as it becomes your unique visual language. If my work in turn inspires someone else then this is probably the greatest value I can bring.
What are your sentiments on the current art scene in Sri Lanka ? Did you keep strong ties with your native country? Do you have artist friends there?
The art scene wasn't all that big when I left Sri Lanka – that was 21 years ago. I am happy to say that this has changed significantly in the last decade with new artists and galleries. With the nation emerging from the trauma of the almost three decade conflict, I see more people investing their time (and money) into art.
My parents still live in Sri Lanka. As they are a bit old now, I make it a point to visit them at least twice a year. I also use this time to reconnect with my classmates and friends as well.
I have very few artist-friends from back in the day. That time period wasn't very promising for artists so, none of my friends made progress in this area. However later on, like me, a few of them changed their careers to become full time artists. In fact, one of them is my brother, who's currently based in Sri Lanka and pursuing a career as an artist.
When and where can we expect to see your next solo exhibition? 
I can't comment on exactly when, because of the current health situation in society. In fact, this affected my most recent plans to open an exhibition in Belgium with my creative partner. Being optimistic and looking at the situation, I hope to have my show in late 2020 or early 2021. 
Where can we see some of you work online, are these for sale?
Saatchi online. You can find them here. You can view my works on my website www.koscos.net. Selected works are available on Saatchi Art online gallery (https://www.saatchiart.com/KosalaNamal)
If you were to name one mentor who has inspired you in your life and path as an artist, who would that be? 
It would have to be my father – who has been a lifelong inspiration for me. 76 years young, a wheelchair user and still continues to be a painter!
Web: www.koscos.net
Instagram: https://www.instagram.com/koscos/